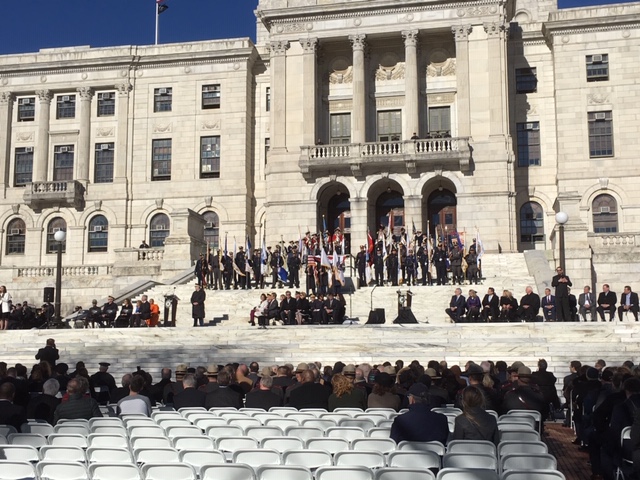 The challenge for any governor's inaugural speech--particularly a second one –is negotiating the thin line between profundity and banality.
Platitudes are inevitable on such ceremonial occasions, when pomposity threatens to override pomp.
So it was for Rhode Island Gov. Gina Raimondo's second inaugural, delivered into a wind that riffled flags under a balmy-for-January New England afternoon that was in sharp relief to shivering day the state's first woman governor was sworn in back in 2015.
Fresh off an impressive November victory, Raimondo's hopeful, upbeat address today sounded much like a campaign kickoff, sans the partisan shots.
Raimondo's narrative is familiar –that her administration has had success in improving Rhode Island's economy during her first term and now must focus on Rhode Islanders who have not flourished in this time of low unemployment and increased job opportunities.
"Over four short years, we have made the choices that spurred the economy to grow by leaps and bounds," Raimondo said in her remarks. "We've changed the way we do economic development, infrastructure investing, and job training. As a result, we've been able to put tens of thousands of people back to work and ensure that they can provide for their families and take pride in the work they do."
Then she quickly pivoted to what is emerging as the theme of her second term – to extend opportunity to all and combating social ills. She mentioned the scourge of opioid addiction, the need for a better state education system and dealing with climate change.
"Our work is not done until we lift up those who are struggling the most," said Raimondo. "Our work is not done until we end the opioid crisis and ensure that those in recovery are included in our economic comeback. Our work is not done until we make sure until women and men have the same economic opportunities and can thrive in workplaces free from harassment."
The governor also noted the increase in women running for public office. "Let's take a moment to recognize the record numbers of women who have run for office and are taking on positions of leadership in all walks of life here in Rhode Island and around the country. We're all counting on you to stay at the table long enough to make real change."
Raimondo hit this trite-but-true note: "Our country is more divided than ever. This is true partly because economic inequality is greater than at any other time in the last century Too many people face a reality that no matter how hard they work, they just can't get ahead. Many seek to divide us further with hateful words and actions often borne out of fear and resentment."
Yet, on a day scripted for an upbeat message, Democrat Raimondo didn't point the finger of blame at the divider-in-chief Republican sitting in the Oval Office.
It was a short speech of about twenty minutes, which was also a contrast with her first inaugural address of about a half hour.
Along with the campaign-style recounting of her administration's successes and second-term challenges, the governor launched into a sermon befitting a clergy member.
"It's time for us to adhere to Rhode Island's founding principles of inclusion, equality and tolerance. We believe that all people deserve to be treated with respect and dignity no matter what your race, religion, gender, ethnicity, who you love or where you come from. Let's find the courage to bring to the table perspectives that have been missing," she said.
She mentioned a hot button subject –the failures of the state's public education system—in only glancing ways. "We won't stop until out students are set up to achieve their dreams from pre-K through high school and beyond."
The recent round of dismal standardized test scores for most Rhode Island public schools wasn't mentioned, naturally.
As is the case in inaugural speeches, this one was scant on specifics or concrete policy plans. There was an exception: the governor's ringing call for "common sense gun laws."
"It is time to ban assault weapons and high-capacity magazines, "she said. "It is not enough to send our thoughts and prayers each time another act of gun violence takes away a life full of promise."
While the gun lobby is vigorous at the Statehouse, Raimondo is aware that public opinion in Rhode Island and other southern New England states favor reasonable gun restrictions.
The more contentious parts of her second-term plans will wait for her budget address, scheduled for delivery to the General Assembly at a Statehouse joint session on January 17. That's when the constraints of the state budget inject a stern reality into the flowery rhetoric of progress and new spending programs. Many at the capitol believe schools need more support, but there is little will to raise taxes to accomplish this.
In was a day of continuity, rather than change at the Statehouse. Only one general officer being sworn in was new --Attorney General Peter Neronha. All the other statewide elected officials were sworn in to second terms: Lt. Gov. Dan McKee, Secretary of State Nellie Gorbea and General Treasurer Seth Magaziner.
The governor ended on a let's go high note, echoing Michelle Obama, the former First Lady who now is author of the nation's best-selling book. In a treacly tribute to Rhode Island, Raimondo rolled out the cliché that the state's size can be a strength.
"Here we're connected to our neighbors. We really do know our children's teachers and coaches. Our lives are linked from generation to generation," said Raimondo. "We know how to come together to make Rhode Island a state we're proud to call home."
It was a shout-out to the belief that a state as cozy as Rhode Island can-- better than our larger neighbors—put in one room the crucial decision-makers in business, politics, education and the non-profit worlds . The problem is that too often they don't very much like each other and don't feel it is their interest to cooperate for the common good.
There was the usual reference to the state's motto of "Hope." It was delivered with a John Kennedyesque paean to patriotism along the lines of JFK's "Ask Not What Your Country Can Do For You, But What You Can Do For Your Country."
Raimondo said, "Ask yourself now: How will you root for Rhode Island? How will you help build a bright and enduring future for our children? How will you help put aside the things that separate us and make our state better?"
And a riff on the George W. Bush education mantra of leaving no child behind. "When we recognize that our futures are connected.. .when we commit to leaving no one behind…when we deliver on the promise of economic opportunity for all, that's success."
Banality or profundity? There was much of both. But this Rhode Islanders should ponder on the first day of a new year and a second Raimondo administration: Whether you love her or not, whether you voted for her or not, her fate and ours are at this moment linked.