After a year and a half of hybrid, in-person and online classes across Rhode Island's public schools, the state's top education and health officials, along with Governor Dan McKee, said all kids can and should return to school buildings this fall.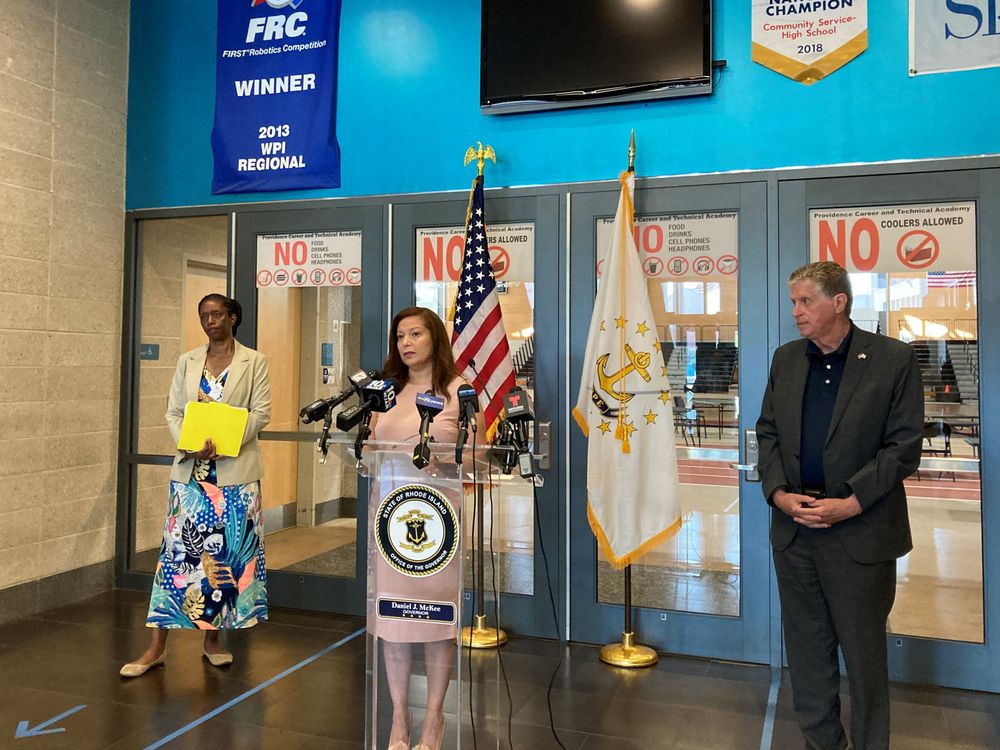 School districts will not be required to provide an online learning option for families, however the Rhode Island Department of Education is recommending schools develop online class plans for medically vulnerable students, or in case a student or teacher needs to quarantine.
"Today is an amazing day," State Education Commissioner Angélica Infante-Green said during a press conference Wednesday morning. "We look forward to our kids being back in the school building and enjoying each other's company and learning the way that we know that our kids need, in person with their teachers."
As of this week, nearly 70 percent of all Rhode Island adults are now fully vaccinated. The state's COVID-19 test positivity rate has remained below a half-percent for the last two weeks.
According to state data, 90 percent of Rhode Island's teachers and school staff are fully vaccinated against COVID-19. About 60 percent of 16-18 years olds and 40 percent of 12-15 year olds have also received two doses. Children under the age of 12 remain ineligible for COVID-19 vaccines.
Teachers and students who have been fully vaccinated can be unmasked in the schools. Following federal guidance for public transportation, masks will remain required on school buses, though there will be no capacity restrictions. The state education department is also recommending a seven-day testing and quarantine and period for students and school staff, should positive cases of COVID-19 occur.
Guidance from the Rhode Island Department of Education asks that each school district develop their own mask-wearing policy for unvaccinated members of the school community, which includes almost all elementary-aged students.
RIDE is also seeking to review any plans to use online classes as a replacement for snow days.
The state Department of Health will continue to provide testing and contact tracing services to schools, as well as guidance for quarantining, in the case that they are needed, according to Health Director Dr. Nicole Alexander-Scott.
"Number one message here, from my standpoint, vaccination is key," Alexander-Scott said. "When you look at the time interval required between doses, a student needs to get their first dose now, to be fully vaccinated by the start of school."
Across Rhode Island, school staff are likely going to spend part of the summer trying to reconnect with the students lost during the year-and-a-half or intermittent in-person instruction, said Infante-Green.
"We'll see what September looks like, but we have communicated with everyone at this point," said Infante-Green. "Every district has tried to reach out to all the families."
Public school classes following the statewide calendar ended last week.