The 12-page anti-racism, anti-discrimination and anti-harassment policy replaces former guidelines that expired earlier this year. It defines terms like anti-racism, gender identity and gender expression, and it distinguishes between interpersonal and institutional racism.
The new policy prioritizes diversity in hiring, employee training, and cultural and racial inclusiveness in instructional materials. It was drafted by community members and school officials, and outlines steps for reporting and investigating discrimination complaints.
"These are really difficult issues we're trying to tackle," said Wakefield resident Fil Eden, during a public comment period. "These systems came into existence over the past 400 years. We're not going to fix it with one school committee vote. But that said, this is a great start."
Another speaker questioned some terminology in the document, saying he didn't understand how racism "is tied to the advantage of somebody else."
But one resident noticeably not in attendance Tuesday was Nicole Solas. Earlier this year, she and her husband filed more than 200 public records requests, saying they wanted to know more about how race and gender are taught in South Kingstown.
Their Kindergarten-age child never entered a South Kingstown District school, but Solas has gained the backing of national conservative groups who fault the town for considering legal action against her to lessen the burden of her records requests.
One group, Parents Defending Education, formally requested similar records around the same time as Solas and has placed South Kingstown on its "IndoctriNation Map" for going "all in on 'antiracism.'" On its website, the group says its mission is to "reclaim our schools from activists imposing harmful agendas" and points to a "new educational mission" that's "at war with basic American values."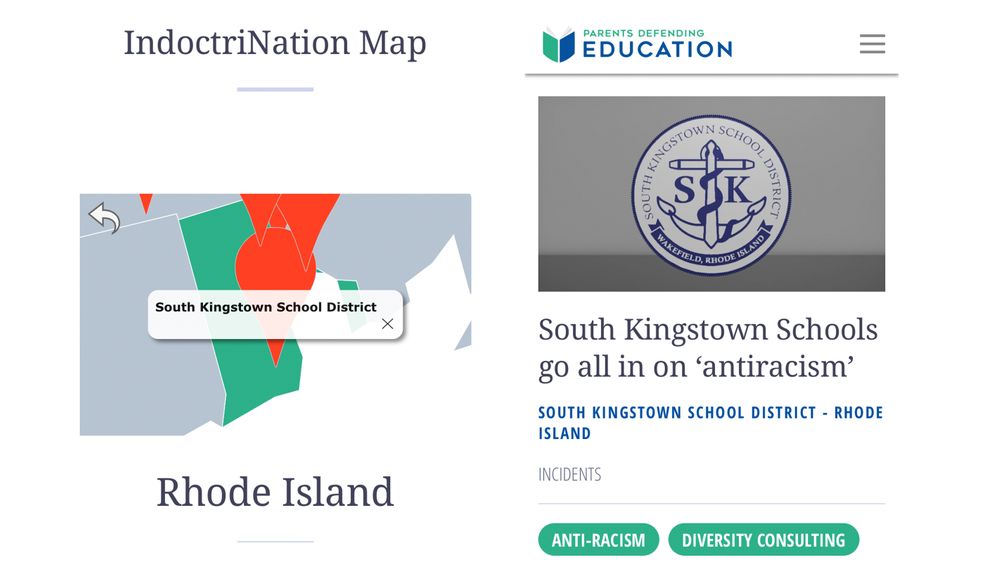 Like other advocates for racial justice in South Kingstown, mother Becci Davis says Solas' records requests and subsequent actions show her real aim has been to delay progress in the school district and find a broader platform for her agenda.
"That's not the intention of someone who just wants answers. That's the intention of someone who wants to overload the system and cause chaos," said Davis, who is Black. "And of course, who's going to lose in all of that? The students that have the most to lose: the students of color."
The South Kingstown School Committee never took legal action against Solas, but the National Education Association Rhode Island did file suit to block the school district from releasing what it considers private information about its members that Solas requested.
The libertarian-leaning Goldwater Institute, which named Solas its "Freedom Award" recipient, is now providing Solas with legal representation, arguing the union has no standing in the case.
The Phoenix-based group backs school choice policies and says backlash against how race is taught in public school districts underscores the need for parents to direct public funds to send their kids to other schools.
Goldwater has also filed a complaint with the Rhode Island Attorney General's Office, claiming South Kingstown's BIPOC Advisory Board violated open meetings law. The Attorney General's Office says that case is still under review.
Since filing her records requests, Solas has gained appearances on Fox News and other media outlets. She now has more than 20,000 followers on Twitter, where she posts provocative comments about racial justice activists, gender identity, and union officials.
In November, she likened elements of South Kingstown's new anti-racism policy to Cold War policies in East Germany.
But advocates for racial justice say approval of the anti-racism policy Tuesday night shows they are successfully pushing back.
Alex Nunes can be reached at anunes@thepublicsradio.org.