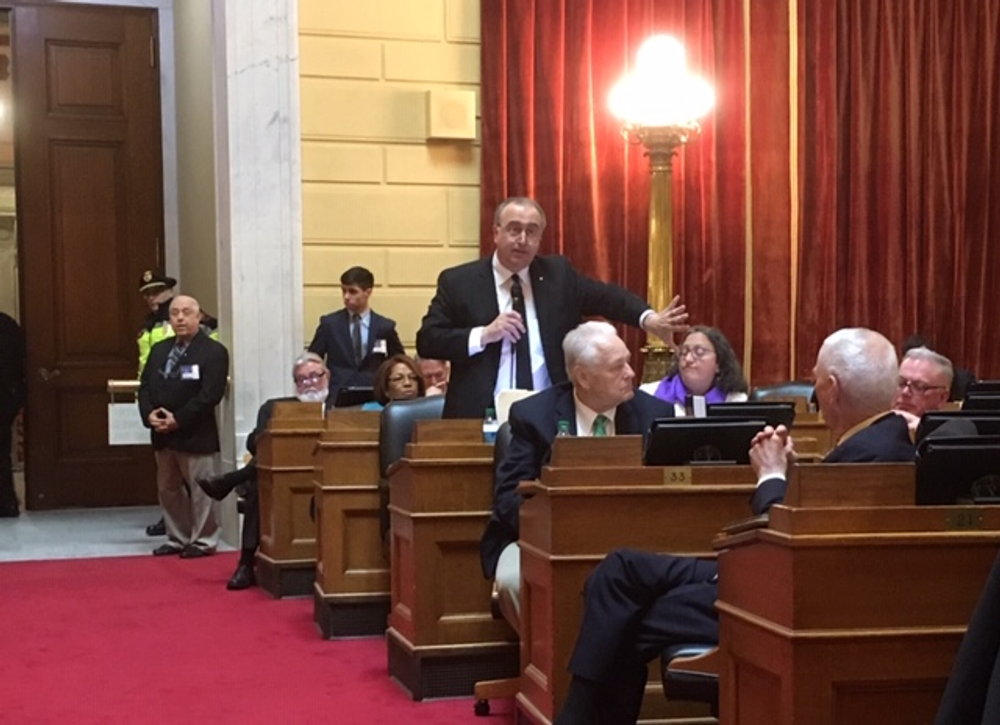 The vote elicited cheers from abortion-rights supporters in the House gallery, and it was the first significant vote on abortion in Rhode Island since 1993.
House Speaker Nicholas Mattiello pointed to lawmakers' support for the measure, and polling showing support, in explaining why he supported bringing the bill to the floor even though he personally opposed it.
"Every issue has its time and its day," he said, "and for the House, this session, this was its time and its day based on the overwhelming majority of opinion in the room. As you can see, it passed pretty readily and we try to respect the will of the majority."
The vote followed almost five hours of civil discussion among somber lawmakers, as opponents waged an unsuccessful effort to pass five amendments.
Rep. Robert Phillips (D-Woonsocket) was among the lawmakers voting against the measure.
"I rise in opposition to this bill, first and foremost because it's morally reprehensible to me to take someone's life, whether it be an adult, a child that's growing up or an unborn child," Phillips said.
Supporters countered by saying that women don't come lightly to a decision involving an abortion. Despite the anguish involved in such a choice, they said, women must have control over their own bodies.
"Our calling is to legislate in a way that protects our constitutional rights," said Rep. Katherine Kazarian (D-East Providence). Despite whatever personal or religious beliefs we may hold, despite whatever we may feel we would do personally if we were ever put in this situation, we have an obligation in this chamber to acknowledge that a woman's right to choose is a private one."
The effort to create a state-based right to an abortion intensified after the election of President Donald Trump in 2016.
But until a poll last fall showed that more than 70 percent of Rhode Islanders support abortion rights, Speaker Mattiello was resistant to the idea of bringing an abortion bill to the House floor. It was too divisive, he said, and he expressed skepticism that the U.S. Supreme Court would overturn Roe vs. Wade.
In a statement, the Rhode Island Coalition for Reproductive Freedom said, "Reproductive freedom is under attack like never before. The Trump Administration is radically re-making the federal judiciary, rolling back access to contraception, and undermining comprehensive health care coverage, including reproductive health care. There are at least 15 abortion-related cases just one step away from the Supreme Court. In this environment, it is more important than ever to enact state policies that protect safe, legal abortion."
"We thank Speaker Nicholas Mattiello," the coalition said, "for respecting the will of the overwhelming majority of Rhode Island residents by bringing this legislation to the floor for a robust debate and vote in best traditions of our democracy."
The Rhode Island Catholic Conference expressed "grave disappointment" in the vote.
"Supporters of this measure have placed political expediency over the protection of the defenseless unborn," the group said. "The R.I. Catholic Conference hopes that the result in the Senate will reflect a deeper respect for innocent life than we saw today."
The bill introduced by Rep. Anastasia Williams (D-Providence) could face a tight vote in the state Senate, where a companion version remains in committee. Senate spokesman Greg Pare said a committee vote has not yet been scheduled.