→ This story is the second part of a series on sea level rise in Rhode Island. Explore here.
The only road into Matunuck heads straight for the beach, before curling to the east and running parallel to shore. Planning Director Kaela Gray and I cruise past the beachfront bars and restaurants. We turn onto Prospect Road, heading away from Block Island Sound and the open ocean, and she points out the low dip where the road is nearly level with the marsh on either side.
"This road, Prospect Road," Gray says, "it's an area where we've actually said, this is a place where we need to have a meaningful conversation about whether or not retreat is something that makes the most sense there, or whether it's a different strategy, like trying to raise a road."
South Kingstown predicts this road will be permanently flooded in the next 30 years.
Tom and Diane O'Brien have lived near the end of it for almost half a century. Their kitchen windows look right out onto Potter Pond. The house is technically on an island, connected to the rest of Matunuck by a narrow causeway.
They've seen that causeway flood before. One especially memorable flood happened on Halloween, sometime in the 1980s.
"We were going to school," Diane recalls. "Went out that way and couldn't go by. It was absolutely flooded."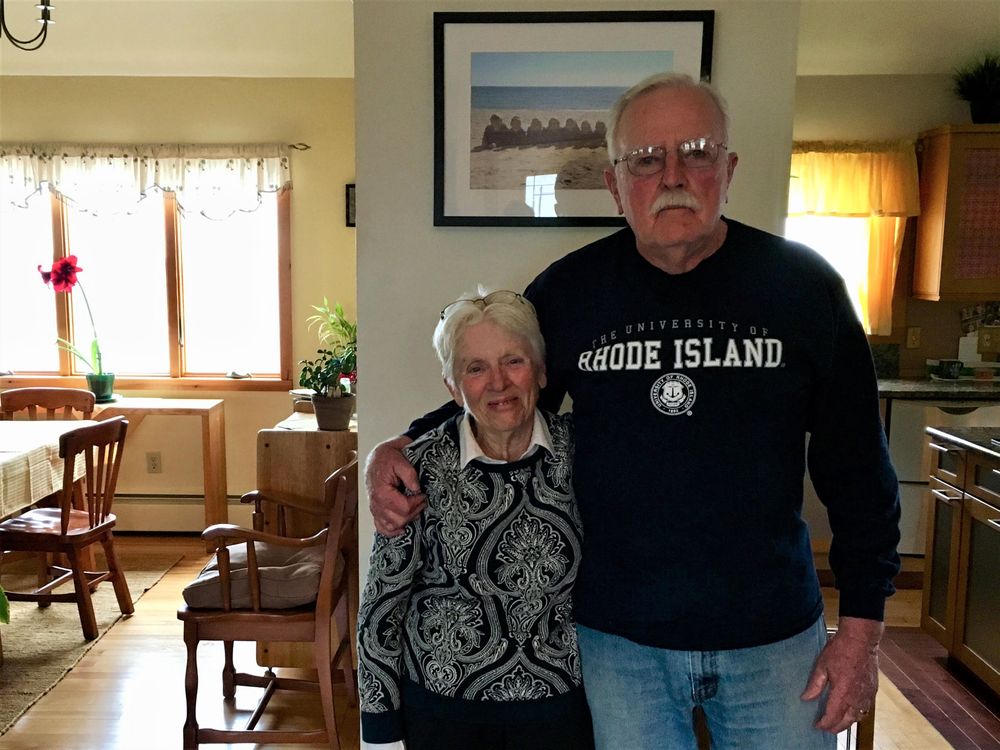 The pair both worked in schools, Diane as a nurse and Tom as a guidance counselor and teacher. Every year, Diane dressed up for Halloween.
"So I got out, I said, we're going to school," Diane remembers. "We came back, got my bathing suit on, carried everything I needed, and I walked through that causeway. It was deep!"
"It was cold!" Tom adds, laughing.
The town projects Prospect Road will flood more and more often, until it's completely underwater.
"We're just hoping something will be done," Diane says. She and Tom want the town to raise the causeway, or maybe move the road to a different spot.
The thing is, Prospect Road isn't the only one the town has to worry about. It's one of dozens of small roads that snake through the lowlands that are threatened by rising sea levels. The town predicts as many as 366 homes on those roads could be isolated by flooding in the next 30 years.
"In the short run, there are things that we can do, such as just reinforcing and protecting the current road infrastructure," says Town Manager Robert Zarnetske.
For the next 20 years or so, Zarnetske says, the town is planning to maintain the roads and infrastructure that are threatened. The town may also elevate roads to keep them above water, but that's an expensive proposition. Every foot of elevation would cost millions of dollars per mile of road.
Even if the town could pay, in the long-term it won't be able to keep up. By the end of this century, Rhode Island's Coastal Resources Management Council is anticipating nearly 10 feet of sea level rise.
"We're not going to be able to build roads for individual homeowners to get to an individual small plot or the house on stilts, surrounded by water" Zarnetske says. "That obviously we can't do."
At some point, adds Planning Director Kaela Gray, it won't be fair to ask taxpayers in the rest of town to pay the mounting cost of doing battle with the sea.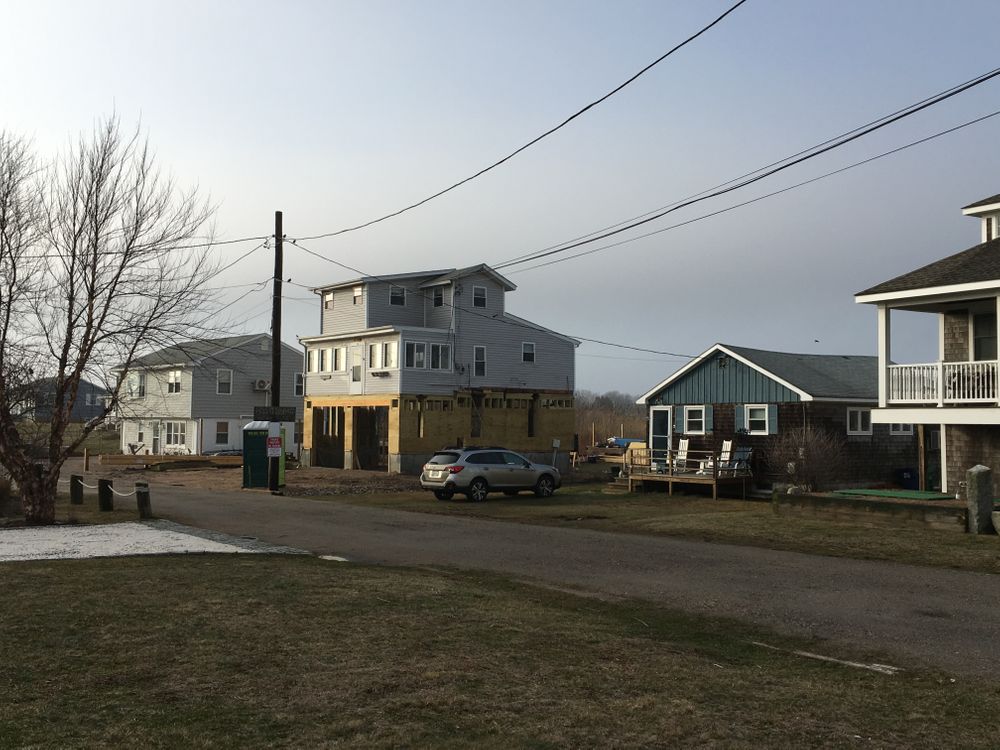 "Honestly, you start balancing what the individual benefit to a small group of property owners is versus the larger municipal cost," Gray says.
So what can the town do in the long term? One option it's considering is retreat. Specifically, abandoning low-lying roads. Even the suggestion opens a Pandora's Box of legal and financial questions.
The town has asked Read Porter for advice. He's an attorney with the Marine Affairs Institute at Roger Williams University. He says, most of the time, towns have a legal obligation to keep their roads safe and passable. But they do have a way out.
"Abandonment is a legal process where a town can eliminate its duty to maintain a roadway," Porter explains.
Basically, the town council could vote to dissolve the road. But this option isn't free.
"Abandonment causes damage. So abutting landowners have the right to be compensated."
The Fifth Amendment spells that out. If the government takes your property, it has to provide "just compensation." Porter says, removing access to the road network is considered a government taking. The town would have to pay property owners roughly the difference between what a buyer would pay for the house with or without road access.
Porter estimates, "Those damages could rise to 30 percent of the value of the property in some cases."
Collectively, the 53 properties on Prospect Road are worth more than $37 million, according to the town's tax roles. And those are just a fraction of the 366 homes South Kingstown predicts will be isolated by flooding. Abandoning the road, at this point, could be more expensive than maintaining it.
These are all long term scenarios. At this point the town is just assessing its options for dealing with sea level rise. It's nowhere near a vote to abandon a road.
But the very idea bothers Tom O'Brien.
"I would have spent 65 years here, and paid taxes for 65 years here, and someone would suggest, you know what old fella you gotta just pack up, get horses out of barn, and sashay--What? No, no, no, no, no," he says.
But others on the street acknowledge their homes may not be here forever.
I first reached David Latham by phone in his office in midtown Manhattan.
"Eventually, everything there is just going to be wiped off the map," he predicted.
He's been coming to his grandparent's house on Prospect Road since he was a kid. It's just down the street from Tom and Diane's place.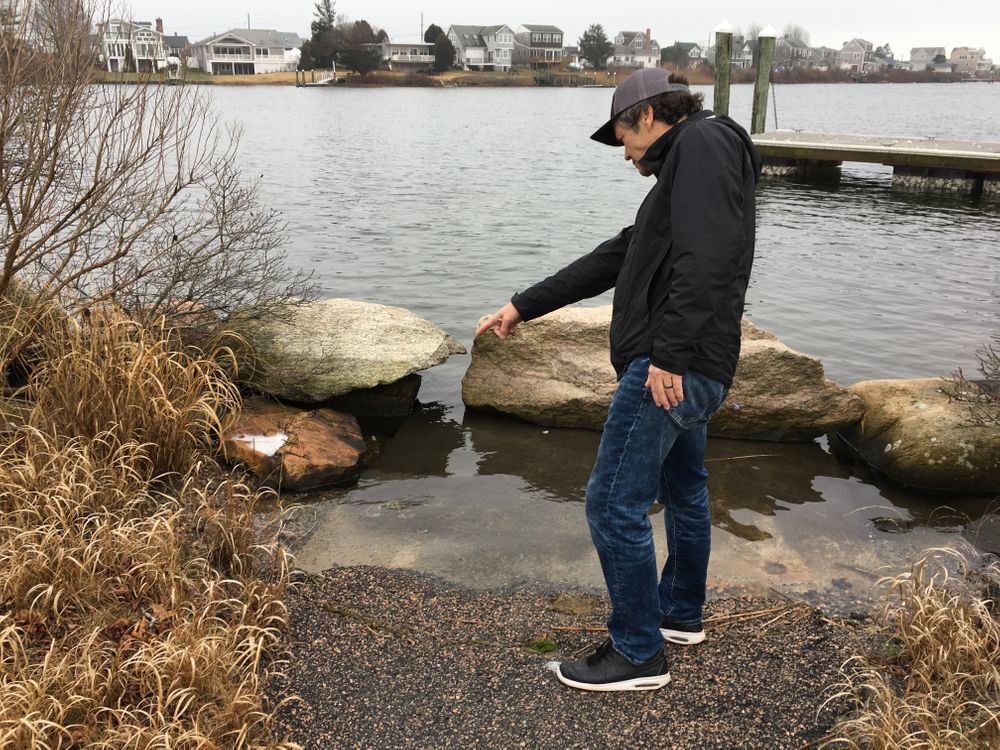 "We could jack the house up another 15 feet. But if you can't use the roads, if you can't get there, it's no good."
It's one thing to say that from a tall office building in another state. It's another to say it while watching the sunlight play off Potters Pond.
A couple weeks later, I meet up with Latham on Prospect Road, and we walk down to the causeway. The place is awash in memories -- he points out the spot where he stashed his cigarettes before coming home from the beach, and tells me about getting caught in a squall while out fishing with his brothers. Standing here, he talks about the future differently.
"Whenever I'm here. I'm optimistic. This place makes me feel great. I love being here. And if they cut the road off, we'll keep that house there up and alive and running as long as we can on propane and generators."
If he had to, Latham thinks he could probably get to the house with a boat.
"You come here because you want to be connected to the water," he explains. "We don't want to leave. That's what draws us to this place. It's the wild aspect of it. And wow, big surprise, it's the wild aspect of it that's also putting us at risk."
Risk or no risk, the ocean calls. People may always want to live in Matunuck. And that makes the town's decision all the more difficult.
This story is the second part of a series on sea level rise in Rhode Island. Explore here.