There's a lot of road and bridge construction happening across Rhode Island. In this case, a front end loader is moving a pile of dirt for the groundbreaking ceremony Tuesday for the George Washington Bridge North Project. The bridge carries almost 100,000 motorists a day over the Seekonk River on a section of Interstate 195 linking Providence and East Providence.

Rhode Island Department of Transportation Director Peter Alviti said the scheduled completion of the $78 million project in five years will transform what is now a rush hour congestion bottleneck ....
".... And nightmare. With the completion of this project, we're going to reduce average daily commute from the state line from 16 minutes to 9 and a half minutes, and eliminate, most importantly, many of the accidents that result from its poor geometry. With this groundbreaking," Alviti continued, "we start to clear up the congestion, make a deficient bridge safe again, and provide better access for economic development right here in East Providence. It's a win-win-win proposition."
Projects like this are happening thanks to a law passed in 2016 known as RhodeWorks.
"This is about economic dynamism," Joe Biden, vice president at the time said that year during a visit to East Providence to support then-Gov Gina Raimondo and RhodeWorks. "This is about safety productivity. It's about the kind of country we want to be."
Biden said he was dumbfounded by how wooden beams were holding up an overpass on Warren Avenue.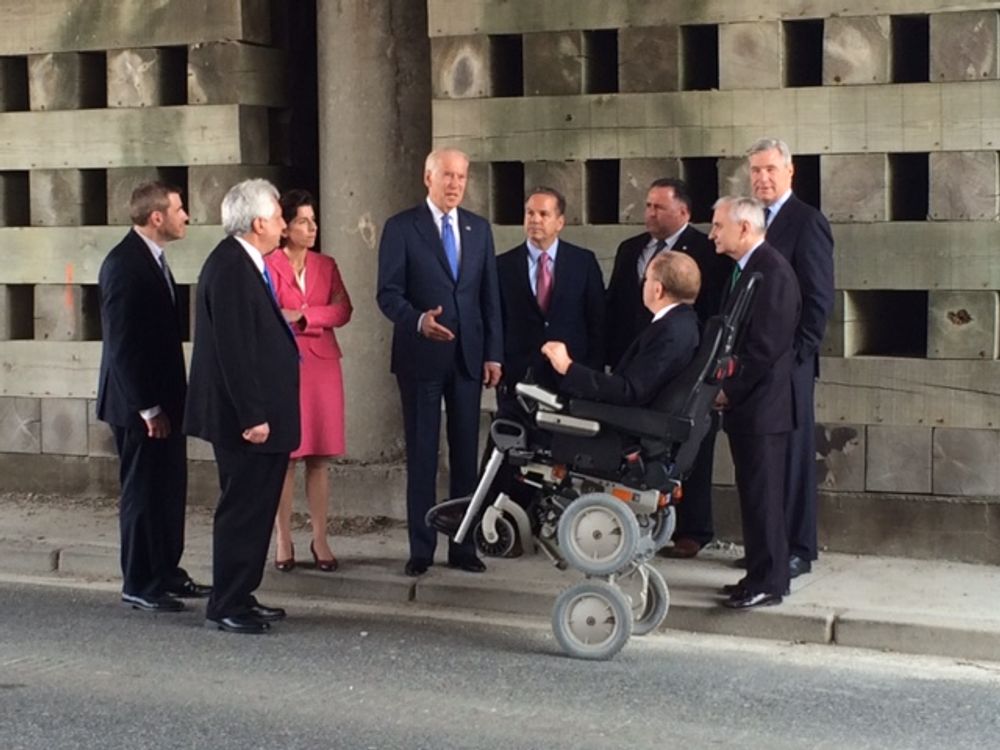 "For 10 years, you've had Lincoln logs holding the damn thing up?" he asked. "… It is shameful."
The Lincoln logs are gone now. And House Speaker Joe Shekarchi and Senate President Dominick Ruggerio give RhodeWorks high marks. Another fan is state Sen. Louis DiPalma, (D-Middletown), chairman of the Senate Oversight Committee.
"I believe RhodeWorks is doing exactly what it was intended to do," DiPalma said.
DiPalma said RhodeWorks has instilled a more data-driven approach to improving roads and bridges, and he likes how information about the cost and the status of different projects is publicly available, through signs at construction sites and quarterly reports filed on RIDOT's website.
Along with lots of smaller initiatives, RhodeWorks includes the replacement of the Henderson Bridge, improving a stretch of I-95 in Providence, and overhauling the 6/10 Connector in the city's West End.
Alviti said RhodeWorks will cut the percentage of structurally deficient bridges in the state from 27 percent in 2015 to 10 percent by 2025.
"Since RhodeWorks started, we've started work on 335 structurally deficient bridges.," he said. "We've actually completed 183 so far. We've pumped about $2.6 billion into Rhode Island's economy. There are a lot of successes that we've seen."
One of the most controversial aspects of RhodeWorks was the inclusion of new tolls on large trucks. Raimondo said the vehicles causing the most damage to infrastructure should pay toward the upkeep. The trucking industry responded with a legal challenge that remains ongoing despite a recent US Appeals Court setback.
Since RhodeWorks started, annual toll revenue has grown to $34 million. That's about $7.5 million short of projections, although the growing revenue refutes predictions that truckers would seek detours around tolls on local highways.
There's no denying, though, that infrastructure in Rhode Island -- like in much of the nation as a whole -- still needs a lot of work.
The most recent report card from the American Society of Civil Engineers rated Rhode Island's roads with a D and its bridges with a D-minus, although the report said that Rhode Island is confronting these challenges head-on by prioritizing investment for its infrastructure.
Alviti calls the poor grades a lagging indicator based on outdated data. But Civil Engineers' Rhode Island President Chad Morrison said the ranking was due to how only modest progress had been made before the report card was issued last year.
"One thing to keep in mind about RhodeWorks that's innovative is a queue that puts the projects that are in the most need at the head of the line, so that they are being addressed first," Morrison said. "But there are still a large quantity of projects within the state that need to be addressed."
State Sen. Sam Bell (D-Providence) said RhodeWorks raises a number of concerns, including the disruption and environmental effect for residents near the 6/10 Connector. On the latter issue, state and federal officials say they continue to review how the state's lead contractor on the project trucked contaminated soil to the site.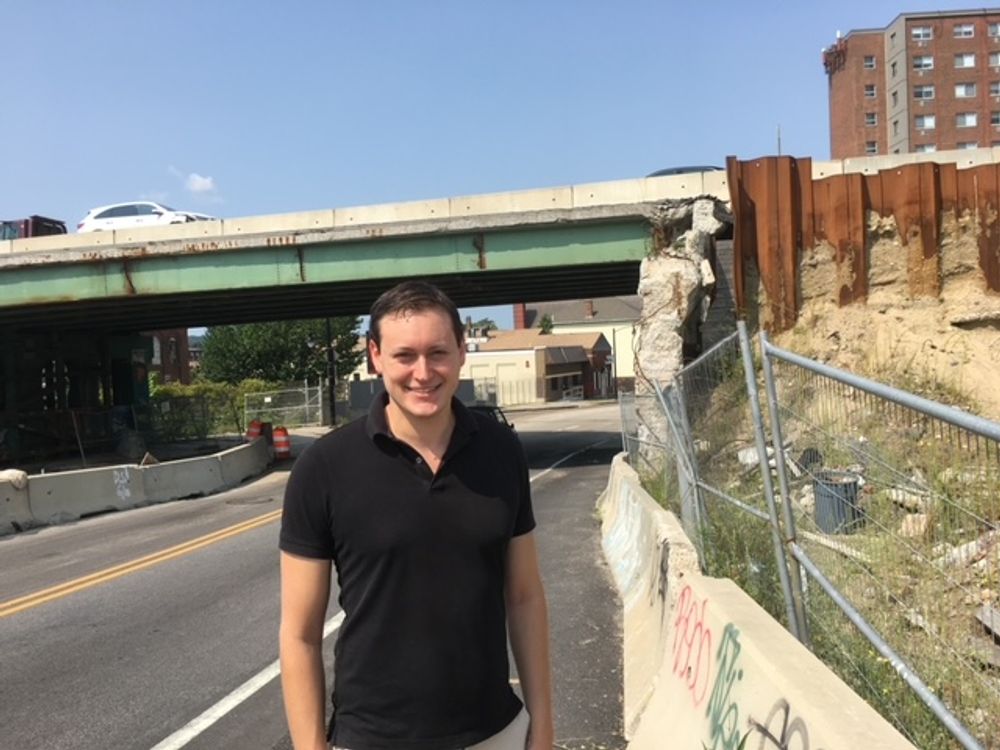 More broadly, Bell lamented what he called RIDOT's focus on highway construction. He says that represents a missed opportunity to replace the 6/10 with a pedestrian-friendly boulevard and new economic development on land that could be made available by eliminating the highway.
"There is an ideology that the car is supreme, that we cannot under any circumstances ever disrupt traffic or close a road or anything like that," Bell said, "even when in fact closing a road would reduce traffic problems. And many of the conditions of these roads, their design, increases traffic problems."
The fate of a federal $1.2 trillion infrastructure bill remains unclear in Congress. If that legislation ultimately wins approval, Rhode Island would have an additional $1.7 billion to plug into ongoing plans for improving roads and bridges. And for critics of our car-dependent culture, the infrastructure bill would steer more than $280 million to Rhode Island for public transportation.
Ian Donnis can be reached at idonnis@ripr.org. Follow him on Twitter @IanDon. Sign up here for his weekly RI politics and media newsletter.