Restaurants and other businesses around the state will be able to remove their plexiglass dividers, dispense with social distancing and operate at full capacity starting Friday.
But masking and social distancing requirements will continue for now in other public places including schools, child care facilities and youth sports -- where many children remain unvaccinated -- as well as health care settings and on public transportation.
Gov. Daniel J. McKee and state health officials outlined the next phase of the reopening at a weekly briefing Thursday. (The briefings will now move to bi-weekly.)
The lifting of restrictions on businesses was made possible because more than 70% of all Rhode Island residents 18 and older have received at least one COVID-19 vaccination, McKee said, and most will be fully vaccinated within two to three weeks.
The move comes one week after state officials moved to lift the mask-wearing and social distancing requirements for Rhode Islanders who are fully vaccinated against COVID-19. The decision followed the latest guidance from the Centers for Disease Control and Prevention (CDC). The CDC advised continuing the current masking and social distancing restrictions in schools until the remainder of the school year.
For "higher-risk" venues, such as live vocal performances and nightclubs, vaccination proof is required for lifting all restrictions, state health officials said in a news release. Nightclubs which do not require proof of vaccination must remain at 50% capacity. Indoor Hookah lounges are not permitted to reopen unless proof of vaccination is required. But the state has provided no details about enforcement of the vaccination proof requirements.
Health Director Dr. Nicole Alexander-Scott said the state's decision to lift the masking and social distancing requirements for most businesses and public places is supported by scientific evidence.
"Even if you are in a crowded place with other people,'' Alexander-Scott said, "the vaccination will keep you protected.''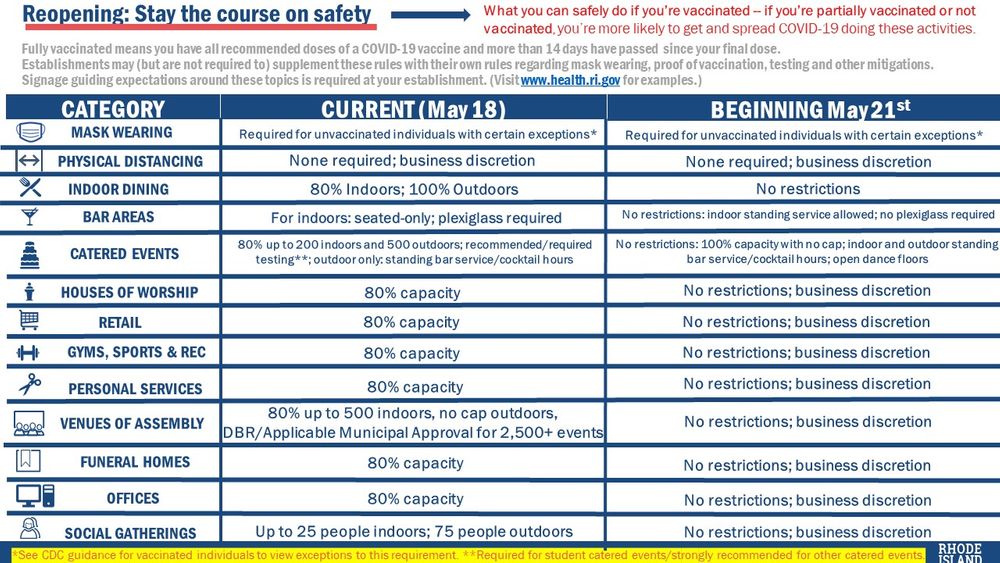 Fewer than one percent of people who were fully vaccinated have contracted the coronavirus, Alexander-Scott said. She said 0.15% of people who have been fully vaccinated have contracted COVID-19 in so-called "breakthrough" cases, meaning that the vaccines are effective about 99.9% of the time.
The vaccines also have proven similarly effective, she said, against the variants of the virus circulating in Rhode Island and around the country.
Even so, the state officials said, some businesses may still require shoppers to wear masks and they urged residents to respect those rules.
"People are going to have different levels of comfort'' with lifting the requirements, McKee said, "and I ask that we embrace those different choices."
Health reporter Lynn Arditi can be reached at larditi@thepublicsradio.org. Follow her on Twitter @LynnArditi