Rhode Island will resume use of the Johnson & Johnson vaccine, joining states including Massachusetts, Connecticut in ending a pause that began April 13.
The decision to restart the one-shot vaccine for residents 18 and older, announced late Monday, follows the recommendation on Friday by an advisory committee to the Centers for Disease Control and Prevention.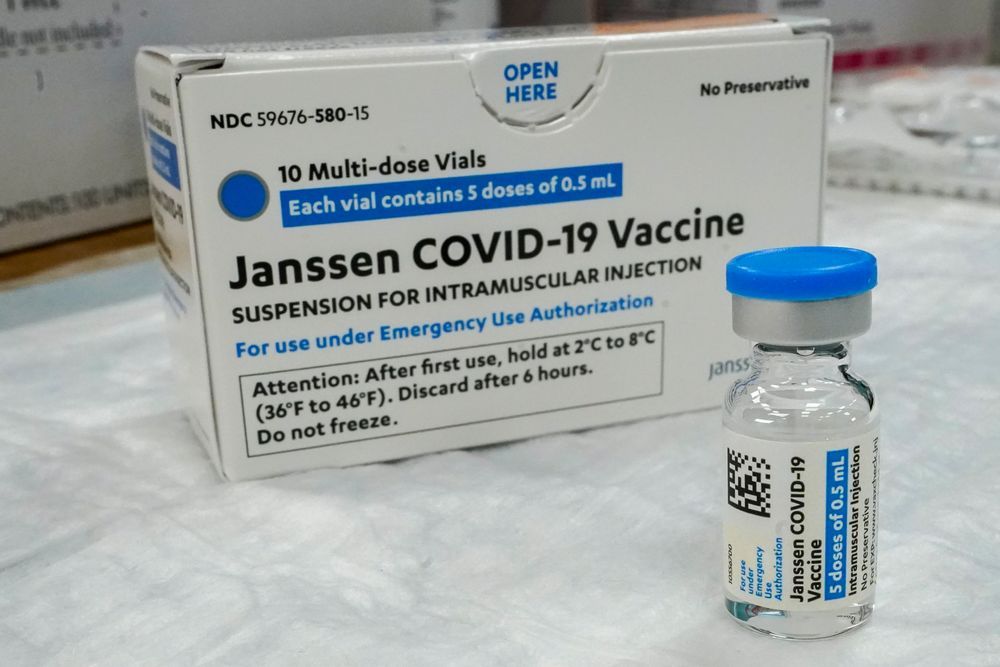 It comes as Rhode Island last week used less than 100% of its vaccine supply for the first time in more than a month, according to state data released Tuesday during a meeting of the COVID-19 Vaccine Subcommittee.
Rhode Island's most densely populated communities which report the highest rates of COVID-19-related hospitalizations also continue to lag in vaccination rates, the data shows.
Rhode Island has about 7,200 doses of the Johnson & Johnson vaccine, state health officials said, and they expect to receive another 700 per week.
State Health Director Dr. Nicole Alexander-Scott said during the meeting that the single-shot vaccine could be especially useful in emergency rooms and for homebound residents and other hard-to-reach populations. "We wanted to make sure we have every tool in our toolbox,'' she said.
The department announced the resumption of the Johnson & Johnson vaccine prior to the subcommittee meeting, which rankled some of the members.
Health officials said residents will be able to choose between the single-shot dose Johnson & Johnson vaccine and the two-shot Pfizer or Moderna vaccinations.
But access to that choice may be harder for some residents. Many clinics offer the Johnson & Johnson vaccine because it does not require a special freezer or refrigeration to store as do the Pfizer or Moderna vaccines.
"We recognized that many locations may not have the ability to have that other vaccine readily available,'' said Tricia Washburn, the state Health Department's chief of the office of immunization. "But making sure if, in fact your patient does not want this vaccine, there are other opportunities where they can access'' the Pfizer or Moderna vaccines.
When Rhode Island followed federal officials' advice for a temporary halt to the use of the vaccine on April 13, of the 6.8 million who had received the Johnson & Johnson vaccine in the U.S., six experienced the potentially dangerous blood clots within 13 days of being vaccinated. Health officials at the time stressed that the findings meant that the risk was less than one in a million.
But since then, the number of people experiencing these rare blood clots has more than doubled, to about 15 cases, said Dr. Karen Tashima, Lifespan's director of clinical trials at immunology center. "And there was this one 25 year old guy who also had this condition,'' she said.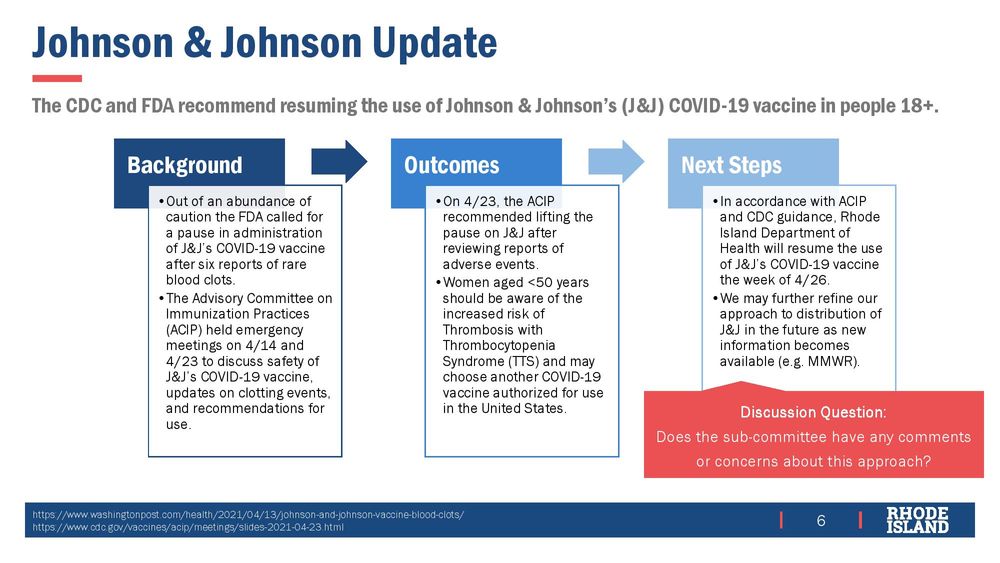 "For women under age 50 it's one in 80,000,'' Dr. Pablo Rodriguez said. "I'm gonna have to make that clear to the patient, in case they are thinking that's just one in a million.''
Dr. Justin Berk, medical director for the state Department of Corrections, said comparisons he has seen between the risks of the Johnson & Johnson vaccine to the risks of birth control are not appropriate given the severity of the reactions. "I think it's a great vaccine and a great tool,'' he said, "but I think the communication and marketing is going to be the biggest challenge."
Health reporter Lynn Arditi can be reached at larditi@thepublicsradio.org. Follow her on Twitter @LynnArditi