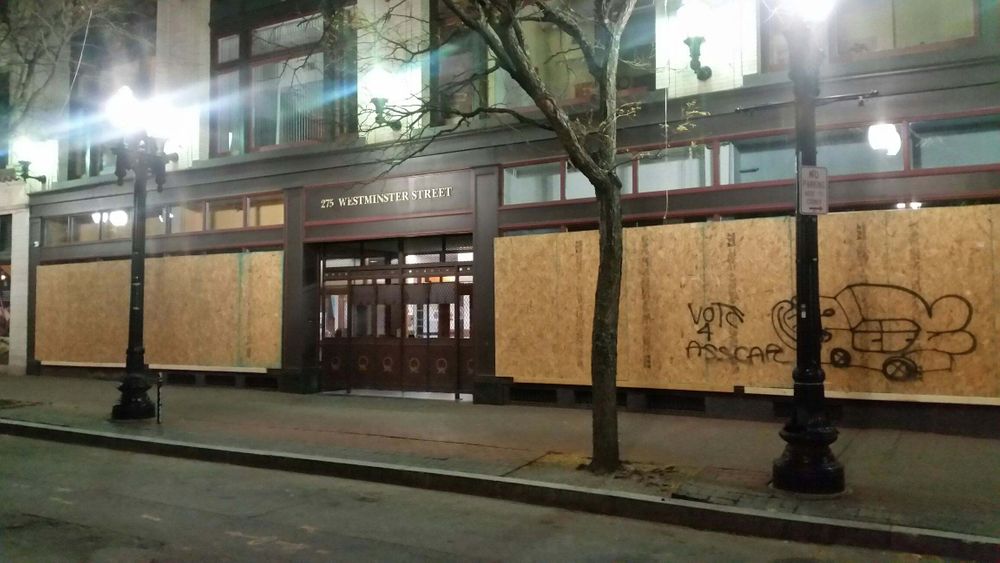 Rhode Island state police expect to be present for at least two rallies planned for Friday. State law enforcement are now in the "post-election" phase of their security plan, according to James Manni, head of the State Police.
Manni said Thursday that law enforcement will continue to monitor all activity as it relates to protests, including with help intelligence-gathering from the FBI.
Providence Public Safety Commissioner Steven Pare said Thursday the city police force was "monitoring the situation, and will be prepared" in the event that gatherings get out of hand.
The Rhode Island National Guard has been in contact with the Governor's office, and is ready to mobilize should they be necessary.
"If an event occurs that exceeds the Rhode Island State Police or local municipalities capacity, the Governor has the authority to call on us to provide additional assistance," said Lieut. Col. Dennis Pineault of the National Guard in an email Thursday.
With election results still trickling in nationwide, residents across Rhode Island are holding their breath and organizing. On Wednesday several rallies in the region called for votes to be tallied. One gathering, organized by local progressive groups in Providence, saw more than 100 attendees at the Rhode Island Statehouse.
Several groups supporting President Donald Trump are planning gatherings for later in the week, including one Friday at the Rhode Island Board of Elections in Cranston, demanding a vote recount.
Though downtown Providence was calm this week, several shop fronts were boarded and some shopkeepers were on edge.
"We shouldn't have to worry every day about whether or not [merchandise] is going to get stolen, or broken windows," said Guido Silvestri owner of Civil, a skateboard shop Tuesday evening. The store was vandalized and looted during a night of mayhem this summer, that cost the shop thousands of dollars.
"I'm never prepared to get hit again," Silvestri said. "I'm just at a point now where we've tried to protect ourselves so much that it's becoming almost everyday life, and that's not fun."
Next door, at the Vault Collective, employee Sydney Hunt said she anticipates protests no matter the outcome of the election.
"I think if Biden wins and Trump leaves office peacefully, a lot of people feel it's their civic duty to let the administration know what their demands are as the working class," Hunt said. "If Trump wins, I anticipate lots of violence."
The nature of any post-election protest could change as results trickle in. However, Commissioner Pare said Thursday Providence Police had "no credible threat" of violence at any of the gatherings they are monitoring.
Col. Manni said State Police are not monitoring any specific groups and added that the state is not typically a hotbed of anti-government sentiment. He noted that the vast majority of recent protests have been peaceful.
"What you see is democracy in action," Manni said Thursday.