Ray Sullivan, considered one of the sharpest political minds among Rhode Island Democratic political strategists, has died at age 44.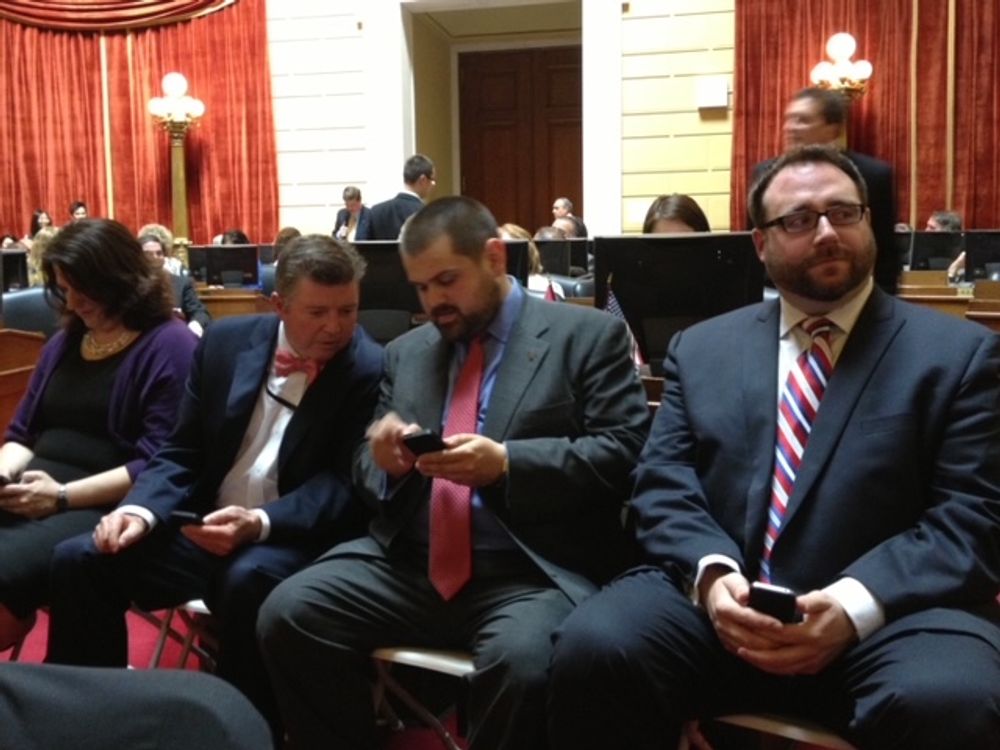 Most recently, Sullivan was a partner in Checkmate Consulting.
In a statement, Sullivan's family said he died Monday. Further details about his death were not immediately available.
Sullivan led Barack Obama's Rhode Island campaign in 2008 and was a key part of the leadership team for Marriage Equality RI that successfully pushed the legislature to legalize same-sex marriage in 2013.
"Words can not fully describe the pain I feel at losing Ray Sullivan," state Sen. Dawn Euer (D-Newport), another key strategist for the same-sex marriage campaign, said. "He was an amazing and loyal friend and brilliant political strategist. Working with him from 2011 to 2013 to get marriage equality across the finish line in RI was the honor of my life. I will miss forever his sage advice and his sense of humor."
According to his professional profile, Sullivan in 2013 "was featured in Campaigns and Elections magazine 'The Influencers 500' – listing of top political operatives from across the country. A former news reporter and AmeriCorps* volunteer, Ray got into politics to help create the right kind of change. His focus at Checkmate is media messaging, digital strategies, grassroots advocacy and general consulting."
Communications consultant Bill Fischer, another key strategist on the 2013 same-sex marriage campaign, said, "I first met Ray when he was working for Myrth York and I was working for Sheldon Whitehouse during the 2002 governor's race. It's not easy forming a friendship under those circumstances, but somehow it happened. He was someone you just wanted to be around."
Fischer continued: "He was a respected adversary and a good friend -- given that our clients often had opposing interests he knew how to be both. He understood campaign tactics and excelled at formulating strategic communication's plans. His lasting legacy will be the passion he brought to the marriage equality campaigns and the equity he achieved for all Rhode Islanders."
Another top strategist on the same-sex marriage campaign, Devin "Short Pants" Driscoll, who succeeded Sullivan as Obama's RI campaign manager in 2012, said, "Ray Sullivan was my first mentor in Rhode Island politics. He gave my first media training when I was a senior at Providence College in 2007 -- the beginning of a decades-long friendship and professional association."
Driscoll added, "The two proudest achievements of my work as an Ocean State organizer -- helping to achieve marriage equality in 2013 and working on both the 2008 and 2012 Obama campaigns -- happened because Ray hired me, helped me grow, and encouraged my dreams. Most of my happiest memories from that time in my life feature Ray. He was big hearted and vivacious. He loved people, fought passionately for the causes in which he believed -- especially issues of equity and dignity for working people. In his time as a member of the General Assembly, a political strategist and communicator, and a campaign leader, Ray made real, measurable change in the lives of his fellow Rhode Islanders. I will deeply miss his wit and his charm; his warmth and his wisdom. I will miss my friend, Ray."
Via Twitter, U.S. Rep. David Cicilline said, "Ray Sullivan was such a great guy and a fighter for equality for as long as I can remember. His passing is a loss to all in the LGBTQ community and I will miss him. I offer my deepest condolences to his family - they will be in my thoughts and prayers tonight."
Sullivan also worked with U.S. Rep. Jim Langevin and former Lt. Gov. Charles Fogarty.
Sullivan served three terms as a state representative from Coventry after first winning election in 2004.
Brad Dufault, one of Sullivan's partners at Checkmate Consulting, offered this remembrance:
"I was having lunch with Ray years after the marriage equality bill had passed and a woman he didn't know came up to our table and said to him, 'Sorry to interrupt but I just want to say thank you for what you did for my wife and I.' After she walked away, he looked at me and said, 'That never gets old.'
"Ray had an unmatched sense of humor and never took himself too seriously, but he took the work he did very seriously because he understood its impact on real people. He genuinely and deeply cared about making people's lives better -- whether it was his work on marriage equality or his advocacy for working people across Rhode Island.
"In a fickle business, Ray was a foxhole guy – someone you always felt comfortable with in the trenches, even in the most uncertain situations. When he was on your team, he was all the way in. He gave great advice. He was loyal, politically savvy, a brilliant strategist, and one of the funniest people you'll ever meet. I learned a ton from Ray. He was one of a kind, and will be deeply missed by many many people."
Sullivan was an avid hiker and fan of the Red Sox and soccer.
This story has been updated.
Ian Donnis can be reached at idonnis@ripr.org. Follow him on Twitter @IanDon. Sign up here for his weekly RI politics and media newsletter.