In a letter to the General Assembly, Raimondo said her spending proposal "largely focuses on strengthening long-term investments in existing programs across government that are working every day for Rhode Islanders. That means building on our prior investments in job training and education, protecting our most vulnerable, caring for our environment, ensuring affordable healthcare, and investing [in] and strengthening our middle class."
But as is always the case, it remains unclear what changes the General Assembly will make to the governor's spending plan before passing its own version later this year, probably in June. Legislative leaders reacted quickly with disappointment to Raimondo's plan to use marijuana-related revenue in the budget.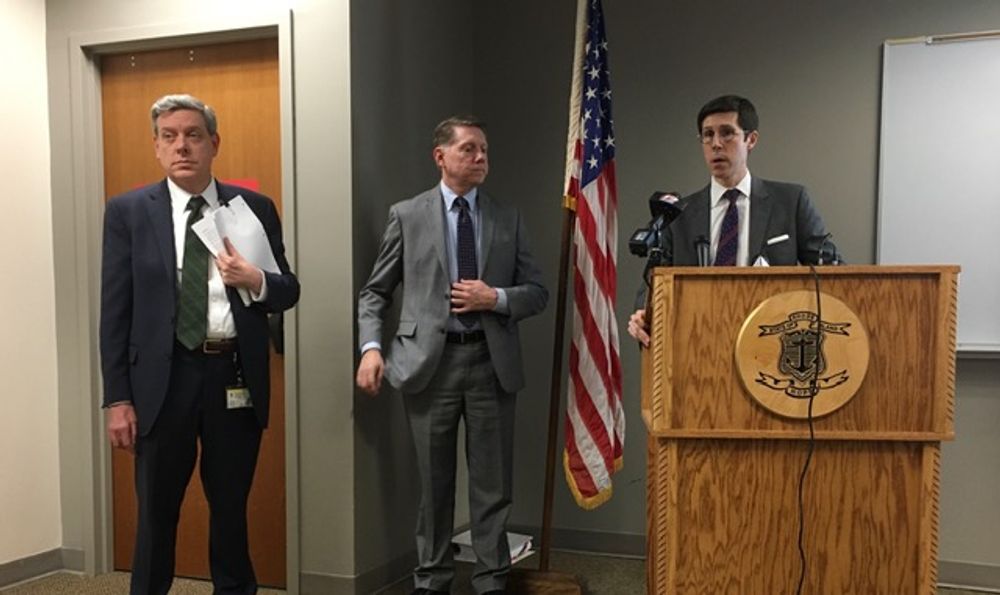 The $10.2 budget proposal marks an increase of roughly $300 million from the spending plan unveiled by Raimondo in January 2019.
The most controversial element of the governor's latest budget is a plan to establish a series of state-run marijuana shops – similar to how New Hampshire and some other states sell alcohol.
While House Speaker Nicholas Mattiello and Senate President Dominick Ruggerio said in recent year-end interviews that they remain opposed to legalizing marijuana this year, Brett Smiley, a top Raimondo aide, said the new proposal deserves a fresh look.
"This year's proposal is an innovative approach that will allow the state to capture more revenue, devote more of it to public safety and public health and reduce opportunities for corruption," Smiley said during a briefing for reporters.
The Raimondo administration is banking on $21.8 million in revenue from the marijuana plan, with the first retail stores opening in March 2021 under the management of state contractors.
Senate President Dominick Ruggerio didn't waste time in expressing his dislike for the reliance on marijuana-related revenue.
"At first glance, there are many areas of the budget that we can work together on to improve our state," Ruggerio said in a statement. "The budget proposal invests in many Senate priorities, including education, housing, health care, and the minimum wage. I am disappointed that revenue from the proposed legalization of recreational marijuana was included in the budget proposal. Seeing as the marijuana proposal is unlikely to pass, we effectively have a proposed budget that is out of balance to the tune of $21.8 million."
House Speaker Nicholas Mattiello raised even more questions about the fate of the governor's proposal.
"Yet again, the governor has presented us a budget lacking many details," Mattiello said in a statement. "I am very concerned about her proposal to generate revenue from the sale of recreational marijuana when she was advised this would not be an acceptable policy to the General Assembly. Over $20 million has been estimated, which is risky and short-sighted at best."
Mattiello said he is also "very concerned with the number of pervasive debt proposals which require a full vetting by the House Finance Committee. We are disappointed at many of her suggestions, including the raising of taxes and fees, which had been previously rejected by the General Assembly."
The speaker also criticized Raimondo's proposal to slow down the phaseout of the car tax, an issue he's championed, over another five years, until fiscal 2028.
"It's no secret that I'm interested in maintaining the current law regarding the car tax phase-out," Mattiello said. "This is the second year in a row that the governor has tried to tinker with the car tax. We must keep our promise we made to our constituents and taxpayers."
Raimondo's budget calls for raising the state minimum wage by $1, from $10.50 to $11.50 an hour. It also backs phasing in over five years an expansion of the state earned-income tax credit, from 15 percent to 20 percent.
In other parts of the budget, the need to address a statewide housing shortage has emerged as a growing priority for some top state officials.
Raimondo proposes addressing this with two approaches: an increase of about a half-percentage point in the real estate conveyance tax paid by buyers for the portion of properties that sell for more than $500,000. This is expected to bring in an estimated $8 million a year to spark the creation of what the governor's administration calls "workforce housing," under the aegis of Rhode Island's economic development agency, the Commerce Corporation.
Meanwhile, the governor is proposing three ballot questions, representing a total of $268.8 in spending, for the November ballot.
One of those ballot questions, for housing and infrastructure, would steer $25 million to spark affordable housing. That question proposes a total of $87.5 million in borrowing and would also steer money for industrial site development and improvements at Quonset Pier, among other uses.
The two other ballot questions would ask voters to borrow $117.3 million, mostly for improvements at URI, RIC and CCRI, and $64 million for improvements at state beaches and parks, protecting drinking water and other uses.
The governor also recommends a ballot question giving voters the chance to approve a line-item veto that would become effective in January 2023. The General Assembly would have to approve including putting the question before voters, and Speaker Mattiello and Senate President Ruggerio have indicated opposition to doing that.
On education, Raimondo's proposal increases support for K-12 education by more than $40 million, aides said, while removing a sunset provision for RI Promise, the free tuition program at Rhode Island College, and adding 750 pre-K slots.
A healthcare-related element expands the state RIte Share program, making it possible for more than 20,000 Rhode Islanders who are employed and covered by Medicaid to use their employer-sponsored insurance. The move is seen as a way to reduce costs for the state Medicaid program.
While the budget avoids broad-based tax increases, it hikes the cigarette tax by 35 cents, from $4.25 a pack to $4.60, and codifies in state law a previous executive order by Raimondo banning flavored vaping products.
The spending plan raises the state hotel tax by one percentage point, and counts on $14.1 million in revenue through new sales taxes and fees on custom computer and software design; courier/messenger services; lobbying; hunting and trapping; and interior design.
The spending plan also reimposes the state sales tax and wine and spirits (aides said eliminating the sales tax failed to spark more sales) while lowering the excise tax on wine and spirits.
While the state faced a $204 million deficit between the current fiscal year and the next one, that red ink was wiped out through a combination of new revenue ($64 million); reduced expenditures ($59.4 million); caseload estimating reductions ($40.9 million) and transfers, including "scoops" from a string of quasi-public state agencies with surpluses ($31.8 million).