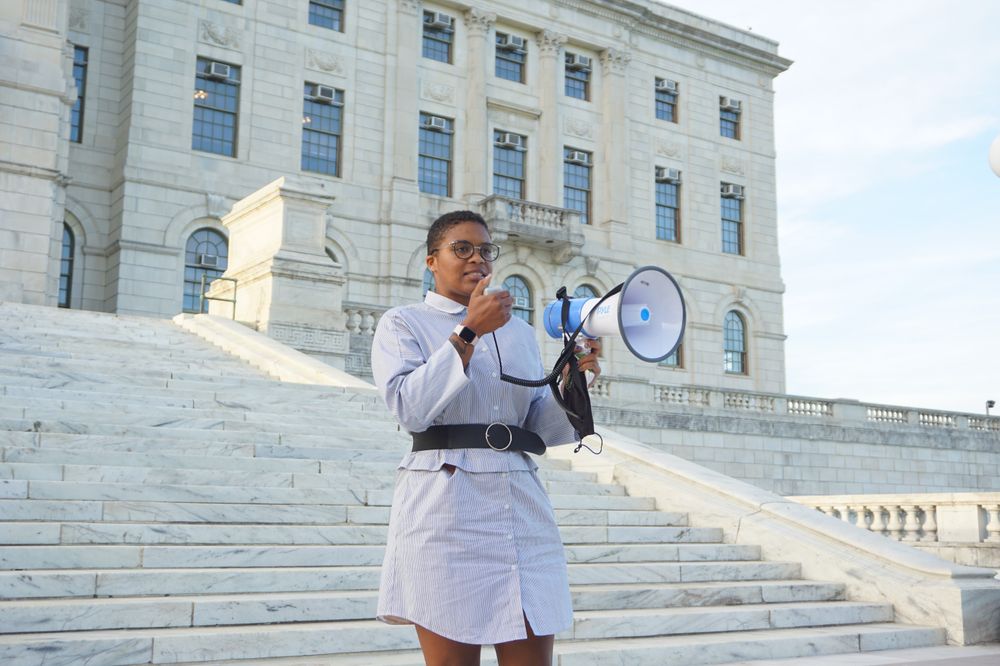 Several dozen people gathered on the steps of the Rhode Island State House Tuesday evening to mark one year since the murder of George Floyd.
"Today is really a day of remembrance," organizer Harrison Tuttle, executive director of the Black Lives Matter Rhode Island Political Action Committee, told the crowd of around fifty, after asking for a moment of silence to remember Floyd.
Floyd's killing by former Minneapolis police officer Derek Chauvin helped spur protests across the country and around Rhode Island over the summer of 2020, calling for racial justice.
Tuttle and other activists around the state have pushed for broad changes in Rhode Island, including reforming local law enforcement.
"Justice looks like ending state sanctioned violence, ending systemic problems that cause inequalities, in housing, education, and, most importantly, policing," Tuttle said Tuesday.
Activists have recently focused their attention on repealing the state law known as the Law Enforcement Officers' Bill of Rights.
Last June, some 10,000 people gathered at the State House to demonstrate solidarity with the Black Lives Matter movement, and smaller rallies were held across the state. Protests slowed through the winter months, and surging COVID cases at the end of last year. Now, as vaccines are distributed and the pandemic wanes, activists hope momentum is not lost.
"That's my biggest fear of this moment," said Sen. Tiara Mack (D-Providence). "Especially as the world starts to open up, and people kind of shake off the last year of being in isolation -- that we lose that sense of urgency."
Mack has sponsored legislation calling for the repeal of the state law known as the Law Enforcement Officers' Bill of Rights, or LEOBoR. Mack and other critics say the law currently hampers adequate accountability for law enforcement.
Wanda Brown, who has lived in Providence for about a decade, said she thinks progress on racial justice issues has been slow in the last year.
"Finally people are no longer in denial about the damage and harm that's caused to people of color," Brown said. "People tend to treat us like we did something wrong because of the color of our skin. Really all it is, is people are afraid of losing their power."
"We've seen at least a hint that returning back to indifference is not an option anymore," said Dr. Luis Daniel Muñoz, who is also a candidate for governor.
Though the event was tied to the one-year anniversary of Floyd's death, Kiah Bryant, executive director of Direct Action for Rights and Equality, a Providence nonprofit that focuses on housing and criminal justice reform issues, said she's focused on the future.
"And that's just because I've got to keep going," she said. "We're not done."