The 2020 election is like no other in recent memory. It takes place against the backdrop of the pandemic, with the presidential clash between President Trump and Joe Biden. In Rhode Island, voters will decide a series of legislative races, including Republican Barbara Ann Fenton-Fung's challenge for the state rep held by Democratic House Speaker Nicholas Mattiello.

With the deadline to register to vote fast approaching, The Public's Radio spoke with Secretary of State Nellie Gorbea about a series of voting-related questions.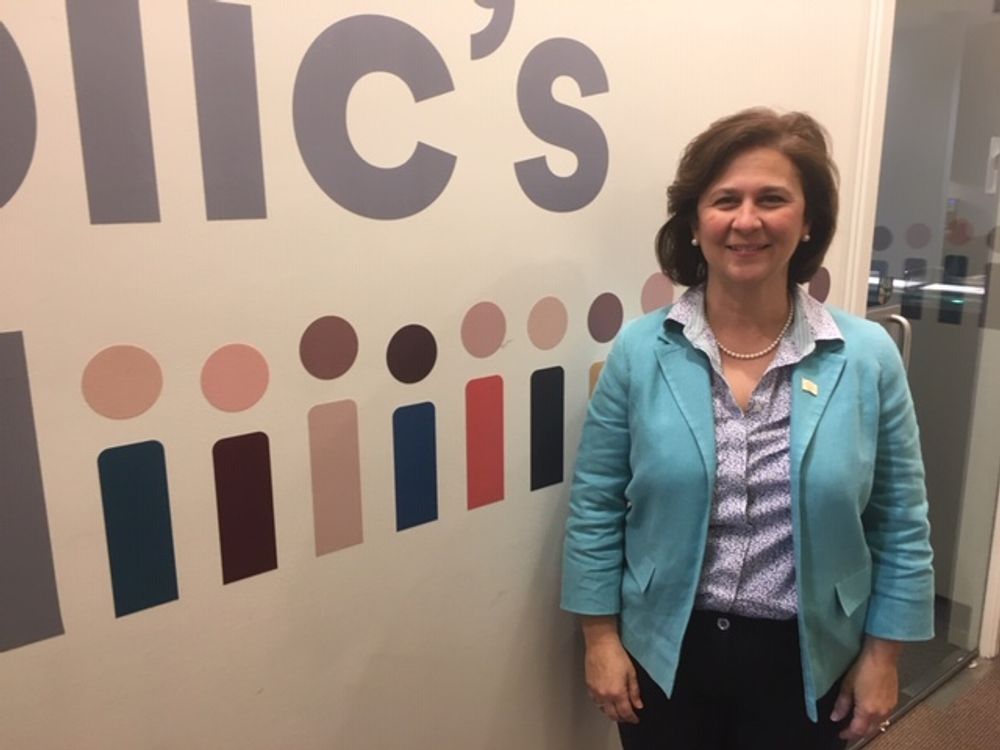 DONNIS: The deadline to register to vote is coming up this Sunday, October 4. What do Rhode Islanders need to do if they have not registered, and they want to register ahead of that deadline?
GORBEA: So anybody who has not registered, and by this, I also mean 16 and 17 year olds who can pre-register to vote, they must do so before or by October 4. And they can do that very easily by going to vote.ri.gov, downloading and printing the voter registration form. And I say 16 and 17 year olds, because they can work in the polls and get paid for it on November 3. They can't vote yet, but they can be pre-registered and therefore, work as poll workers.
But for the rest of us, yes, making sure that you're registered to vote by October 4 is really critical, so that you can vote the full ballot in this election cycle. The other thing is, if you've moved any time, recently, or any time since you last voted, also go to vote.ri.gov. And look for your information. Because you have to update make sure that your voter record is updated by October 4 as well.
DONNIS: If people want to vote by absentee ballot, how would they do that?
GORBEA: Absentee ballot or mail ballots that they're also called, everybody who's an active registered voter should have received from our office of voter a mail ballot application form. And I did this because I really have made it a priority to make voting convenient and secure for all Rhode Islanders. Making sure that during a pandemic, people don't have to choose between their health and their right to vote was was critical.
So we mailed applications. You can fill those out, there's a postage prepaid envelope there. If for some reason you did not receive that, go to vote.ri.gov, check to make sure that you're registered at that address, and that you've updated your voter address, because that's an indicator to me, that you may not be registered at the place that you're living.
DONNIS: President Trump and his administration have put out a lot of misinformation about voting by mail, including during the presidential debate this week. Do you expect that to affect the number of Rhode Islanders who vote by mail?
GORBEA: I absolutely do think you know when you have the leader of the country spreading misinformation about the trustworthiness of the US Postal Service or mail ballots or absentee ballots, then that will absolutely create a problem in perception in the country. I can tell Rhode Islanders though, that we have looked at the system from soup to nuts, and you can trust the integrity of the vote by mail system in Rhode Island. We have a lot of people checking on it, from the local level to the state level.
I personally have spoken to the postmaster general to make sure that there are no problems that they expect with the transmission of mail ballots. Now, if for some reason that doesn't convince you, the Board of Elections is installing election-only mailboxes drop boxes in every city in town. And so you can deposit your absentee ballot in one of those election drop boxes as well.
DONNIS: When do you expect we'll have results from the election both the Rhode Island state-based results and the presidential results from Rhode Island?
GORBEA: I think that the Rhode Island results will be in way before the national ones. And you know, that's something that really the Board of Elections is entrusted with that responsibility. So I can't speak for them. But I would expect that just as they worked in the June 2 primary, the September 8 primary, they will be very diligent and careful.
The one thing that I will tell Rhode Island voters is everybody needs to stay calm. Let the process work itself out. This is an open and transparent process in Rhode Island. And we will have the results as soon as they're available by the Board of Elections.
DONNIS: Both political parties are preparing for the possibility that the election could be decided by the US House of Representatives on that, you know, as something I don't think we've seen any time in recent US history, but do you think that's a real possibility?
GORBEA: It's hard to say. This has been a very unpredictable year and you know, resilience of our democracy depends on all of us in elected office, making sure that we've made plans for every single eventuality that that that can take place. So I'm glad that that's being looked at. I know that here in Rhode Island, we're making sure that we have alternate plans for every single piece of the election system.
DONNIS: Let's come back to the mechanics of voting a little bit. How will early voting work in Rhode Island?
GOBREA: Early voting, which is early in-person voting, is 20 days before November 3. So from October 14 to November 2, you can go to your city or town hall and It will work pretty much like the polling places will and November 3. You'll hopefully wear a mask, you will show your ID. If you don't have your ID, you will be given a provisional ballot. But if you show your ID and metrics out, then you're given the ballot, you fill it out, and you put it yourself in the voting tabulator. It's very similar to November 3, just 20 days before,
DONNIS: Give us the breakdown from the September primary -- how many people voted by mail, compared with early voting and voting at a polling place on primary day?
GORBEA: We had a total turnout of 91,000 voters, which may sound a little bit low, but 16 percent of voters had no primary. So it's not. It's not an unusual turnout for a statewide primary of those 91,000 votes. 39,000 came through mail ballots, 45,000 came through at polling places, and 7000 came in as early in person votes. I expect that to be different for the November 3 general election.
DONNIS: Some community groups are calling on the state to count mail ballots postmarked by November 3, but received up to three days after that. Do you support that request?
GORBEA: I not only support their request, it is something that I have advocated for at the board of elections, and also with the governor.
DONNIS: What is your explanation for why the governor is not going along with that at this point?
GORBEA: I don't know necessarily that she's not going along with it. We just haven't heard. I know that there were concerns and at the Board of Elections about you know, the possibility of people voting after the election day and in making it seem like it was a mail ballot. Since those concerns were raised at the Board of Elections, we have spoken to the post office. And it turns out that there are certain orange barcodes that are placed on all pieces of mail that can be read by a special reader that will tell us when that envelope was in the mail stream. And so I believe that the law that we have on the books reflects a paper process, it doesn't include modern technology that we now have. And we should make those changes. Because every person who's eligible to vote and cast that ballot deserves to have their vote counted, that technology exists. And we could use it to determine the time in which in a ballot was put into the mail-stream to make sure that it was in on Election Day, and just happened to be delivered the next day or two days later. So I actually very much believe that we should be expanding that receipt time for a ballot to be valid.
DONNIS: How is the state prepared against the possibility of hacking in this election either from outside the US or from inside the US?
GORBEA: Well, I can't give you the total playbook on how we've gotten guarded against hacking. But we have been over years now been improving the cyber-security of the Department of State and everybody from you know, the all employees that are monitoring, emails are receiving emails are constantly being tested on phishing emails. Our clerks at the local level are getting phishing emails as well that helped test their skills in determining what's a phishing email and what isn't. And so that's just one, one example. We have improved the hardware, the software, we've partnered with the federal government to make sure that our systems are as secure as possible. But beyond that, assuming that we are somehow hacked, we have plans in place to mitigate and to make sure that that any kind of hacking doesn't stop this election from happening.
Ian Donnis covers politics for The Public's Radio. He can be reached at idonnis@ripr.org.