The Providence External Review Authority is asking for a briefing on two incidents involving the city's police department over the past week.
"We are trying to schedule a conversation as early as today," Executive Director Jose Batista said. "We're trying to get that down on paper ASAP."
The first incident that Batista and PERA investigator Eugene Monteiro hope to review occurred Wednesday, July 22nd. City councilor Kat Kerwin said she was at Fortnight, a bar in downtown Providence, when officers arrived, saying that they had received a noise complaint. She described one officer as "belligerent", and added that four additional officers arrived after bar staff had turned the music off.
Fortnight has hung signs in its windows in support of defunding the police. Patrons told Kerwin they felt the bar was being targeted by police officers driving by with their sirens turned on, and that one officer shouted an obscenity at a patron.
"It is clear to me that what I observed was an attempt to harass a small business for bravely supporting youth organizers and working alongside community leaders to defund the police," Kerwin said in a statement.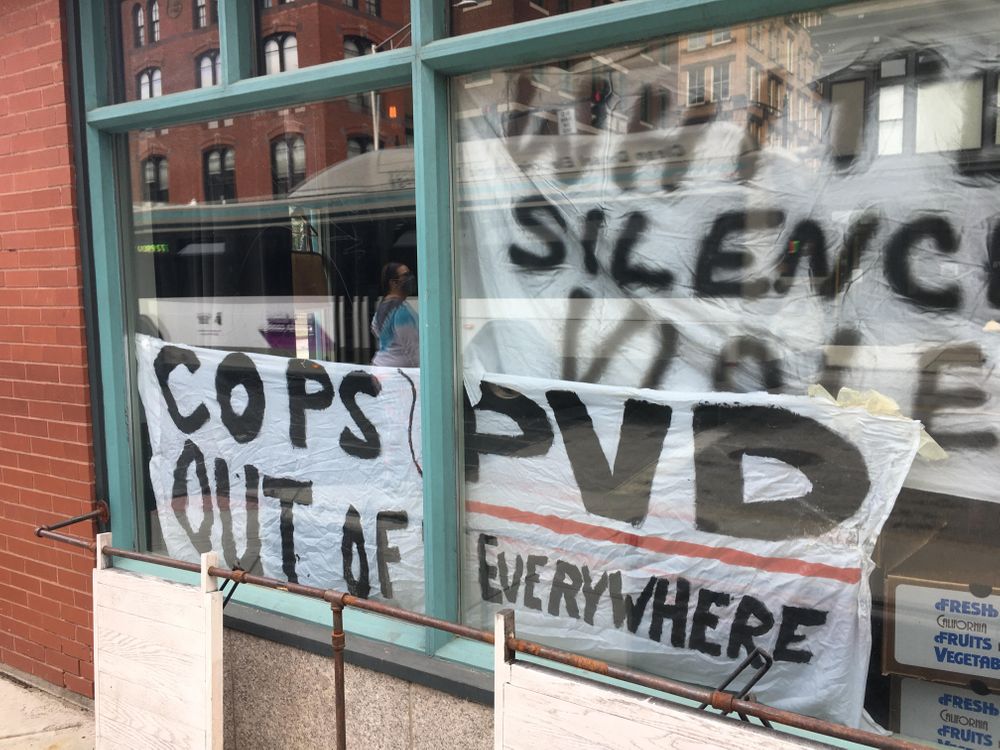 The second incident occurred Thursday, July 23rd. A handful of demonstrators affiliated with the group "Back the Blue" gathered outside the Public Safety Complex holding signs, and a small group of counter-protesters stood across the street. Video footage posted on Facebook shows two of the counter-protesters being detained.
"The bulk of the concern is about last night's incident," Batista said, "the allegations of potential aggressive conduct, military gear, and the fact that a couple of folks were arrested."
Police department spokesperson Lindsay Lague said the department will "continue working collaboratively" with PERA.
A city ordinance grants PERA "discretion to monitor any internal investigation by the police department as to which the executive director believes it is in the city's best interest for PERA to be involved."
But the oversight board's previous attempts to monitor police investigations have encountered barriers. Last week, the city council voted to subpoena video footage on PERA's behalf from an incident in which an officer is charged with assault. That video has not yet been delivered to PERA, but Batista said he is expecting to receive it.
And the oversight board is still waiting on evidence to review in an incident where a man claims he lost an eye after police fired a projectile into his car.
"We have not issued a subpoena in that," Batista said. "Hopefully the one subpoena will be enough. Hopefully we don't have to go down that route again."
This story was updated 5:34 pm July 24, 2020.