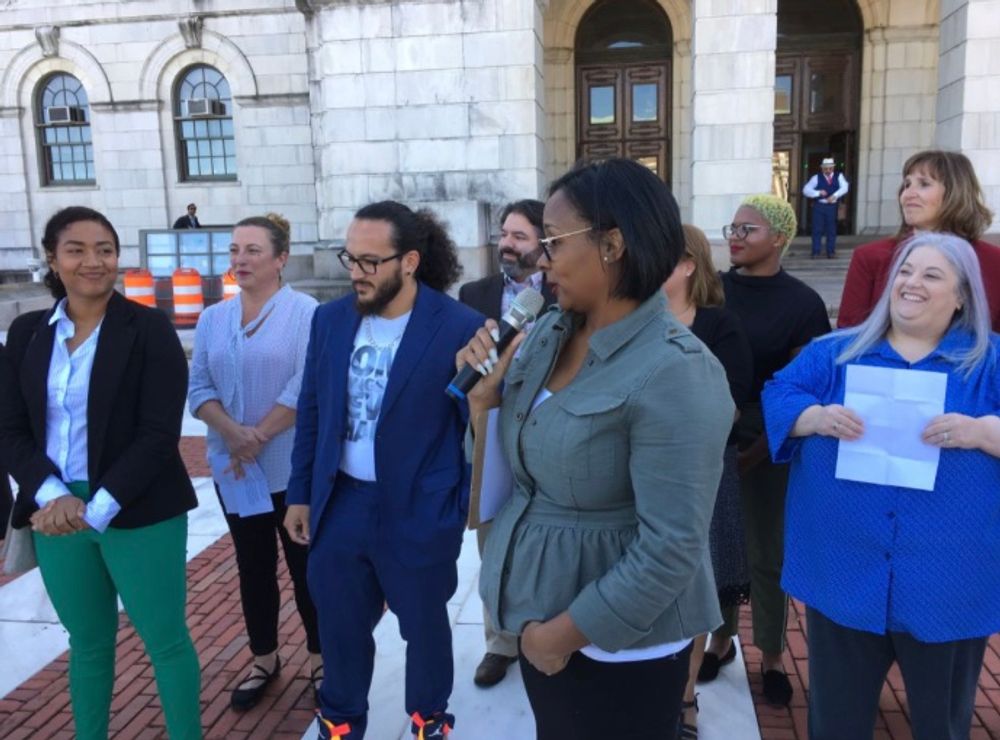 On the lawns of the Rumford section of East Providence, campaign signs for progressive challenger Cynthia Mendes vied for attention with those put out by supporters of the local state senator, Billy Conley.
But signs don't vote, as the expression goes.
And when it came to making personal contact with voters in Senate District 18, Mendes' ground game was far more active – to the surprise of some veteran campaign-watchers.
While both Conley and Mendes sent multiple mail pieces to voters, Mendes upped the ante the closing week of the campaign. Her volunteers called voters, knocked on their doors and knocked again on primary day to make sure they voted. Conley's campaign did not appear to make similar efforts.
While mail and emergency ballots remain to be counted, Mendes was leading Conley with just under 70 percent of the vote, with 9 of 13 precincts in.
The two candidates overlap on some issues, like support for a $15 hourly minimum wage. Yet Conley also faced a backlash for doing legal work for a controversial proposal to redevelop the Metacomet golf course in East Providence.
And elsewhere around the state, progressives ran a series of stronger than expected races.
Nurse Lenny Cioe spent a pittance compared with the almost $100,000 in campaign funds dropped by Senate President Dominick Ruggerio, yet Cioe still ran a very competitive race against Ruggerio.
Ruggerio, the longest serving member of the Senate, got 53.6 percent of the vote on primary day, not including emergency and mail ballots. In a statement, he expressed confidence that he will win.
"I'm confident that once every ballot is counted I will prevail in this election," Ruggerio said. "That said, I want to respect the process and will wait for every ballot to be counted. Claiming victory tonight would be disrespectful to my constituents and a disservice to the Democratic process. We look forward to tomorrow's final count."
Yet the top critic of Senate leadership, Sen. Sam Bell of Providence, won a decisive victory over his challenger, Jo-Ann Ryan, majority leader of the Providence City Council, with more than 70 percent of the vote.
Speaking ahead of the results, Georgia Hollister Isman, director of the progressive group Rhode Island Working Families, predicted a growing liberal presence will have fallout for the state budget.
"One of the most important issues is the budget as a moral document -- what gets cut and what gets funded and where we look to for revenue sources," she said. "I think that's going to be a top issue in the coming legislative session and one that could really be shifted by some new folks coming in to the House and the Senate."
***
In other noteworthy races. U.S. Rep. Jim Langevin dispatched a primary challenge by Dylan Conley, the son of Sen. Conley, with more than 65 percent of the votes.
Ken Hopkins, the candidate backed by outgoing Cranston Mayor Allan Fung, easily won the GOP primary in that city, Maria Bucci had a lead over Steve Stycos on the Democratic side.
In Central Falls, City Council President Maria Rivera had a significant lead in the race to succeed outgoing Mayor James Diossa,
***
While the size of the legislative progressive caucus has waxed and waned over the years, a coalescing of groups with overlapping interests -- including the Working Families Party, the RI Political Cooperative, Reclaim RI, and Sunrise -- has backed gains in a series of recent election cycles.
"We had volunteers like crazy," one activist said, referring to the primary results. "They did not."
In Warwick, Senate Majority Leader Michael McCaffrey was holding a lead over progressive challenger, Jennifer Rourke, one of three co-chairs of the RI Political Cooperative. Another chair, former Sen. Jeanine Calkin, had a modest lead in initial voting over Sen. Mark McKenney.
Also in Warwick, Co-op candidate Kendra Anderson was leading a four-way race for the seat being vacated by Senate Judiciary Chair Erin Lynch Prata.
In Providence, progressive challenger Tiara Mack had a significant lead over Sen. Harold Metts.
In primaries for the RI House of Representatives, Providence school principal Nathan Biah defeated Moira Walsh, a leading critic of House Speaker Nicholas Mattiello. And some Mattiello supporters, including Reps. Deborah Felella of Johnston and Patricia Serpa of West Warwick, appeared to repulse challenges by progressive rivals.
But progressive were enjoying the edge elsewhere: Leonela Felix was leading over Rep. Ray Johnston in Pawtucket, Brianna Henries was outpacing Rep. Joe Serodio in East Providence, David Morales was the head of the pack in a three-way field for Rep. Dan McKiernan's seat, and Michelle McGaw had more than 70 percent of the early vote in a race for an open seat in Portsmouth.
Robert Rapoza, head of the state Board of Elections, said mail ballots will be added to other votes by some time on Thursday.
Republicans will have their chance to square off against Democratic legislative candidates in November. As of now, the GOP holds just 14 of 113 legislative seats.