WARWICK - Ilan Upfal is scouting for votes on a quiet residential street off of West Shore Road. He walks up and down the street knocking on doors. Upfal wears a mask because of the pandemic, and he steps back about 10 feet before residents come to their doors.
"My name's Ilan," Upfal tells a voter. "I'm knocking doors for Jeanine Calkin today. She's running for state Senate in your local Democratic primary."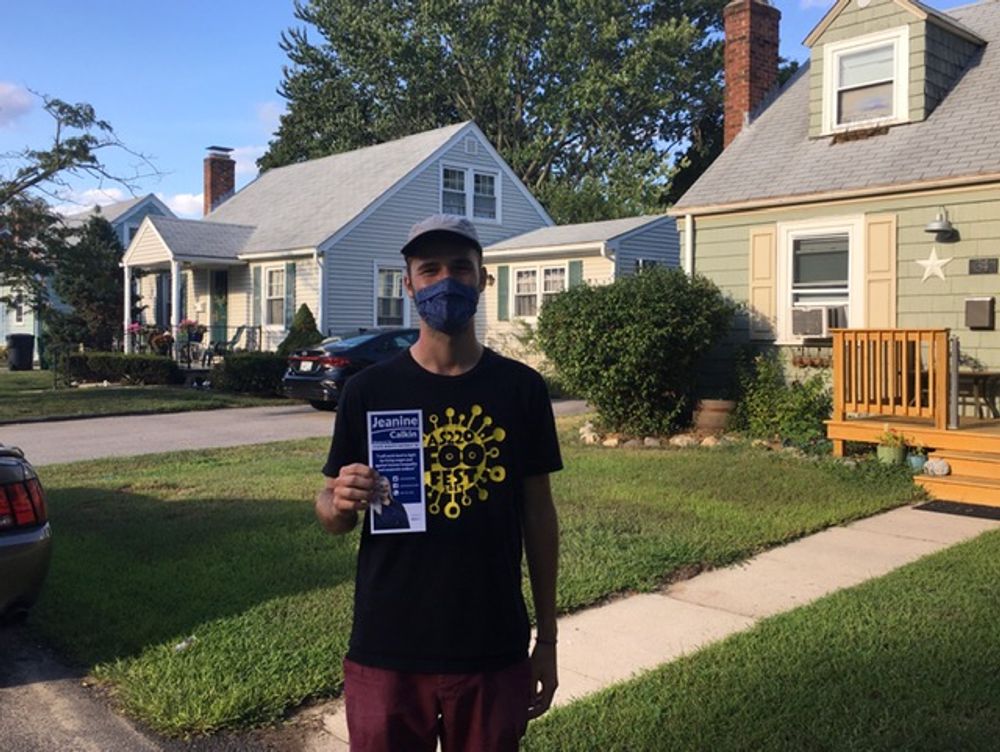 Calkin is not knocking doors herself because she has asthma. That means she'd face a bigger risk to her health if she got infected. Upfal, a Brown University student from Providence's East Side, is her 21-year-old campaign manager. He's taking Calkin's message to the doors, while she's working the phones and social media.
"I'm really supporting her because she is not a lawyer or a career politician," Upfal says while taking a pause in door-knocking. "She's running to be a voice for the people, not special interests. She's taking no money from corporations or lobbyists. She was inspired to run because she's seen first-hand how the healthcare system is failing us."
The prospective voter is a nurse named Jennifer. She likes what she hears, commenting, "Awesome, I feel ya."
"Can we count on your support for Jeanine?," Upfal asks.
"Absolutely," Jennifer responds.
Conversations like this are playing out on doorsteps across Rhode Island as progressives try to increase their modest General Assembly presence. And the establishment Democrats backed by House and Senate leaders are working to retain their numerical advantage in the 113-seat legislature.
Warwick is the scene of three battles for the state Senate. One Senate incumbent, Mark McKenney, was looking for votes in the Buttonwoods section of Warwick.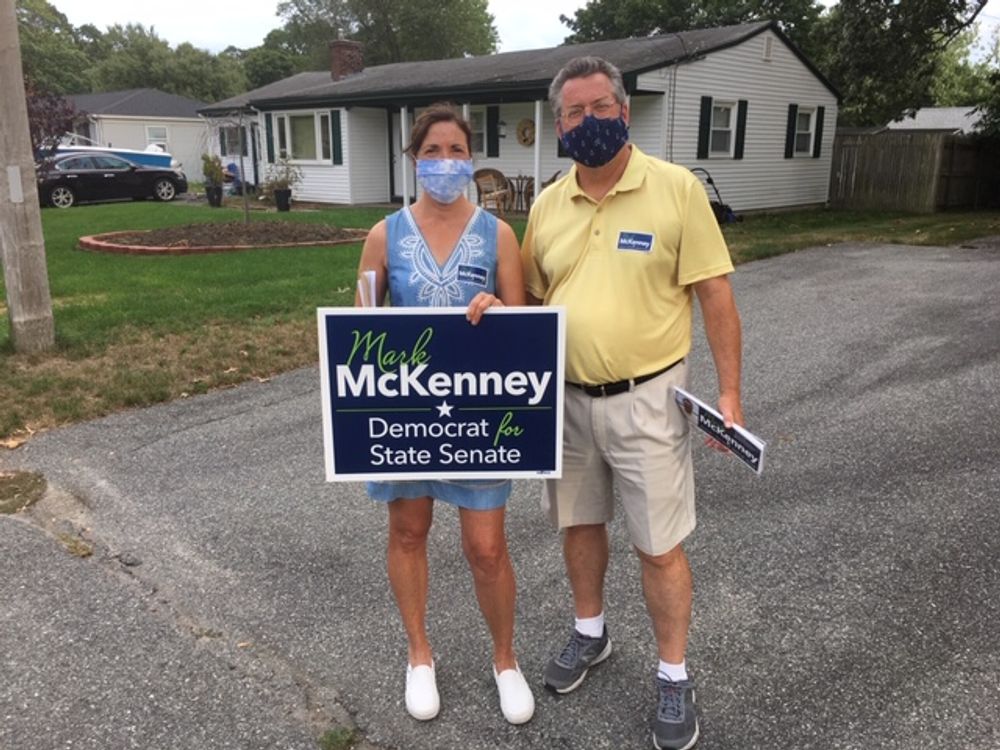 "Hello, Michelle? Mark McKenney. How are you?" he asks while greeting a resident. "I'm running for state Senate and I'm trying to do the social distancing thing …."
McKenney leans over to give Michelle a palm card with details about him and his campaign.
"On there, you'll see something about issues, a little bit about me and contact information," he says. "So if you have any questions at all including my cell phone -- people have told me I'm a little nuts for putting that on there …. "
McKenney represents Senate District 30 in Warwick. He's a partner in a Providence law practice, he's been active in community groups and he's worked as a lobbyist on workers' compensation issues and for a builders' and contractors' group.
The 63-year-old says he'd always wanted to run for office, but that the timing wasn't right until 2018. That was when he beat Jeanine Calkin in a Democratic primary after she'd been in the Senate for one term.
"I think I won this seat two years ago because I worked hard," McKenney says. "I got out and I walked. I was in every neighborhood. I think people noticed that and I think people also aligned with my positions."
McKenney calls himself a moderate Democrat. Like Calkin, he emphasizes the importance of taking on climate change in a district surrounded by Greenwich Bay.
McKenney doesn't dismiss the rap that lawmakers need to do more to help everyday people. But he says the legislature did some good things this year, like banning 3-D guns and ghost guns, and passing a bill ensuring equal access to parentage rights, regardless of sexual orientation.
Democratic rival Calkin is calling for more dramatic changes, like creating a $15 hourly minimum wage, increasing taxes on the well to do, and advocating for single-payer healthcare.
"I started Rhode Island for Bernie Sanders and then at the end of that, he had said, 'I want regular people to run office,' " she recalls.
Calkin is 50. She's an active volunteer and activist, and the outsider in this primary race.
That's visible by how Senate leadership has poured thousands of dollars into McKenney's campaign account. As of the most recent filing, he had more than $14,000, about twice as much as Calkin.
But progressives' ability to run stronger legislative campaigns has grown in recent years, thanks in part to a handful of new activist groups. Calkin co-founded one of them, the Rhode Island Political Cooperative.
"Basically, one of the reasons we started the co-op," she says, "was because we understood that the establishment has a very strong machine, in terms of networking, volunteers, information they have on how to run for office."
The co-op is running candidates in nine of 15 state Senate primaries. The Senate is the smaller of Rhode Island's two legislative chambers, so it offers the chance to make a bigger impact.
In the House, there are 19 primaries; about half feature progressive challengers backed by various groups.
Calkin says the co-op gives its candidates the chance to compete against better-funded rivals, thanks to a big base of volunteers knocking on doors and calling prospective voters.
"We've built great networks with groups like Sunrise," she says. "And we have the information and knowledge to be able to run good campaigns."
Progressives have gradually gained more General Assembly seats over recent election cycles. That trend could continue, although without an unexpected groundswell of support, progressives will remain outnumbered by the more conservative Democrats who form the legislative mainstream on Smith Hill.
Ian Donnis covers politics for The Public's Radio. He can be reached at idonnis (at) ripr (dot) org.