The Middle of Nowhere Diner in Exeter is the welcoming kind of place where they serve a hearty breakfast all day and the waitresses call you "hon." The diner is also a spot where you can find the political fault lines coursing through America in the new year.
Some of those eating lunch here on a recent weekday associate the Republican Party with positive values, like an older gent who said he's a veteran and would identify himself only as Gary: "Liberty, free speech, keeping the boys safe, keeping the military strong, taking care of the vets. I know I've benefited from what they did to the VA."
Eighty-year-old Dorothy Gardiner of Hopkinton has a different view.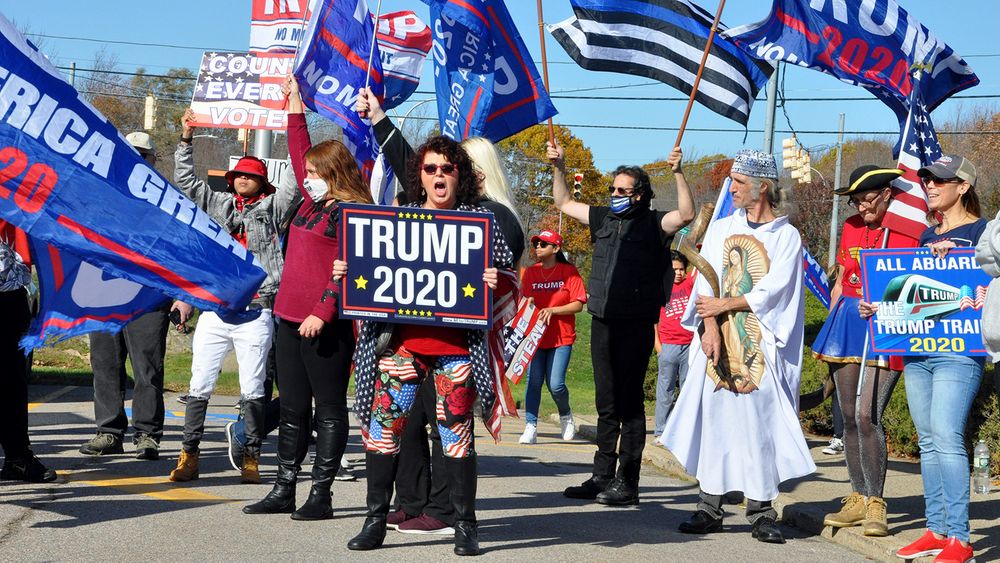 Gardiner said she knew by following the news that January 6th was going to be a really bad day in Washington, D.C. Gardiner said she's appalled by how Trump supporters stormed the Capitol after buying into his false narrative about a stolen election.
"I'm very disappointed in the Republican Party," she said. "I'm disappointed in America."
When it comes to the divisions in America, Exeter is a good example.
Voters here were almost evenly divided between Donald Trump and Joe Biden last November, with Trump winning the town by less than one percentage point. And while some voters at the diner detest Trump, the state representative from this district, Justin Price, went to Washington on January 6 to show his support for him.
There's no sign that Price was among those storming the Capitol. Despite that, the four-term state rep is facing calls to resign due to his support for a discredited conspiracy theory involving Antifa's supposed responsibility for the attack.
"Antifa went in there, did some bad stuff, raised the flag for Trump and blamed it on Trump," Price told The Public's Radio. "It's confirmed."
Actually, it is not confirmed.
Although a liberal from Utah was among those arrested in the aftermath, the FBI says there's no indication that Antifa was responsible for the attack on the Capitol. Conservative news sources like Fox News and Newsmax nonetheless amplified the false theory and some Republicans still believe it. State Sen. Elaine Morgan, a Republican from Hopkinton, for example, shared a Facebook meme blaming leftists for what happened on January 6. And Middletown native Michael Flynn, Trump's first national security adviser, was banished from Twitter for sharing information related to the QAnon conspiracy theory … the notion that Trump was fighting against a shadowy cabal of Democratic pedophiles.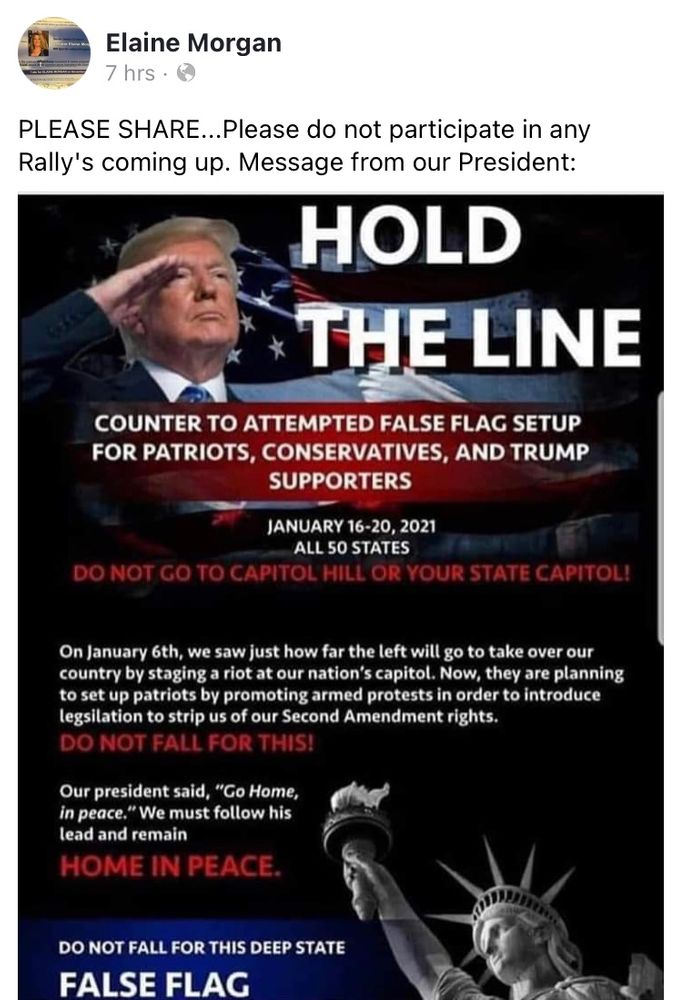 Rhode Island GOP Chairwoman Sue Cienki said doesn't know of other local Republicans who buy into QAnon.
But polls show that a large percentage of Republicans across the U.S. believe Trump's false theory that the election was stolen. Cienki attributes that to how Rhode Island and other states changed election laws to allow for more mail ballots during the pandemic.
"So it set up in people's minds that this is messy, there are possibilities of irregularities could pop up, and I think that's what happened across the country," she said.
Republicans have for years made exaggerated claims about voter fraud.
The GOP leader in the Rhode Island House of Representatives, Blake Filippi, is a libertarian who ran as an independent during his first campaign. That was because he didn't like how Republicans treated supporters of his preferred candidate, Ron Paul, in 2012.
Filippi says Trump paved the way for the narrative about a stolen election by using voters' cynicism, even though gripes about the government were around long before 2016.
"I think a lot of it comes down to distrust of institutions," he said.
As an example, Filippi points to how giant corporations like Amazon sometimes go a few years without paying any federal income taxes.
"I think people have a heavy distrust of government, respectfully, they have a heavy distrust of media," he said, "and I can't say that's totally their fault. I think our institutions haven't been what they need to be and I think Trump definitely played on that with some of his rhetoric, but there's a lot of fault to go around in a lot of places."
The fault extends to where some voters get their information.
In the time before President Biden's inauguration, Rhode Island Republican National Committeeman Steve Frias found himself explaining to his Cranston neighbors who actually won the election.
"I go for walks and I talk to Republicans in my neighborhood and they're talking to me about what they see on Fox News, some other channel and they're asking me questions," Frias said. "I have to explain to them that Joe Biden won the election."
Frias said Trump had a mixed effect on the Republican cause in Rhode Island, drawing in new blood while also alienating some longtime members.
The GOP had one notable success in the November election: Barbara Ann Fenton-Fung's defeat of the powerful Democratic House Speaker Nicholas Mattiello, for the state rep seat he held in Cranston.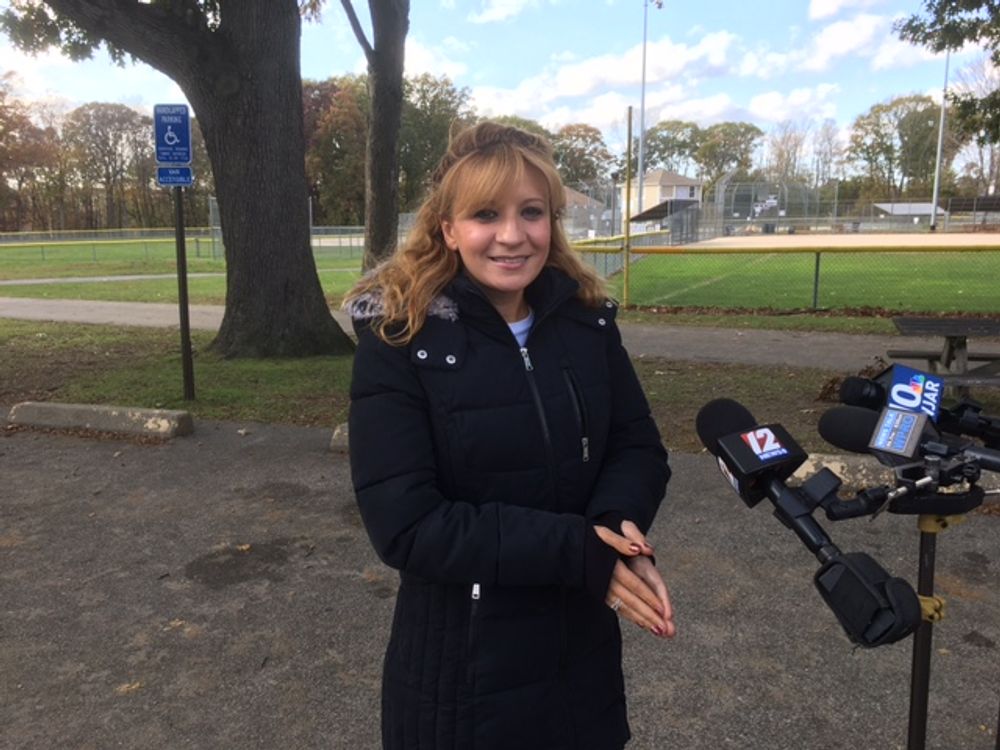 But Rhode Islanders have not elected a Republican governor since 2006. That was the same year the GOP lost control of the U.S. Senate seat formerly held by John Chafee, an icon of bygone Republican moderation.
The GOP now holds just 15 of 113 seats in the General Assembly, and the party has struggled for years to expand its legislative representation.
Frias said a big part of the challenge is how low approval ratings for Republican presidents make it more difficult for GOP candidates to win elections in Rhode Island.
"Because on state and local issues, we may find a majority of people will agree with us on one issue or another," he said. "So we have to focus on issues that we can get a majority of Rhode Islanders on, cause if you always focus on the national issues, Rhode Island is pretty much liberal Democratic state and votes at the national level like a typical liberal Democratic state."
Now, after traveling to Washington for the pro-Trump rally on January 6th, state Rep. Justin Price (R-Richmond) faces calls to resign due to his mistaken attribution of responsibility to Antifa for the Capital attack.
He shows no sign of heeding that request, and even the progressive Democrat who ran against Price last year, Megan Cotter, says he shouldn't step down just for going to a demonstration and sharing his view.
As a first-time candidate, Cotter came within 321 votes of defeating Price last year. Cotter plans to run for the state rep seat held by Price again next year.
Ian Donnis covers politics for The Public's Radio. He can be reached at idonnis@ripr.org. Sign up here for his weekly RI politics newsletter.