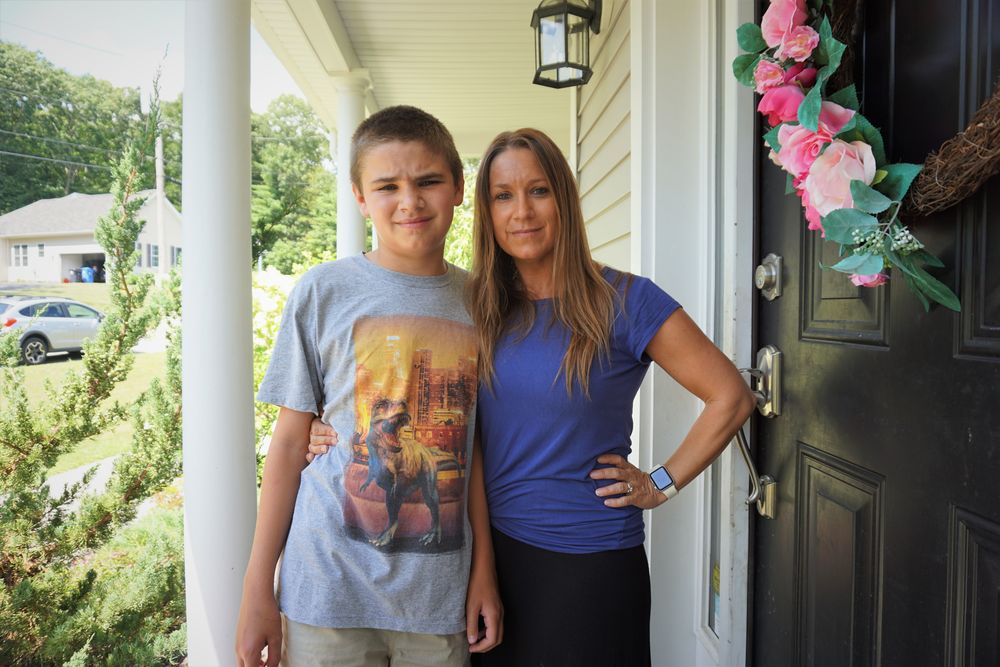 In a survey of more than 400 Rhode Island parents of students with special education needs, more than half felt their children did not sufficiently progress academically. A majority said that their children missed out on some or all of the services specifically required in their students' individualized education plans, or IEPs.
"Even during normal times, even when it's not a pandemic, there's extra resources that these students need." said Sam Salganik, executive director of the Rhode Island Parent Information Network, the nonprofit organization that administered the survey.
With weeks before the new academic year begins, the survey is one of the first large-scale measures of parents' estimation of distance learning for students with special needs. Districts are expected to conduct more formal assessments for special education students, but most of those will likely take place after the start of the new year, and could take weeks to complete, said Saskia Nilson, a parent and special education advocate who works with families navigating services in the state.
"I knew right away it would be tough for him," said Jessica Slesingers of distance learning for her son Zach, who is a elementary school student in Cumberland.
"I feel he was able to maintain what he had, but I don't feel like he learned much else."
For her son, the daily hours of work in front of the computer were incredibly difficult. He also missed the school environment where he received occupational and speech therapy, along with adaptive gym classes.
"Though he did get instruction from the teacher, I was the one implementing the lessons." Slesingers said, who echoed the majority of surveyed parents who said their children needed adult support some, if not all, of the time. "It put a lot of pressure on parents to make sure they were able to do all this extra work."
Though school districts and the state have yet to make final determinations about a return to in-person learning, Slesingers and her husband have already decided they do not feel comfortable sending their children back into the Cumberland public schools. That means another semester, at least, of distance learning for her son Zach.
"I am ready for regression, because if we are doing everything at home, because it'll be six months [since he was in school] at that point," Slesingers said.
Christine Parker, of Cranston, is planning to send her son back to his public elementary school if it does reopen. According to the survey, more than 80 percent of parents said they prefer at least some return to in-person learning. The closure of schools and the loss of regular contact with his peers was isolating and distressing for Parker's son.
"For a child that has anxiety, depression, that has social, emotional needs written right into her IEP, he needed connection," she said.
Most parents surveyed said they were worried about their children's emotional well-being during distance learning. More than a quarter reported being "extremely concerned."
Academically, Parker says her son did miss out on things required by his IEP, like specialized reading classes.
"[I] kind of let those things slide," Parker said. "I could have said, 'well you're violating his academic rights now, because he should be getting what's in his IEP.' But at the same time, we're managing this global pandemic. And that kind of patience is wearing lighter for the fall."
She and other parents say they were gracious with their school districts and teachers who scrambled to put together online classes within weeks, after schools shut down in mid-March.
"I did make some concessions on my son's behalf, because of what we were going through globally," Parker said. "I can't afford to make those concessions for him moving forward."
Some districts, including Providence, are prioritizing students with special education for an in-person return to classes, if full reopening is impossible. But if schools are unable to reopen, or greatly limit in-person instruction, parents fear special education students will again struggle to keep up virtually.
"If schools are forced to return to all or mostly distance learning, they think about how to provide in-person support safely for some of the students who need them," said Salganik, who noted that distance learning largely looked the same for students with or without special education needs. He says that can't happen again.
"Maybe those supports can be provided in the home, maybe they have to be provided in a school building or somewhere else in the community."
Correction: a previous version of this story left out a word, implying that Jessica Slesingers would send her children back to school, when in fact she has decided she will not.