→ See more of our coronavirus coverage, including community resources and personal stories.

Parents have been lenient with schools and teachers trying to make the best out of a difficult situation. Now they worry their graciousness in a crisis will come back to haunt them when schools reopen.
When schools closed for good in March, the state said it anticipated issues with distance learning and special education. But U.S. education secretary Betsy DeVos last week reaffirmed states' legal requirement to provide special ed services, in spite of the pandemic.
But some of the more than 21,000 students who receive special education services in Rhode Island, that hasn't been the reality of distance learning.
For the last two months, Saskia Nilsen has spent a good portion of her days planted between her two middle children at a table in their East Greenwich home, shepherding them through online classes.
Like many parents, Nilsen is taking on the job of at-home teacher, but her children have significant special education requirements. Her daughter is dyslexic. Her son is on the autism spectrum. Both have mental and physical health needs, and dense individualized education plans, or IEPs.
"They have occupational therapy, psychological services, group services, mentoring, a modified P.E. program, all kinds of things," Nilsen said.
Some of those services are now being administered online and with phone calls and video chats. But some are not. And challenges with technology, communication, and online learning fatigue make services difficult or impossible to completely replicate.
It takes her daughter about double the time to get through general classwork. And her son requires an aide all day, as dictated by his IEP. That aide was laid off by a private company early into distance learning.
As a result, Saskia fears her children -- a sixth grader and an eighth grader -- are falling behind.
"What is falling aside is curriculum mastery, vocabulary, the support development they're getting outside of core curriculum," Nilsen said. "Basically, half of their IEPs aren't being addressed."
"We know that there are situations in which we could do better of course," said Lisa Hughes, who oversees special education services in East Greenwich. "And we're committed to finding what to do better, in a time where we're struggling to figure out how best to accomplish that."
As part of the district's efforts to address those needs, she's set up a task force to improve distance learning for the next two months of the school shutdown. She adds that district paraprofessionals will be taking on an expanded role, working with special education students moving forward.
"We appreciate the parents' patience and their collaboration," said Huges. "When we get kids back in school, we're going to need to meet as IEP teams to discuss each student and to discuss the kinds of things that happened during distance learning and didn't happen."
Parents, including Nilsen, are quick to return the praise, with many teachers working overtime to adjust to the challenges of distance learning. But they worry about how much support their kids will need to catch up once schools reopen.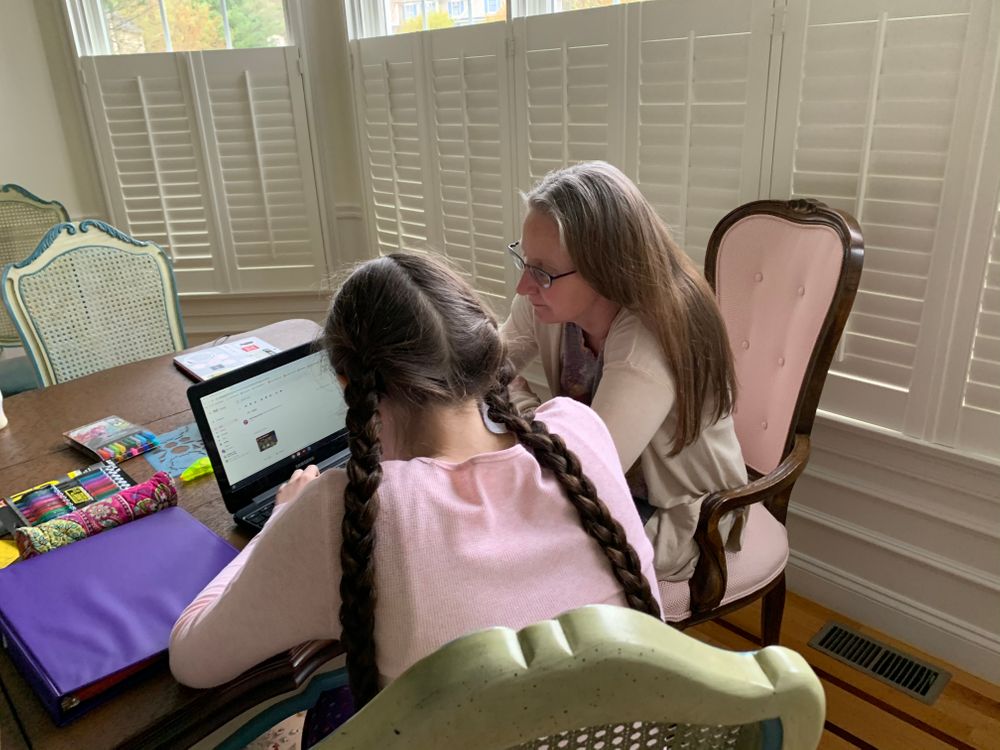 Parents spend years fighting for special education services for their children. Meticulously updating the IEPs to make sure school days are as smooth as possible, and constantly making sure they are being implemented. It's often a frustrating and never-ending effort.
"This has become part of my life. I say to people this has become my second full-time job," said Annmarie Jurczak, whose daughter is a freshman at East Greenwich High School.
As doctors, both Jurczak and her husband are essential workers. They rely on a babysitter and their two other children to help their daughter, who is on the autism spectrum, work on classes. Her daughter is guaranteed an aide through her IEP, but she is not currently working with her, Jurczak says. And her daughter is not independent enough to get through distance learning on her own.
"Under other circumstances I probably would be more aggressive about trying to pursue that," said Jurczak. "But I feel that we're all sort of in a bad place, and I do see people really trying to make this work.
But now, Annemarie and other parents worry they will need to fight again for previously won, federally mandated services.
"Are things going to slide because we've accepted changes? That has definitely come into my mind," said Jurczak. "Any concessions that we've made during this time should not be interpreted as acceptable when we go back."
"Parents aren't waiving their rights for services by being collaborative and flexible," said North Kingstown Attorney Christine Marinello, who represents families trying to get IEP accommodations from school districts.
Marinello said the law guaranteeing special education to students who need it is clear, and it will be in place when students go back to classes.
"Their rights remain in terms of enforcement."
Their rights may remain, but now many parents are asking: what's the plan to help their special ed kids catch up when school returns to some semblance of normalcy, and how much bigger will their role be in carrying it out?