A major shift in Rhode Island politics unfolded Tuesday, as Gina Marie Raimondo won an overwhelming confirmation vote as Commerce secretary in the U.S. Senate, and Lt. Gov. Dan McKee was sworn in to succeed her as governor.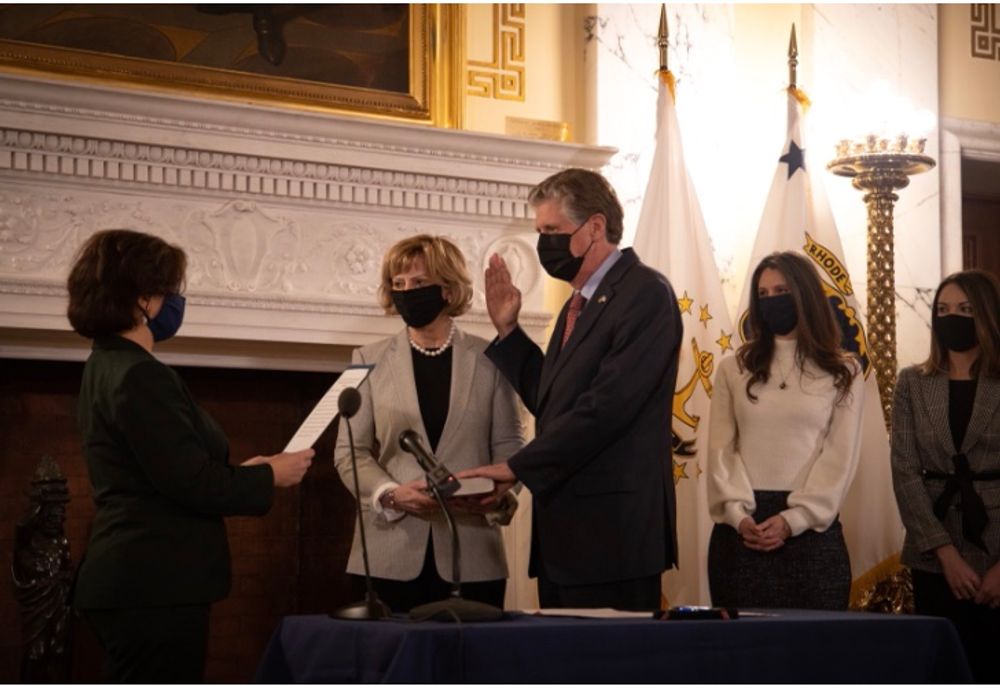 In her letter of resignation, made public at 6 p.m., Raimondo said being governor was the honor of her lifetime and she expressed confidence in McKee's ability to lead the state forward. She also presented an online report covering her time as governor, starting in 2015.
Then less than an hour later, Secretary of State Nellie Gorbea swore in McKee, a 69-year-old Cumberland Democrat, during a closed Statehouse ceremony. He plans a public inaugural event at noon this Sunday.
McKee was joined by family members, including his wife and their two children.
Rhode Island's 69th governor also unveiled a list of staffers for his new administration:
"I am fortunate to have recruited a highly professional team of individuals who are talented, experienced, encompass diverse perspectives and who share a passion for public service," McKee said. "In the months ahead, they will help me achieve my goals of ending the pandemic, revitalizing our economy, supporting our communities and returning Rhode Island to a state of normalcy."
Christopher Abhulime, Deputy Chief of Staff
Antonio Afonso, Senior Deputy Chief of Staff
Kim Ahern, Policy Director and Senior Counsel
Suzanne Augenstein, Director of Executive Operations
Guerline Aurelus, Director of Constituent Services
David Barricelli Jr., Constituent Services Associate
Jonathan Bissonnette, Staff Writer and Content Manager
Joseph Casoli, Governor's Office Liaison
Cheyenne Cazeault, Policy Advisor
Alana Cerrone-O'Hare, Press Secretary
Eileen Cheng, Deputy Counsel
Tara Chicharro, Special Assistant to the Deputy Chief of Staff
Rosa DeCastillo, Director of Community Affairs and Outreach
Ronald Desiderato, Special Assistant to the Governor
Tabatha Dube, Special Assistant to the Chief of Staff
Craig Dwyer, Manager of Appointments
Christopher Farrell, Senior Advisor to the Governor
Paulette Hamilton, Director of Municipal Affairs
Kevin Horan, Director of Legislative and Intergovernmental Affairs
Corey Jones, Policy Advisor
Lexi Kriss, Deputy Director of Communications
Christine Lopes Metcalfe, Senior Advisor to the Governor on Education
Brenna McCabe, Senior Advisor to the Governor
Meredith McKenna, Legal Administrator
Thomas Mullaney, Senior Advisor
Andrea Palagi, Director of Communications
Joseph Polisena Jr., Deputy Counsel on Policy
Claire Richards, Executive Counsel
Becky Rodrigues, Office Manager
Victoria Scott, Policy Advisor
Anthony Silva, Chief of Staff
Joy Vaudreuil, Director of Scheduling
Americo Vota, Deputy Director of Legislative and Intergovernmental Affairs
Earlier, on an 84-to-14 vote, the U.S. Senate confirmed Raimondo as Commerce secretary.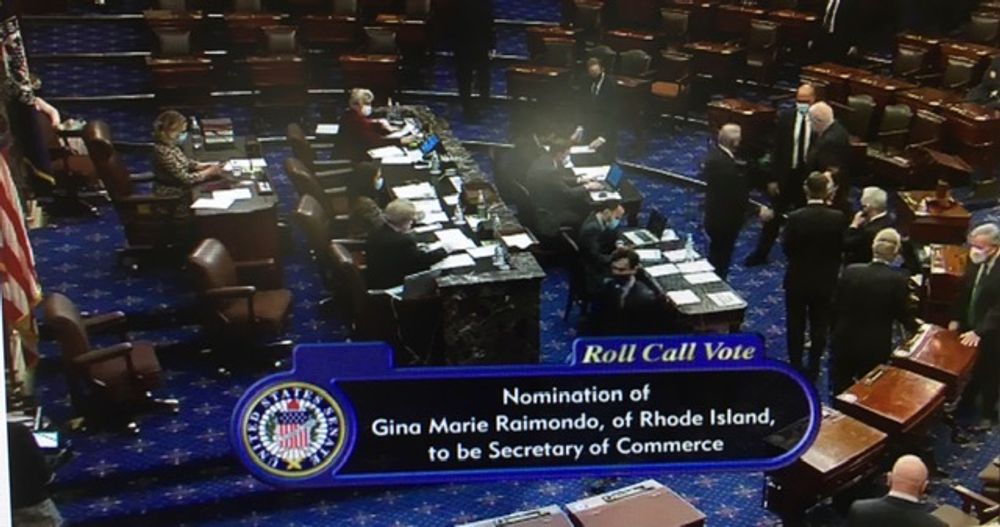 The afternoon vote in the Senate followed brief morning arguments for and against Raimondo's confirmation.
Sen. Ted Cruz (R-Texas) repeated the concerns of some Republicans that the Biden administration may not take a tough enough line against Chinese telecommunications company Huawei.
Sen. Maria Cantwell (D-Washington) countered by calling Raimondo the right choice to lead the sprawling Commerce Department during a challenging time.
"Frankly, I think she's a departure from the last president and the last Commerce secretary, Wilbur Ross," Cantwell said. "I think he and the president spent a lot more time shaking their fist at the world community than engaging them on policies that were really going to open up markets and help us move forward with getting our products in the door."
The Commerce Department includes 12 separate bureaus and about 47,000 employees.
Plaudits flowed for Raimondo after her confirmation.
"I congratulate Secretary Raimondo," Sen. Jack Reed said in a statement. "She will lead with integrity and play a critical role overseeing a wide array of key initiatives essential to our nation's future, from helping U.S. manufacturers compete to investing in economic development to managing our ocean resources. She'll build successful partnerships, bring people together, and help spur smart, sustainable economic growth."
House Speaker Joe Shekarchi, who managed Raimondo's 2010 campaign for general treasurer, said in a joint statement with Senate President Dominick Ruggerio, "As Governor, Gina Raimondo led our state to record employment levels before the pandemic hit, and she provided steady, compassionate leadership over this past, most difficult year. On behalf of the General Assembly, we wish her and her family all the very best as she takes on this very important role.
Shekarchi and Ruggerio added, "We also want to extend our congratulations to Governor Dan McKee. He has been a consistent and strong voice on behalf of Rhode Island's hard-hit small business community. He brings a valuable perspective as a former municipal leader, which will be important as we work collaboratively to rebuild our state. We know everyone in the legislature looks forward to working in collaboration with Governor McKee to address the many challenges facing our state."
Ian Donnis covers politics for The Public's Radio and can be reached at idonnis@ripr.org. You can sign up here for his weekly politics newsletter.