Timothy Cox is the shellfish constable and harbormaster in the port of Fairhaven. Just before 5 a.m. Wednesday morning, he intercepted a mayday call over the radio. Cox said it was two men aboard a boat called the Big Buddy, which had broken loose from a marina on Pope's Island in the Acushnet River.
"We couldn't get under the bridge because the tide was coming up," Cox said. "I told the Coast Guard that we were going to go over by land and investigate what we had going on."
Cox and the New Bedford police and fire departments drove over the bridge to the Whaling City Marina, only to find a cluster of downed power lines spread across the submerged dock.
"What had happened was he had pulled a couple cleats off the dock, and the dock started to break," Cox said.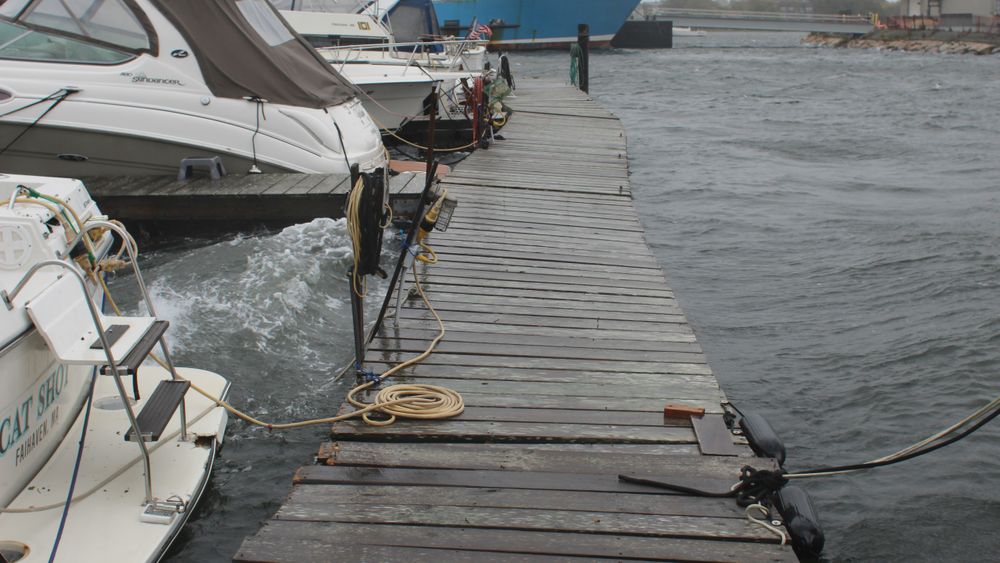 A New Bedford police spokesperson said first responders managed to reconnect the part of the dock that was floating away before throwing a line out to the men on the boat. In the end, no one was injured.
Clint Allen, who operates a towboat in Buzzard's Bay, said crews will be dragging at least two sunken ships out of New Bedford's harbor once the storm subsides. Both were recreational boats that took on water at the Whaling City Marina from waves kicked up by the wind.
"You couldn't even hardly walk down these docks," Allen said. "They were bucking broncos. It was horrible."
Further down New Bedford's harbor, a sailboat slipped its mooring and struck a fish house. And on the other side of Fairhaven's Sconticut Neck, Cox said heavy winds obliterated a different marina, sending several boats blowing around the bay.
A spokesperson for the city of New Bedford said no commercial vessels were significantly damaged during the storm.
On land, heavy winds topping 60 miles per hour blew a two-seat airplane undergoing repairs at the New Bedford Airport onto a public road.
Schools across the region closed for the day, and executives at Eversource and National Grid said it could take multiple days before power is fully restored. At a Wednesday afternoon briefing, Gov. Charlie Baker said that crews are working where it is safe to do so.
"In some cases," Baker said, "they do need to wait until the winds come down before it's really going to be safe to get up into a bucket truck."
Ben Berke is the South Coast Bureau Reporter for The Public's Radio. He can be reached at bberke@thepublicsradio.org.