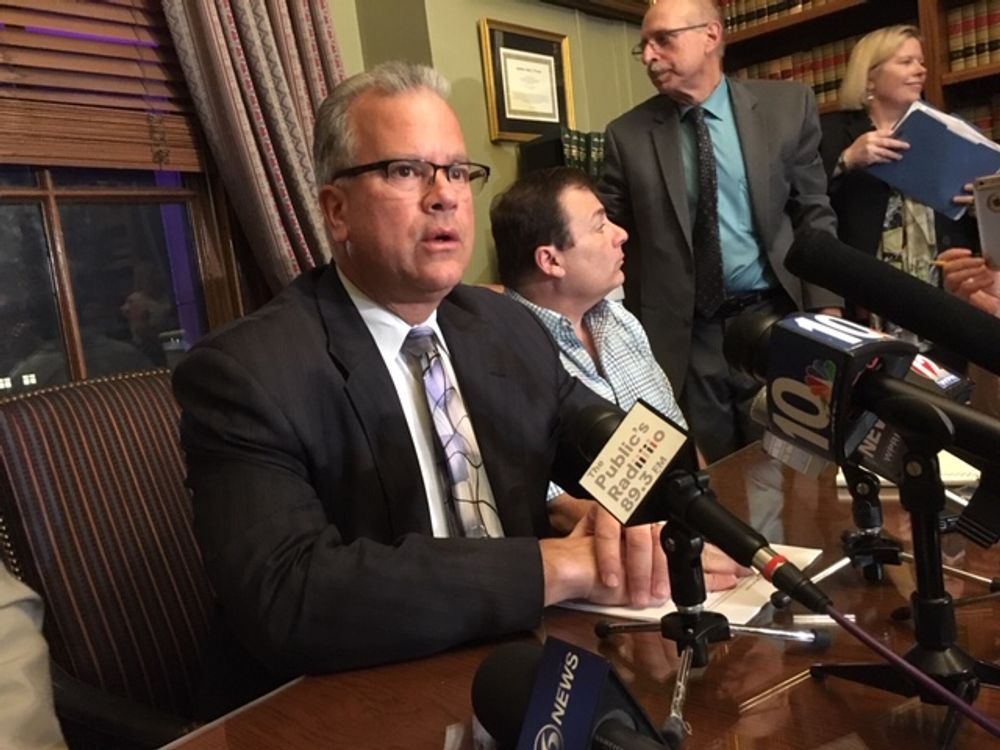 The Nonviolence Institute, which received a $200,000 funding cut in the budget unveiled by Rhode Island House Speaker Nicholas Mattiello last week, is the landlord for a group that fueled an anti-Mattiello campaign in Cranston last year.
Campaign finance filings show that Citizens for a Corruption-Free Rhode Island was based at 265 Oxford Street in Providence, the same address as the Nonviolence Institute.
Formed last October by two Democratic-oriented interest groups, the Rhode Island Coalition Against Gun Violence (which uses the same 265 Oxford Street address) and the Rhode Island chapter of the National Organization for Women, Citizens for a Corruption-Free Rhode Island spent more than $14,325 in opposing Mattiello's state rep re-election campaign last year. Republican challenger Steven Frias lost in his second bid to unseat Mattiello.
During the campaign, Citizens for a Corruption-Free Rhode Island said it believed "that Cranston voters are fed up with their current representation and [Mattiello's] loyalty to big campaign donors and high paid lobbyists that results in the constant interference from passing legislation that would benefit the majority of Rhode Islanders." Mattiello responded by defending his record and describing the organizations behind Citizens as "extreme progressive groups."
In a statement, Mattiello spokesman Larry Berman offered a one-word answer when asked whether there's a connection between the Nonviolence Institute's funding cut and how the group is a landlord for organizations critical of the speaker: "No."
Added Mattiello: "The House's understanding is that the Nonviolence Institute is not as active as it once was under the leadership of Teny Gross, and much of the current state funding is being used for administrative purposes. As this is not a state agency, it appears the organization should not be funded at this time."
Gross served as the first executive director of the Nonviolence Institute, starting about 18 years ago, after it was founded by Sister Ann Keefe and the Rev. Ray Malm. Gross, who had previously worked on anti-violence efforts in Boston, is now involved in similar work in Chicago.
Linda Finn, a former Democratic state representative who serves as president of the Rhode Island Coaliton Against Gun Violence, and who helped lead Citizens for a Corruption-Free Rhode Island, said she's unsure why the House budget cut the Noviolence Institute's budget by $200,000.
Finn called the money a smart investment for reducing the toll of gun violence in Rhode Island. She said the cut amounts to 12 percent of the Nonviolence Institute's budget and will cause the layoff of five staffers.
Asked if there's a connection between the cut and criticism of Mattiello by the Rhode Island Coalition Against Gun Violence and Citizens for a Corruption-Free Rhode Island, Finn said, "I would hope not. I mean, we're [RICAGV] a tenant in the building, we pay rent to them. I mean, that would seem to kind of a silly reason to cut their funding."
Finn said there is no affiliation between the anti-gun violence coalition and the Nonviolence Institute beyond their tenant-landlord relationship. She said that as a 501(c)(3), the Institute is prohibited from taking part in political activity.
In a statement, P.J. Fox III, the current executive director of the Nonviolence Institute, said, "We sincerely appreciate the outpouring of support from so many Rhode Islanders, including our elected officials. We are particularly grateful to Rep. Joe Almeida of Providence for introducing an amendment to restore this critical funding. We hope it will pass with overwhelming support."
Fox said the Institute appreciates past support from the state and legislature, and welcomes the opportunity to discuss its efforts with elected officials.
He said things made possible by $200,000 in state funding over the last year include "83 violent incidents responded to by street workers, 601 hours of job training for at-risk youth, 167 victims of crime supported with comprehensive services by victim advocates, 27 emergency safe housing relocations for victims of crime, 692 people trained in Nonviolence Conflict Resolution, 71 Victim Compensation applications to support victims of crime."
The House budget is under growing scrutiny due to how it initially included $1 million for a Cranston chiropractor. Mattiello backed a move to pull the funding after the issue received media coverage.
Legislative supporters of the Nonviolence Institute are attempting to restore the $200,000 funding cut. The Rhode Island House is slated to vote on the budget Friday.
Correction: The founders of the Nonviolence Institute were misidentified in an earlier version of this story.