Jose Losada, a company member, walked slowly toward the other dancers as the piece opened. Adjacent to him, a thin pink rope stretched across the grass to mark off where the audience ended and the stage began. Behind the makeshift threshold, some had brought lawn chairs and picnic blankets. Other pedestrians just seemed to notice the crowd and stop out of curiosity.
The other three bodies onstage began to sway slowly, and from there, the choreography moved nimbly between experimental and classical. The dancers hopped into plié squats, rhythmically hitting their thighs twice, and then stretched into a familiar arabesque — their left fingers and toes delicately pointed to the sky.
In some ways, this style seemed to mirror the context of the show itself — a classical performance, but with adaptations for the present situation. All four dancers wore simple jumpsuits with colorful, billowing collars and face masks. At one point, since a usual company member was absent, dancer Emily Baker improvised a duet with a lamp post.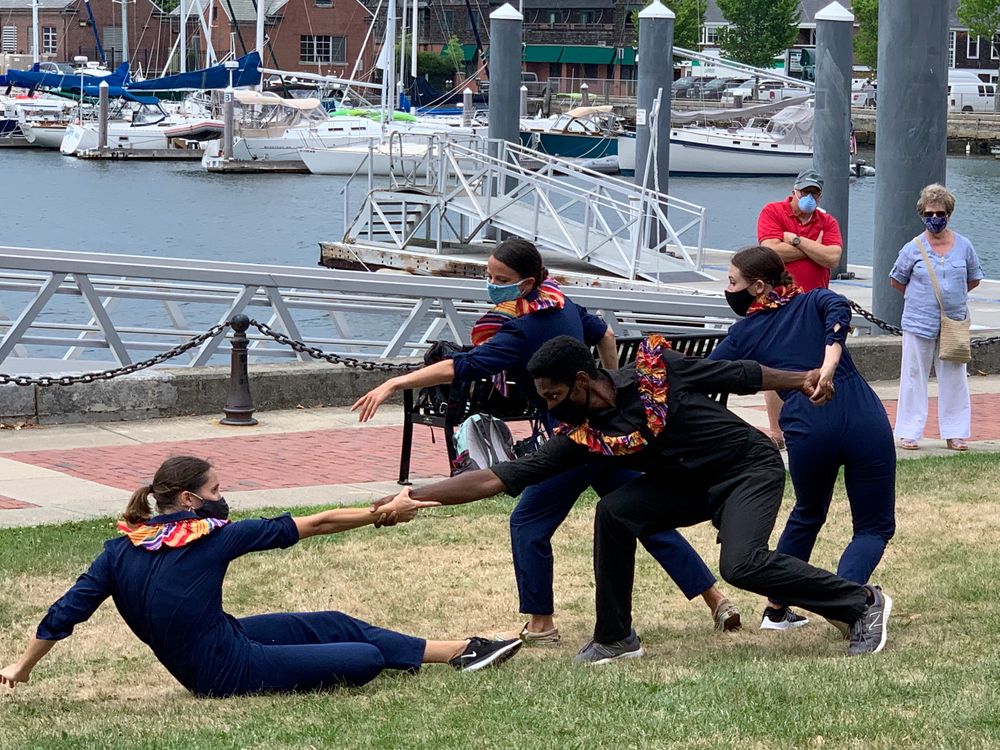 "If we can't adapt, the art can't go on. And I think, I mean it's really hard for performing artists, but it's true of everyone. We need to take stock. We need to be agile," said Miki Ohlsen, the artistic director of Island Moving Company. "And we need to be able to turn on a dime and make the art relevant — and make it work for these times. It's just so critical."
Since most live audiences are off limits this summer, the team has been focusing its efforts on a film project. Company dancers are split into smaller pods of four or five that only interact with one another, which allows them to touch and do partner work. They've been rehearsing pieces at outdoor locations all around Newport.
Ohlsen said the ensemble is accustomed to atypical performance venues, as Island Moving Company has done site-specific works since its inception nearly four decades ago. Every winter, its performers even put on the Nutcracker Ballet in Rosecliff Mansion — passing through different rooms as they dance.
For company member Emily Baker, Thursday's park event was the first time she performed for a live audience since March. Stretching near a park bench, she said she was grateful for the provisional audience — especially at a time when so many of her peers at other dance companies are out of work.
"To be able to connect again with audience members, and not just through a screen — because, I mean, a lot of us have been live teaching, zoom teaching, posting clips of dance...But that's not even remotely the same as just being in person," she said.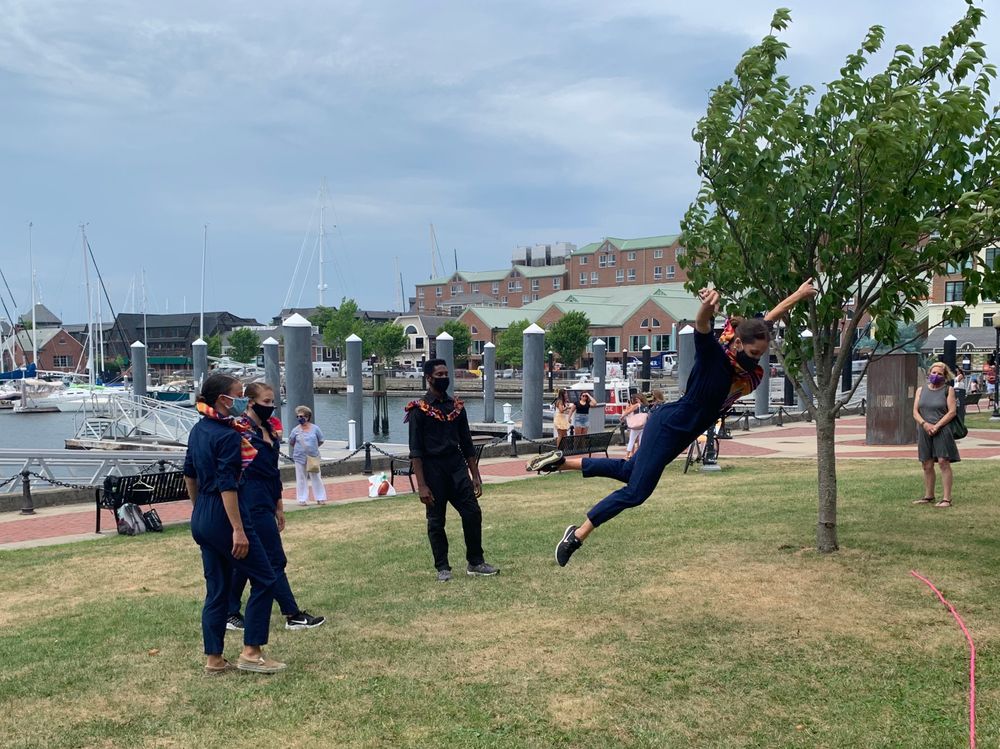 Baker's pod of dancers has been filming at a cemetery in Little Compton, and their roughly four-minute routine in the park was an adapted excerpt. Ohlsen, who choreographed the piece, said it's a creative contemplation of the present moment. Her inspiration began with the graveyard setting and a single gestural phrase — a movement of the arm.
"The phrase is a reflection of our internal sorrow, struggle — sort of also trying to come out of ourselves to experience the wider world again from having been so contracted," Ohlsen said. "And that, to me, is what that phrase is about — and the giving over of yourself again."
Offstage, Baker broke it down and demonstrated the movement — an elongation of the arm that looked somewhere between reaching and pushing, grabbing for something and letting it go.
Antonia Ayres-Brown can be reached at aayresbrown@ripr.org.