An investment group plans to demolish a defunct power plant in New Bedford and redevelop its waterfront location as a port facility to be leased to energy companies assembling wind turbines before shipping them out to sea.
The project will enhance the city's position to compete for contracts against a pack of other port cities between Bridgeport and Boston angling to become the region's hub for offshore wind.
If constructed, the port facility would be the second of its kind in New Bedford designed specifically for offshore wind companies, which require immense space to assemble turbines whose parts can stretch the length of several football fields.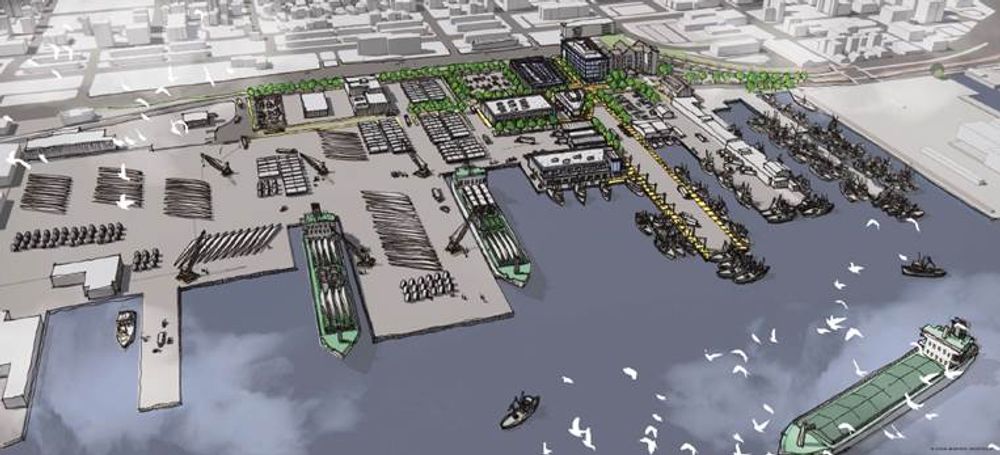 The state government opened the New Bedford Marine Commerce Terminal in 2015. Two offshore wind companies have already signed leases there, including Vineyard Wind, which received the nation's first permits to construct a utility-scale offshore wind farm this spring.
The industry is expected to grow tremendously in the coming years, as the federal government fast tracks permitting that stalled under the Trump administration. The Biden administration has announced a goal of building enough offshore wind projects to generate 30 gigawatts of electricity before the end of the decade, enough to power about 9 million homes.
The investment group planning the new port facility in New Bedford, Cannon Street Holdings, is backed in part by two local businessmen: Andrew Saunders, a maritime lawyer, and John Lees, the founder of a seafood company. The group's other principals are Louis Cabral, a Massachusetts real estate developer, and Maurice Gulson, an engineer with a business based in Connecticut.
New Bedford Mayor Jon Mitchell said their proposal would revive an underused piece of waterfront that's been devoted to energy production for centuries. A series of power companies -- most recently Eversource -- generated electricity at a plant there until 1992. A different company, Sprague Energy, continues to use the site to store fossil fuels.
"It was originally a whaling pier, in which ships brought back whale oil to light lamps across America and beyond," Mitchell said. "It became a power plant and stayed that way for over a century. And now it is going to be a centerpiece in the emerging offshore wind energy industry."
The site has been a redevelopment priority since the power plant stopped producing electricity, but proposals to build an aquarium and a casino there have long since fizzled out.
About four acres of the site along MacArthur Drive will be gifted to the New Bedford Redevelopment Authority, with an eye toward future commercial use. A small portion of the property will continue to house a power substation operated by Eversource, and some land will be set aside for a seafood unloading facility.
But the bulk of the land, about 29 acres abutting the deepest berth in New Bedford's harbor, is poised to expand the offshore wind industry's beachhead on a waterfront dominated by the fishing industry.
Judy Chang, Massachusetts' undersecretary of energy, said achieving the renewable energy goals set by the state government and the Biden administration would be impossible without modernizing more port facilities like the ones being built in New Bedford.
"I see port infrastructure as an enabling component of this transition to a clean economy in the future," Chang said.
Ben Berke is the South Coast Bureau Reporter for The Public's Radio. He can be reached at bberke@thepublicsradio.org.