A soundtrack echoes through city streets, while video images play against building walls, in the work by Masary Studios called Vessels, celebrating New Bedford's fishing industry. Around the corner, a light extravaganza spills out of floor-to-ceiling glass windows into the street, in constant, evolving motion, reaching out and drawing in the observer. This is the Photo-kinetic Grid, by artist Soo Sunny Park. Both these displays are part of Light 2020, the second city-wide collaborative venture from the Massachusetts Design Art and Technology Institute, DATMA.
Light 2020 examines New Bedford's legacy as "the city that lit the world", a reference to the whaling industry, while looking ahead to a future of renewable energy. Lindsay Mis, DATMA's Executive Director, explained how this current exhibition came about, following the sudden onset of the COVID-19 pandemic.

"A few months ago we re-calibrated all of our exhibitions, once we realized that people weren't going to be able to walk through the exhibitions and see them in person," Mis said. "And it just so happened that we worked with a couple of artists who were really willing to take on the challenge. Soo Sunny Park and her piece Photo-kinetic Grid is installed at the College for Visual and Performing Arts at UMass Dartmouth. And it just so happens that the gallery space where the work is installed is at a major intersection in downtown New Bedford, Union and Purchase Streets, and it's floor-to-ceiling windows -- visible whether it be day or evening. [It's] captivating, and really lights up at night as well."
The installation is designed to stimulate the observer's imagination, artist Park said, through the use of wire fencing, reflective tiles and light to draw the viewer in and back out of a constantly moving spectacle.
"I'm utilizing a reflective, see-through silver mirror surface that's also suspended in a way that has multiple, hundreds of different angles. And as the cars pass by and the passers-by pass by, they have a chance to see their reflection. And as they see the work with the light hitting the surface they'll get a glimpse of themselves," explained Park. "And that surface itself will be bounced against another tile, so it will continuously reflect and refract and spread out the space."
Park's Photo-kinetic Grid is built largely of welded chain-link fencing, a material designed to divide and separate spaces, but as she says about the work, "Here these boundaries don't divide us, or the space we occupy. They work with light to restructure our space, both changing our world and reflecting it back to us."
"In addition to that we have a very special piece that was created for New Bedford by a group of artists, Sam Okerstrom-Lang and Ryan Edwards, who work in a team called Masary Studios," said Director Lindsay Mis.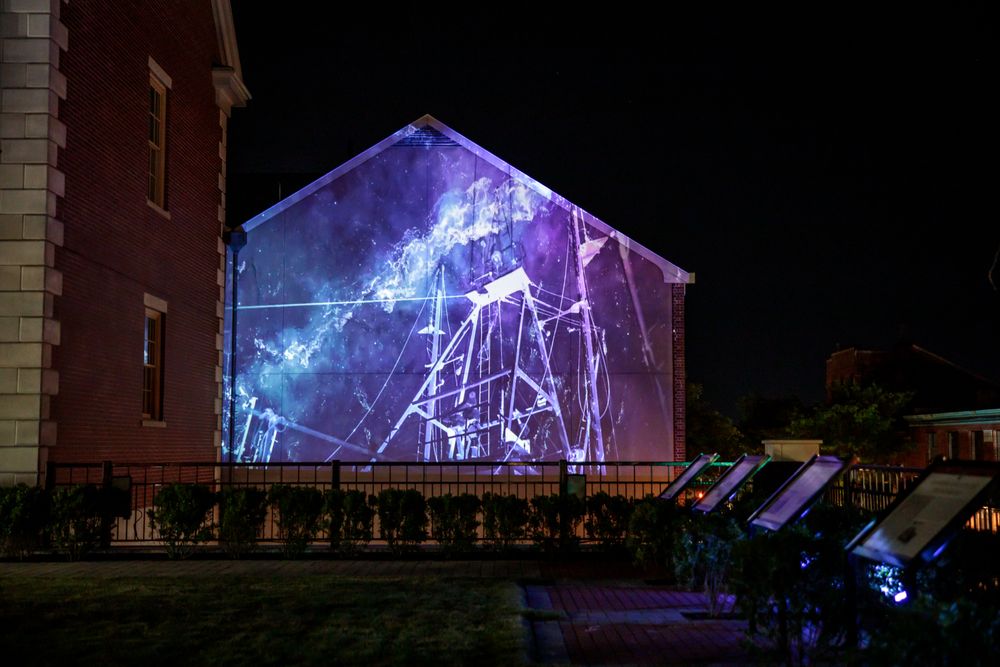 "They created a work about the fishing industry. Beautiful video collages that can be seen and heard, because Ryan Edwards is a percussionist and mixes with electronic music. You'll be able to look at building facades and see these beautiful, almost print-making style videos come alive and again, be heard. So we're excited to provide art in a public art forum that is new and gives the city something to look forward to. And provides a little respite through artistic expression."
And Mis added, the need to take this all in while being outside actually adds to the experience of being downtown.
--
The exhibits are now on display at Union and Purchase Streets, in downtown New Bedford. Vessels runs until August 1st. Photo-kinetic Grid is up until September 14th. More information is available on the Massachusetts Design Art Technology website.