WARWICK – Lt. Gov. Dan McKee, who is poised to succeed Gov. Gina Raimondo, pledged Thursday to preside over a smooth transition and to focus on the state's response to the ongoing pandemic.
McKee, 69, addressed reporters during a news conference at Chelo's on Post Road in Warwick.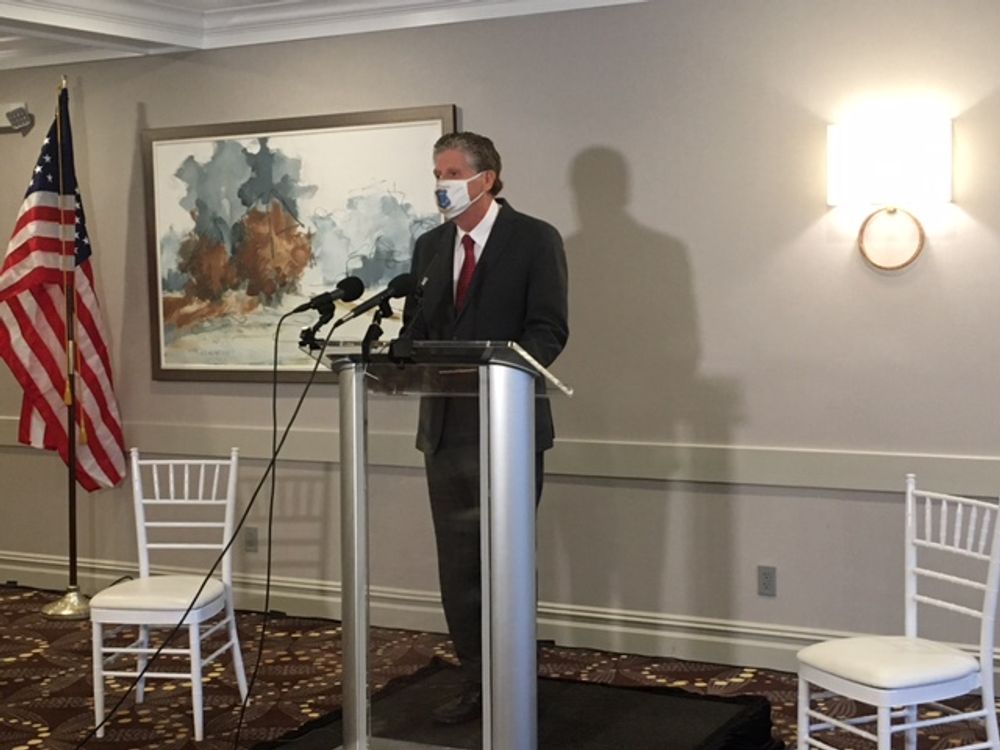 "I want you to know who I am, begin to know who I am," he said in starting his remarks. The former Cumberland mayor said he'll have an easier time succeeding Raimondo since this will mark his fifth transition in elective office.
"So I know the territory," McKee said. "It's a bigger jump – more people to deal with – but respecting people one on one applies where I was when I was a mayor and now as a lieutenant governor anticipating being governor."
Raimondo is poised to end her tenure as governor, possibly as soon as next month, since President-elect Joe Biden last week nominated her as Commerce secretary. She plans to serve as governor until confirmed by the U.S. Senate.
Soon-to-be governor McKee emphasized the importance of Rhode Island's 39 cities and towns. He said the ongoing pandemic, fostering an economic recovery, and trying to ensure the vaccination of as many people as possible will be his focus.
"We're going to work through this together," McKee said, "and we'll come out of this crisis stronger than we went in. And as part of the transition, I know that I also need to earn your confidence and your trust, and I intend to do that. Every moment I'm in office, I'll be thinking about how to make the state stronger for everyone that lives in the state – for our families, our residents, our small businesses, our students, everybody who calls Rhode Island home."
McKee pledged to run an honest, transparent government and to remain accessible to reporters.
In 2018, McKee won the lieutenant governor's office, defeating progressive rival Aaron Regunberg, in a primary by about two percentage points.
A series of hopefuls are jockeying to be selected by McKee as his successor as lieutenant governor (and Regunberg appears to be gearing up for another run in 2022).
McKee said he plans to make the pick for his successor, "based on conversations that I've had with leadership …. If that changes because of a General Assembly action, then I can't control that …. I would imagine if that changes direction, I'll get a call and that it will, but right now this is the understanding that I have. And now I won't challenge that if in fact that happens."
According to John Marion, executive director of the good government group Common Cause of Rhode Island, has indicated the state Constitution does not allow the legislature to take away the governor's power to choose a lieutenant governor.
McKee will get a boost in the 2022 race for governor from increased visibility and an enhanced ability to raise money. A series of other Democrats, including General Treasurer Seth Magaziner, Secretary of State Nellie Gorbea and Providence Mayor Jorge Elorza, are expected to run.
McKee said he will submit the state's next budget as soon as March 10. He was non-committal about whether he supports cutting spending, saying that the numbers have to analyzed first. Rhode Island faces a budget deficit estimated at more than $400 million for the fiscal year starting July 1.
He said he's been in touch with state department heads, State Police, and legislative leaders while preparing to take on the role of governor.
McKee said his family has run small businesses in the state for more than 100 years. The venue for his news event – Chelo's – was chosen, he said, because his father went to high school with the Chelo family and they worked together on opening a Boy's Club in Cumberland.
McKee has selected lawyer Joe Rodio to lead his transition and said that more announcements will be forthcoming about the transition. He said conversations will take place with department heads from Raimondo's administration before decisions are made about possible changes. "I don't expect a major turnover," he said.
Some Rhode Islanders, most famously the late Robert "Cool Moose" Healey have described the lieutenant governor's office as a waste of money.
McKee said the office more than paid for itself during his tenure.
"It's important that you have a lieutenant governor that is prepared to become governor, and I think that we talked about many things here today that indicate that I have the experience to do that," he said. "You know, there's a lot of interest in becoming lieutenant governor right now. So I think that certainly feeds into the idea that not only is it a position that people can do good things on, I think my record will show that we've done extraordinary things," including saving ratepayers money on electricity costs, and bringing in money for Alzheimer's research.
Ian Donnis covers politics for The Public's Radio. He can be reached at idonnis@ripr.org. Sign up here for his weekly RI politics newsletter.