Rhode Island Gov. Dan McKee has unveiled Providence City Council President Sabina Matos as the state's next lieutenant governor, vowing that she will be an active partner on a range of issues.
The Public's Radio political reporter Ian Donnis discusses the reasons -- stated and unstated -- why McKee chose Matos, the ripple effects of this pick, and whether questions will fade about the value of the LG's office.

Matos, the selection from more than 75 applicants who expressed interest in the post, was introduced during a Statehouse news conference at 10 a.m. Wednesday.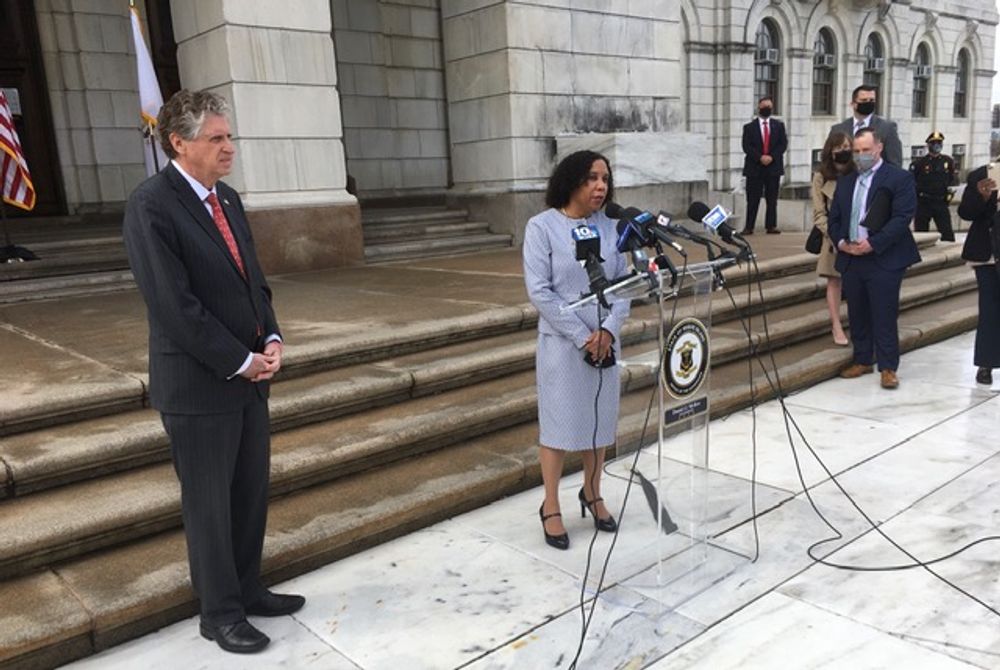 A native of the Dominican Republican, Matos will become the first Latina to serve as lieutenant governor in Rhode Island.
Matos, 47, said her top priorities will include partnering with McKee to ensure that Rhode Islanders get vaccinated, helping to reopen the economy, and supporting the creation of more affordable housing.
"I'm also looking forward to being out in our 39 cities and towns, working with our municipal leaders, hearing and advocating from our small businesses, and advancing the housing agenda at the state level," she said.
Although the LG job is sometime ridiculed for having few official responsibilities, it can also serve as a useful political platform (as seen by how McKee moved into the top job after serving as LG), and Matos' identity as a Latina could help boost McKee as he runs for re-election next year, particularly in Providence and other Rhode Island cities.
McKee rejected the idea that she was chosen mostly for strategic reasons. He said Matos' experience is what led to her selection, and he also said she exemplifies the American dream as an immigrant who has succeeded in the U.S., helping to foster opportunity for others through her work in a job in the state Department of Administration.
"Sabina's going to bring that very powerful message throughout the state of Rhode Island, and we're going to build bridges, just like I did as lieutenant governor," McKee said.
Matos first won election to the Providence City Council in 2010, representing the Ward 15 areas of Olneyville and Silver Lake. She became council president in 2019
Matos faces confirmation by the state Senate.
McKee, who became governor in early March – the same day when his predecessor, former Gov. Gina Raimondo became Commerce secretary in the Biden administration – staged a lengthy and extended search process while seeking a new lieutenant governor.
But Matos was seen as the front runner practically from the start and some of the other candidates for the post considered the search process a sham.
"He always wanted her," said a Statehouse source.
McKee recently told four of the five finalists – former Central Falls Mayor James Diossa, state Sen. Louis DiPalma (D-Middletown), state Democratic Party Treasurer Elizabeth Beretta-Perik, and Rep. Grace Diaz (D-Providence) – that they were no longer in the running.
One key difference is that Matos supports abortion rights, while Diaz does not.
Matos' selection takes her out of the field of candidates for mayor of Providence next year. The field already includes Brett Smiley, Gonzalo Cuervo, and Councilor Nirva LaFortune.
It remains to be seen who may also run for lieutenant governor next year. The potential candidates include DiPalma and former state Rep. Aaron Regunberg, who narrowly lost to McKee for LG in 2018.
Both congratulated Matos on her selection.
While Matos' strategic value in 2022 appears to have been a driving force in her selection, RI GOP National Committeeman Steve Frias suggested the conventional wisdom is wrong. A bigger factor helping McKee, Frias contends, is how he has sided against the Providence Teachers Union in a dispute over charter schools.
"Picking someone who is more liberal to be lieutenant governor will not help McKee win over the liberal wing of the Democratic party," Frias said, via email. "A liberal primary voter is not going to pick a more moderate candidate like McKee because he picked Matos when there will be liberal gubernatorial candidates to vote for like," General Treasurer Seth Magaziner, Secretary of State Nellie Gorbea, or Providence Mayor Jorge Elorza.
"Also, picking a woman of color to be lieutenant governor will not help McKee much in the Democratic primary," Frias added. "Someone who votes based on identity politics is not going to choose McKee in a primary because he picked Matos when they can vote for Gorbea or Elorza."
Clarification: the time when finalists were notified they were not being selected was initially misreported in this story.
Ian Donnis can be reached at idonnis@ripr.org. Follow him on Twitter @IanDon. Sign up here for his weekly RI politics and media newsletter.