→ This story is the third part of a series on sea level rise in Rhode Island. Explore here.
Tidal rivers and bays surround Warren. The Palmer River runs up the town's west side, Belcher Cove curls around the town center, and the Kickemuit River and Mount Hope Bay hug the eastern part of town.
This makes Warren vulnerable. If a major storm were to hit today, the town projects almost half of the homes would be damaged. Fewer than a third of those properties have flood insurance.
"I mean, it's going to happen," says town Planning Director Bob Rulli. "There are homes that are gonna be impacted. There's people that'll be impacted."
People like Steven Pimentel, the owner of Warren Auto Body. The shop sits at a low point on Market Street, where the road crosses a small brook.
"Whenever we get a good rainstorm, any hurricane, the street just backs up with water, right there into the building," Pimentel says.
He learned the business from his dad, Diogo, who began fixing cars in the Portuguese Army, and bought this shop in the '80s.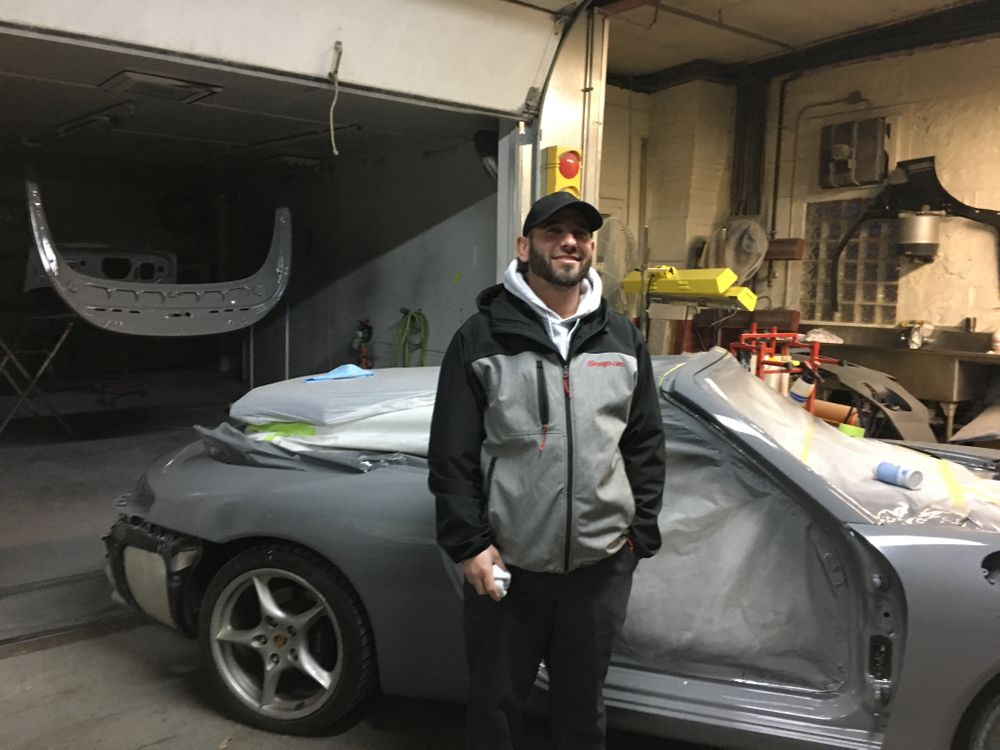 "Yeah, it gets pretty flooded over there, that corner. It's actually pretty interesting to watch, sometimes you'll just stand at the corner and be like, 'Oh don't do it, don't drive through it,'" Pimentel laughs. "People tend to anyway." The water, he explains, is salt water, so it does quite a bit of damage to the cars.
Thinking about that part of town -- the problems people like Steven already face, and the future that looms before them-- Bob Rulli and Town Manager Kate Michaud came up with a bold, untested idea.
"When we looked at the area we use as our poster child, Market Street, with dry cleaner's, auto body, furniture stripping," Rulli recalls, "it was a little bit of a hallelujah moment."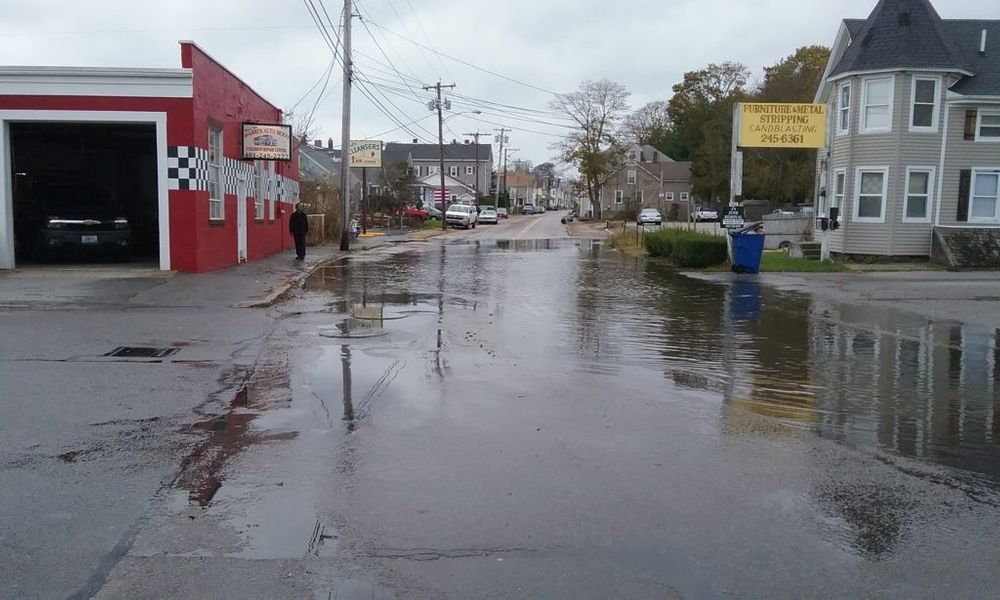 Long term, Rulli and Michaud would like to redevelop an area of strip malls on safer, higher ground and use the increased tax revenue to buy out flood-prone property owners in neighborhoods like this one.
"I don't want something bad to happen in order for us to address the issue of flood vulnerability," Michaud explains.
But bold ideas are often only as good as the political buy-in they get. The duo took a draft of their idea to the town council in February.
"Metacom Ave in my estimation and opinion represents the absolute best in late 1950s, 1960s planning," Rulli said, warming up a cautious crowd of council members and town residents.
He explained how their plan would work.
First the town would redevelop Metacom Avenue. Right now, it's a busy 4-lane road, with a lot of 50s-style strip malls and none of the charm that marks Warren's other commercial streets.
"Now is where you need to fasten your seatbelts and have some imagination," Rulli continued. "Right now we have 100,000 square feet of Job Lot plaza, one-story, all the way to the back."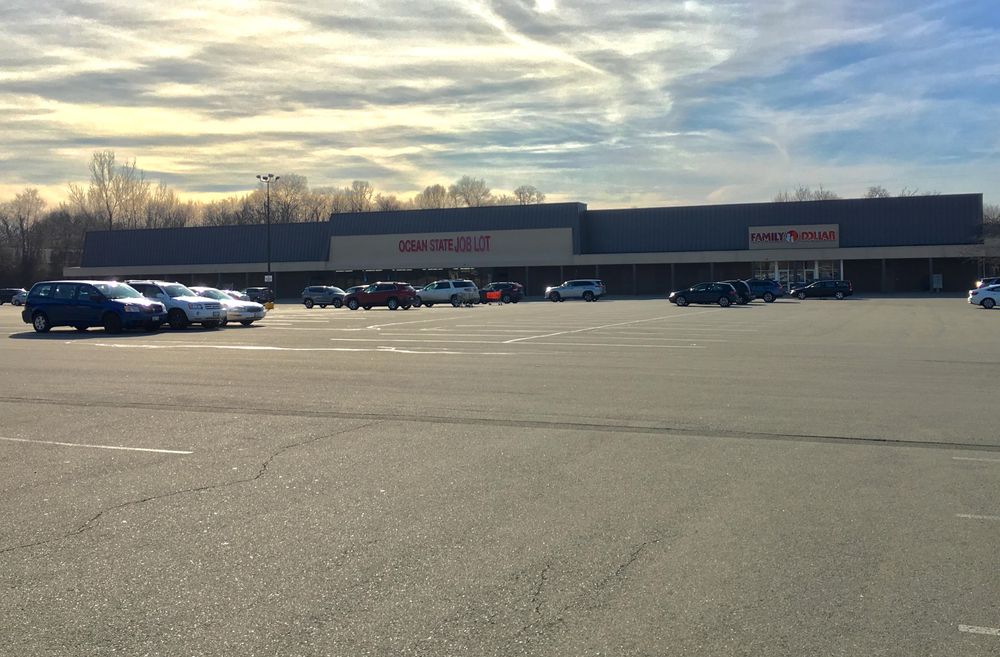 They showed the audience mock-ups of the Ocean State Job Lot parking lot replaced by four-story buildings, with businesses on the street level and offices or apartments above--part of a walkable neighborhood, with bike paths and bus lanes.
He asked them to imagine a redevelopment project that would bring in a lot of local tax money.
On the Job Lot plaza alone, Rulli told the crowd, "At present we collect about $110,000 in tax revenue on an annual basis. If we were to build that out to a reasonable scale, we probably would be able to collect $700,000 to $800,000 on an annual basis."
Rulli and Michaud propose putting some or all of that additional tax revenue aside in a special fund, a strategy known as tax increment financing, which is already allowed under state law.
This is where their idea enters uncharted waters: they'd use the money to pay to move people and businesses out of the flood zone.
But Rulli eased into the plan gently, talking about flooding risk and redevelopment without ever saying the word "buyout".
"We have an opportunity to say, we can control our own destiny," Rulli told the crowd. "We can implement our own zoning laws. So what I want to break is the paradigm that 'Okay, we're just Warren, and we'll wait for the state to tell us what to do.' We know what to do. We have really qualified people here. We have all these people in this room."
It went over well with the council, and with the dozens of people who'd filled the hall.
"I am happy that this room is full," commented Councilor Joseph DePasquale. "There once was a time when this many people would be here in opposition, so that's good."
"We haven't taken a vote yet," Rulli quipped, drawing laughter from the crowd.
"Well nobody's yelled or flipped out." DePasquale replied.
In fact, all five council members expressed support for redeveloping Metacom Ave, and seemed open to the idea of tax increment financing.
The audience liked it too.
"It's almost like where do we go from here," commented Andy Arruda, a commercial property manager in town. "And I'm excited because, Bob and Kate, they get things done."
Political momentum and public support will make or break Bob and Kate's rogue plan.
The Planning Board President and the Town Council President both understand the full scope of the buy out idea. And they're behind it.
"Absolutely," says Town Council President Keri Cronin. "I mean, it sounds like it's probably far off or it sounds like something that is, you know, so dramatic. But it's legitimately upon us that we have to consider those type of programs."
The harder sell may be to the people and businesses in the flood zone.
Steven Pimentel is not thinking about leaving. He's saving up now to make on offer to his landlord to buy the property. And there are parts of his business that he wouldn't be able to move.
"You see this frame rack, over here?" Pimentel says, pointing. "My father built that. That was all pieces of steel. He drilled holes, he welded, he fabricated that. Something today, if you were to buy it, would probably cost you somewhere near $80,000. He was a pretty talented dude. I respect the guy a lot."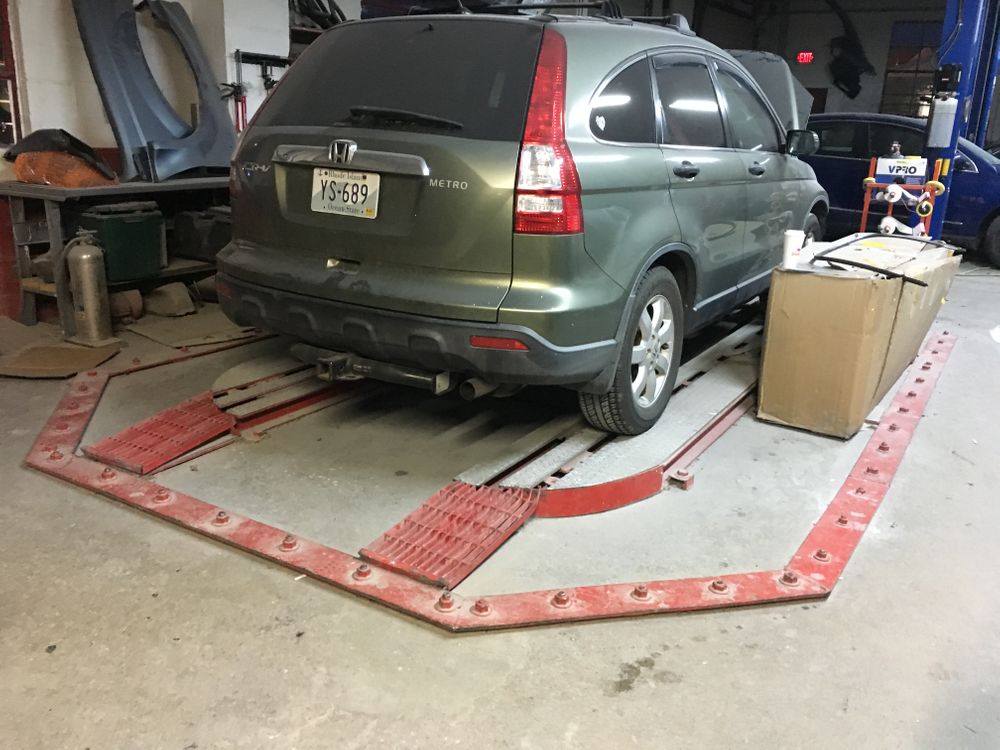 Flooding has cost Pimentel before. Superstorm Sandy left a foot of standing water in the shop, requiring him to replace the flooring in his front office. But he doesn't want to move.
"I mean, I really can't worry about it. I just gotta come in here every day and do what I do," Pimentel sighs. "If it happens, it happens. As long as you have your insurance, you're good."
Rulli and Michaud say their goal is to keep people in Warren, by getting ahead of a potential hurricane that could wipe out this section of town. But they knows the conversations won't be easy.
"The fear of change is the fear of loss," says Michaud. "I think if we sat back and took a reactive stance and just waited for something bad to happen, that there is a risk that the community could cease to exist, at least in the way that people know and love today. But what we're talking about is this doesn't have to be a loss, that a change can happen without people losing what they love about the town of Warren."
Warren is far from the only town wrestling with the question of what to do with flood-prone properties. Barrington, East Providence, Cranston, and Westerly have all been talking about using property buyouts as a way to deal with climate change.
Rulli and Michaud aren't waiting for the state or other towns to move first. They're setting the pace, and daring other towns to keep up.
This story is the third part of a series on sea level rise in Rhode Island. Explore here.