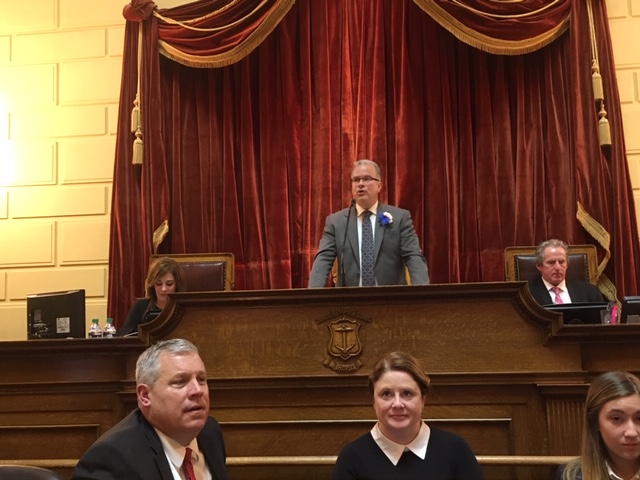 Rhode Island House Speaker Nicholas Mattiello cruised to re-election Tuesday for his third full term in one of the state's most powerful elected positions, as a group of Democratic opponents vowed to press the case for legislative reform.
Mattiello won the formal vote for the speakership with 47 votes – three more than he received during a closed caucus in November. That was thanks to support from freshman Rep. Mario Mendez of Johnston (who did not attend the November caucus), Rep. Ken Marshall of Bristol, and Rep. Carol Hagan McEntee of South Kingstown, who previously was part of a group of lawmakers opposed to Mattiello.
Returning to his perch at the rostrum in the House chamber, Mattiello thanked his colleagues for their support and he vowed collaboration.
"My hope is that we can all work together for the people of the State of Rhode Island," the Cranston Democrat said. "Campaign season is over and it is now time to govern in the best interests of the citizens of Rhode Island. As in the past, my office will be open to all 74 of my colleagues who wish to meet with me to discuss legislative matters at any time."
Rep. John Lombardi (D-Providence), who had tried for months to build support as alternative to Mattiello, ultimately decided not to seek the post. He said his decision was based on a lack of support and a desire to not expose some lawmakers to potential retribution. The nine-member GOP caucus in the House, meanwhile, cast their votes for speaker for the Republican leader in the chamber, Blake Filippi of New Shoreham.
But in an unusual show of intra-chamber division in the Rhode Island General Assembly, 19 Democrats abstained from supporting Mattiello during the vote for speaker.
The opposition group – mostly women, with a strong presence of progressives – says the speakership is too powerful in Rhode Island and that influence over the outcome of legislation should be divided with other lawmakers.
One member of the opposition bloc, Rep. Teresa Tanzi of South Kingstown, said the fight for change will continue even if Mattiello supporters significantly outnumber his critics.
"The answer lies in the people that we represent," Tanzi said. "A lot of people I know feel the same way we do …. It's not the number of abstain versus the rest of the world. Each issue that comes before us, you'll see the pieces on the game board shift …. I think people's eyes have been opened and I think that the demand for accountability is obvious."
Another Mattiello critic, Rep. Jason Knight of Barrington, said, "Pulling away the drapes from the process here and airing some of the complaints that this group of 19 has had, we've moved the conversation on a number of issues."
As an example, he pointed to how Mattiello acknowledged on The Public's Radio that a majority of Rhode Islanders support abortion rights. "That's a change in his position," Knight said.
(It remains unclear if a bill to codify abortion rights in Rhode Island law will move any closer to a vote on the House floor.)
The speaker has vast power over the state budget process and state hiring.
Besides Lombardi, Tanzi and Knight, the other Democrats voting against Mattiello were: Reps. Edith Ajello, Joseph Almeida, Ray Hull, Rebecca Kislak, Marcia Ranglin-Vassell, and Moira Walsh of Providence; Justine Caldwell of East Greenwich; Lauren Carson of Newport; Liana Cassar of Barrington; Terri Cortvriend of Portsmouth; Susan Donovan of Bristol; Mary Duffy Messier of Pawtucket; Kathleen Fogarty of South Kingstown; Katherine Kazarian of East Providence; Deborah Ruggiero of Jamestown; and Art Handy of Cranston.
A group of anti-Mattiello demonstrators chanted in the Statehouse rotunda as the speaker was on the way to another term in his leadership post.
Mattiello used his victory speech to vow a continued focus on jobs and the economy and completing a phaseout of the car tax.
The speaker vowed to work with Hagan McEntee on a bill addressing the statute of limitations for sex offenders. A lack of progress on that bill last year fueled Hagan McEntee's decision to join the opposition Democrats.
Mattiello also vowed to review a potential hike in the minimum wage; to consider expanding the estate tax exemption; to work on measures to address the opioid crisis; to work with State Police to improve school safety; and to focus more attention on improving public schools.
After facing criticism from a number of progressive women and women's groups, Mattiello was nominated for the speakership by Rep. Shelby Maldonado, a rising star from Central Falls. Her description of Mattiello offered a sharp contrast to the critics who say he holds his power too closely.
Maldonado, who noted she was one of the youngest members of the House after first winning election in 2014, praised Mattiello for backing measures to aid DACA recepients, as well as workers' rights measures, and improve pay and time off for workers.
"From day one Speaker Mattiello has answered my questions and dealt with all of my concerns," she said. "His door is always open to me and he has always been receptive to my legislative priorities."
Across the rotunda in the Senate, Dominick Ruggiero won re-election as president of that chamber.
He pointed to gains in the state's economy, adding, "But we will need to continue to work together if the progress is going to continue. Serious challenges remain, in areas such as education; our continued economic growth; wage disparities; health care; and caring for vulnerable Rhode Islanders. Working together, this Senate will lead the way to meeting these challenges."