Hundreds of state lawmakers, lobbyists and political supporters packed the Crowne Plaza Hotel in Warwick during a fundraiser last week for House Speaker Nicholas Mattiello. With a suggested contribution of $200 per person, the event brought in more than $100,000.

"According to some, it's probably -- probably -- the best turnout we've ever had," Mattiello said as he greeted guests near the entrance to a function room.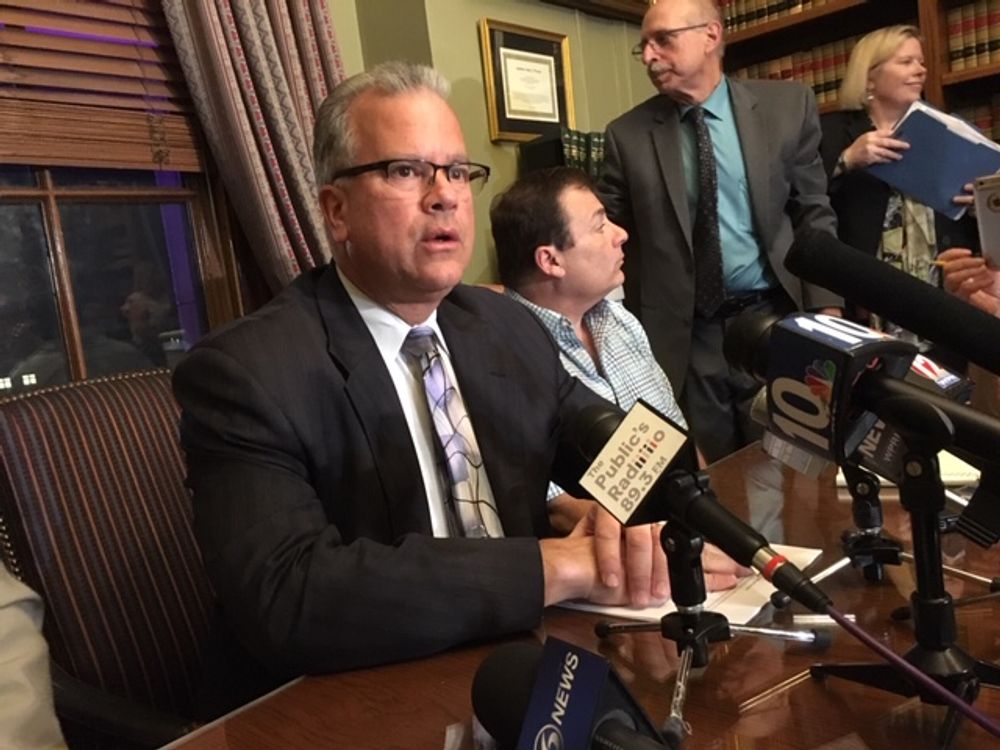 A lot of the money raised at events like this will pay for the cost of running for office. But a surprisingly large amount goes for the finer things associated with political power at the Statehouse. We're talking about the wining and dining.
Mattiello and Senate President Dominick Ruggerio drop a lot of cash at restaurants like the Capital Grille, Camille's, Chapel Grille and the venue formerly known as Waterplace. They provide food for campaign volunteers and pick up the tab for their members during events like Christmas parties. They pay to stage fundraisers to replenish their campaign accounts.
This adds up over time. Since their first filings for this expense in 2007, Ruggerio and Mattiello have spent a total of more than $630,000 in campaign funds on food, beverages and meals, a review by The Public's Radio shows. (Mattiello maintains a slight lead in this spending, with a total of $342,000, compared with $291,000 for Ruggerio.) Their combined total climbs to more than $700,000, with the addition of spending by leadership-controlled political action committees.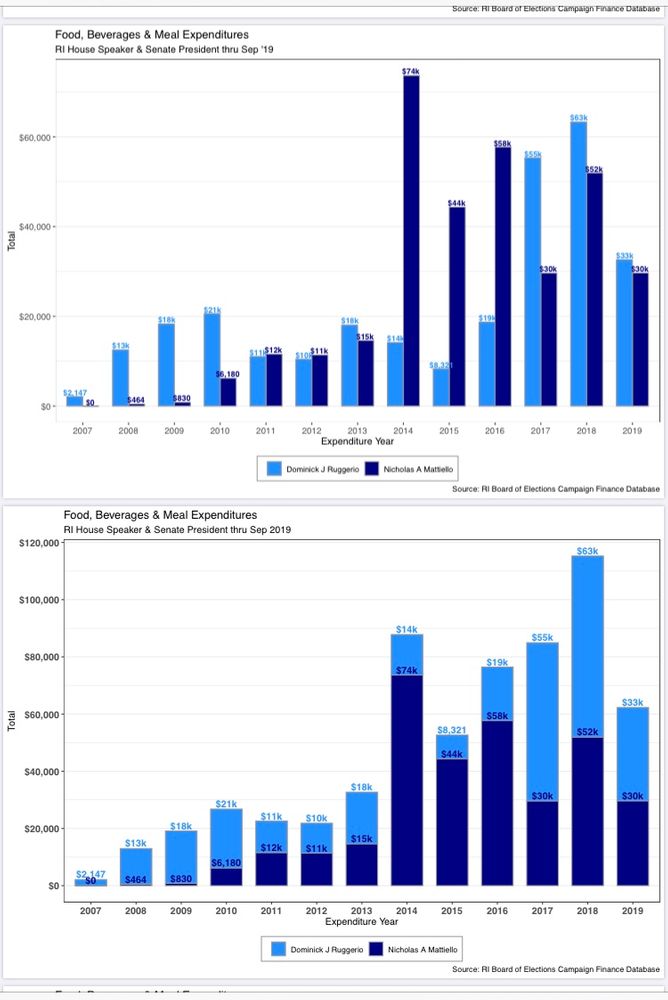 John Marion, executive director of the good government group Common Cause of Rhode Island, said this spending reinforces the rule of the Democrats who control the General Assembly. He calls it "a good example, sort of, of how power works in the state of Rhode Island."
"That's because the money, particularly from lobbyists, is flowing to those who have the power to make decisions -- who hold the fate of legislation in their hands," Marion said. "And then the legislative leaders can use that to maintain their coalition of support and maintain power. There's a feedback loop, essentially."
This kind of spending has soared since Ruggerio and Mattiello moved into their top leadership posts.
Mattiello's spending of campaign contributions on food and drink has multiplied more than seven times, to an average of almost $50,000 a year, since he became speaker in 2014. And Ruggerio's average spending has increases almost five-fold, to $52,000 a year, since he became Senate president in 2017.
Mattiello called these food and drink expenses an unremarkable part of Statehouse life.
"It's just doing the business of the people of the state of Rhode Island," he said. "We never use state dollars for that. We always use donated money and it's great for collaboration and helping us get our work done."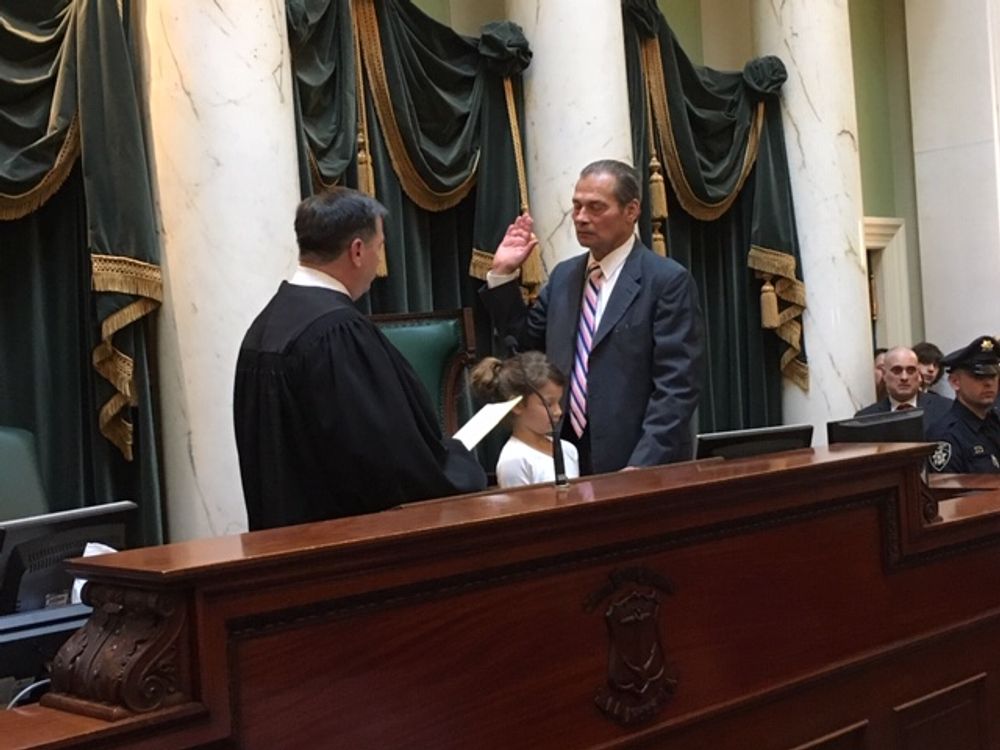 Ruggerio offers a similar view. He questioned whether spending tens of thousands of dollars in campaign contributions each year on food and drink reinforces his political power.
"I don't know if it does or it doesn't," he said. "I just think it's a common courtesy. We've done it before. I know my predecessor spent money on the senators …. It's kind of like the normal thing to do."
But The Public's Radio analysis shows that Mattiello and Ruggerio's campaign spending on food and drink also surges in election years: Since becoming speaker, Mattiellio has spent an average of $61,000 in election years, compared with an average of $38,000 in non-election years. For Ruggerio, the comparable figures are $63,000 and about $46,000.
Having a stocked campaign account can offer some insulation against political controversy. Mattiello has been in the spotlight recently for ordering an audit of the Rhode Island Convention Center and then scrapping the request after it became an ongoing story.
Another finding: From at least 2007 to 2016, Ruggerio listed two credit cards, Discover and American Express, as the expense for more than $60,000 in spending, much of it for "food, beverages and meals," without specifying the precise source of the spending, on finance reports filed with the Board of Elections.
Ruggerio said he can account for all of the spending. The Public's Radio asked two weeks ago for documentation for a handful of the credit card expenses. Ruggerio spokesman Greg Pare said that some of the data may be beyond the required retention date, and he was not able to provide further details as of this week.
Stephen Erickson, vice chairman of the Board of Elections, said the issue in similar cases has been with the board's reporting system, rather than the information provided. He said the board hopes to improve its reporting system.
***
In Rhode Island, the General Assembly and its leaders are particularly powerful compared with counterparts in other states. That's partly due to how things were set up hundreds of years ago in the state Constitution. And it explains why Mattiello and Ruggerio's campaign accounts are flush with hundreds of thousands of dollars, while rank and file lawmakers' accounts generally have just a few thousand dollars.
The tradition of legislative leaders spending a lot of campaign money on food and drink can be seen in how the top two two spenders since 2002, after Mattiello and Ruggerio, are former speaker William Murphy, now a lawyer and influential lobbyist, and former Senate president Teresa Paiva Weed, now president of the Hospital Association of Rhode Island. Murphy racked up about $200,000 in such spending, and Paiva Weed a bit less than that.
Rounding out the top 10 of biggest spenders of campaign contributions on food and drink over the last 18 years: former attorney general Patrick Lynch; the RI Democratic Party; Gov. Gina Raimondo; former speaker Gordon Fox; Rep. Stephen Ucci of Johnston, a senior deputy majority leader; and Senate Majority Leader Maryellen Goodwin of Providence.
When it comes to policing campaigns, the agency responsible for that, the state Board of Elections, has emerged as a stronger watchdog in recent years. But if there's no sign of wrongdoing, the board gives politicians virtually unlimited discretion to spend campaign money on food and drink.
That's because Rhode Island politicians can spend this money for – quote – "an ordinary and necessary expense" if it's part of their responsibilities as a candidate or officer holder. But the Elections Board does not define what constitutes an ordinary and necessary expense.
"We don't get into that level of detail in the regulations," said BOE Vice Chairman Stephen Erickson. "That's statutory language and we may have further information requests in the context of an audit, but not in terms of regular day to day operations."
But Common Cause of Rhode Island's John Marion said there's a big gap between the fancy meals enjoyed by lawmakers on leadership's dime at places like Capriccio, where the cost of steaks runs from almost $40 to $66, and the "ordinary and necessary expense" called for in state regulations.
"And I think the public has to ask itself, 'Is a dinner at Capriccio an ordinary dinner, or is that an extraordinary dinner?' " Marion said. "And I've been married long enough to know that going to a fancy restaurant is not an ordinary event."
State GOP Chairwoman Sue Cienki is among those troubled by General Assembly leaders' big spend of campaign money on food and drink.
"My first thought is that they're currying favors, that they're using their campaign finances to go and curry favor with other legislators, with maybe lobbyists," she said.
Cienki said the spending shows that public business is taking place in private settings, possibly with an impact on the outcome of legislation.
"You go out to dinner, you meet somebody on a different level - it may sway your vote one way or the other. So is it really the way that we should be doing business?" she asked.
***
Ruggerio concedes lawmakers talk about bills during their eating and drinking outings away from the Statehouse, but he's not troubled by that.
"Actually, it's kind of social," he said. "You might have a couple of senators that might be sitting, talking about a piece of legislation. It's not a situation, like a caucus or something like that where we're all talking about one piece. It's just more of a relaxed, casual atmosphere."
Mattiello rejects the notion that lawmakers may be obligated to him if he's taking them out for fancy dinners.
"No, it absolutely doesn't increase my power, and that's not what it's intended to be for," he said. "It's for collaboration. People have to like you and trust you and give you their support first, and then you work on collaborating with them. But I've already earned their support and their trust."
The legislative leaders say their spending of campaign contributions on food and drink reflects the long hours spent by lawmakers at the Statehouse. Some of it goes for working meetings with other elected officials or to thank the members of legislative committees for their work each session.
But legislative leaders sometimes buy their members meals while asking for their support.
In November 2018, for example, Mattiello staged a closed Democratic meeting at Chapel Grille in his hometown of Cranston. He picked up the tab while collecting an unofficial tally on how many Democrats would back him for another two-year term as speaker. Mattiello cites this as an example of why he's spent so much in campaign contributions on food and drink for lawmakers.
"Those are the types of things," he said. "I mean, if you're going to invite a large group of people to attend a meeting at dinner time, you better have food and drink for them or they're not going to be very happy. That's just expected in every aspect of society."
Barring a groundswell of activism, things are unlikely to change in Rhode Island.
Back in 2005, Common Cause launched a campaign to challenge the power of money in Rhode Island elections. The idea was to use public contributions to create a more level playing field for candidates, with the hope of sparking more competition. But the U.S. Supreme Court's Citizens United ruling in 2010 expanded how interest groups can spend during elections, and other court cases undermined the push for publicly financed elections in Rhode Island.
Some polls show that Americans would like to decrease the influence of money in politics.
The status quo, however, offers a boost to legislative leaders like Speaker Mattiello and Senate President Ruggerio, since their spending of campaign contributions on food and drink goes up significantly in election years.
For example, Mattiello's year-to-year food- and drink-related spending, surged by $14,000 in 2016, to $58,00. That was the year when he defeated a GOP challenger for his state rep seat in Cranston, Steve Frias, by just 85 votes.
This is an expanded version of a story airing on The Public's Radio.
Data researcher Jeffrey Richardson contributed to this report. Additional research was provided by Gretchen Macht and Nicholas Bernardo, which was unrelated to their work at the University of Rhode Island.