In mid-January, we show up to swim at our preferred place, Potter Cove, in Jamestown. We come here for long swims in the summer and much shorter swims that hug the shore in winter.
On this day, the wind is ripping out of the northeast at 26 miles per hour—we call it a bummer wind. The water temp in the cove is in the low forties and the air temp is 35 degrees. We huddle in the car to decide if we should stay or go to another spot to swim. There's never a doubt that we won't swim.
Christina Lorenson lives in Coventry and initiated our swims in 2019. A veterinarian with a practice in North Kingstown, Christina is a marathon swimmer and swim coach at the Kent YMCA. She was having trouble with some of her swim goals and wanted to try something different. She decided to train for an annual February swim at in a frozen Vermont lake. I started training with her. I joined her as her training partner that first winter—and we both got hooked.
"You know, one of the things for me, it's like, you really feel like you have conquered and accomplished something every time you go out in the water in winter," Christina says.
Natalie Coletta lives in North Kingstown. She's a professor of art history at CCRI. She joined our winter group in 2020. Back then, in the pandemic days, we would spread our blankets far apart and keep our distance in the water. In many ways, it saved us, kept us healthy, kept us connected in those difficult days and months of uncertainty and isolation.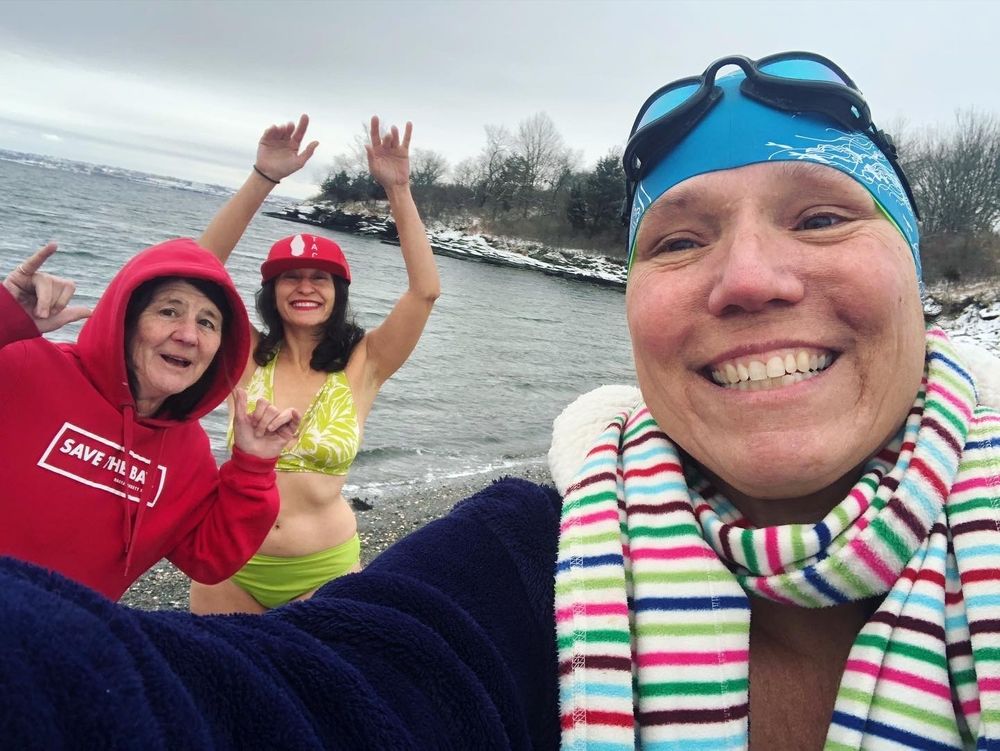 Natalie says winter swimming keeps her connected to the deep wildness of nature on the short, dark days.
She brought her friend, Jess Brown, to our group this year. Jess, who often goes by Lady J, is a professor of industrial design at Rhode Island School of Design.
"It's hard. It's difficult. I don't necessarily want to be a cold-water swimmer," Jess says. "I just want to experience the ocean year-round. I love that I've been brought into the sisterhood."
We all have our ways of preparing to enter the water. I put down a blanket, lay out my gear one piece at a time, so that I can run out of the water, dry off and get dressed as quickly as possible. Natalie, Cathy and Jess don neoprene booties and gloves. Christina and I wear only our swimsuits, two silicone swim caps and goggles. On the brutal cold, windy days, we grab our gear and sprint to our cars to warm up.
As we huddle in Natalie's car, we share memories of winter swims.
Natalie remembers the story behind why she now wears a camo Dry Robe with a hot pink interior liner when she goes winter swimming. It was a wicked cold February swim in Potter Cove. It was wicked cold. We walked to the beach in our bathing suits and discovered three men hunkered down in camouflage with hot drinks, duck hunting.
"In the irony of that moment, we just felt so powerful and joyful in the humor of it," Natalie says. "Then we took this big group photo together with these, you know, men holding their dead ducks in their big gear and us in our bathing suits."
Cathy Davis Hayes joined our group the same year as Natalie. She's an art teacher in Warwick Public Schools. She remembers a swim in mid-January last year, when we decided to shake things up and swim at Sachuest Beach in Middletown on an afternoon when the surf was up.
"We were in those waves body surfing in January," Davis Hayes says. "I felt like a child. I felt like a little girl. I felt like I was having summertime fun. In the middle of January, playing in those waves. It was glorious."
We usually enter the water, wincing and whimpering as the cold stabs at our shins like a knife blade. We whimper and holler as the frosty water reaches our thighs. We all agree that putting our faces in and submerging is usually the toughest part. It will literally take our breath away. But once we submerge and swim, we often don't want to leave. Jess Brown is an art history professor who started swimming with us this season. Newcomer Lady J sums it up the feeling well.
"It's euphoric. As a professor, I get to release every anxiety, every stress, every worry, everything is left in those waves," Jess says. "I come back feeling lighter. I come back feeling weightless. I feel 100 feet tall and like I can conquer anything."
On another day this winter, I went to Sachuest Beach on my own and met Molly Woodhouse, from Maine. She's a senior in nursing at Salve Regina University in Newport. Molly sometimes dips alone; sometimes she encourages friends to join her. It's her third season swimming in the winter waters.
The water is flat and the sun is setting between a break in bruised, low-hanging clouds. Molly enters the water quietly. She walks out to her waist, turns to the setting sun, clasps her hands against her chest and dips to her shoulders. She's serene. Calm. After several minutes, she slides fully into the water to swim.
"I loved the dip," Molly says. "I really do like swimming at sunset. I think it's my favorite time to swim.
"I would say I like the ritual of it. I just love showing up and doing the hard thing. The cold is temporary, definitely. And I do think it really can change your day from a bad day into a good day.
"I would say try it for yourself," Molly says. "I haven't taken anyone who regrets going."
I agree.
Our winter swimming is not a fad. It's something deeper, shared by people in other countries and cultures. For me, it's about a love of nature and the wild waters of our Ocean State. It's about joy, pushing past our comfort zones—and sisterhood.