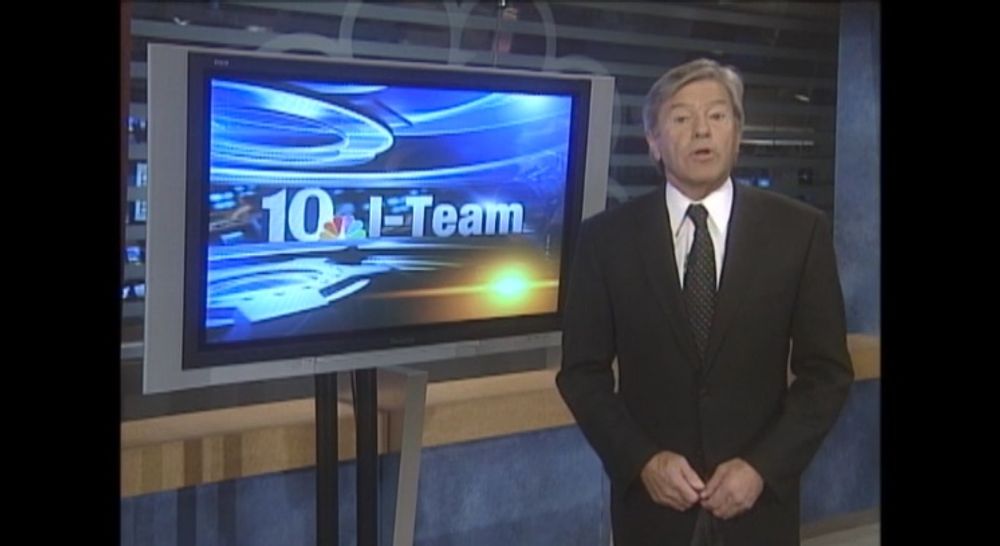 Jim Taricani, one of New England's top investigative reporters and a tenacious chronicler of political corruption and organized crime during nearly four decades at WJAR-TV, NBC 10, died at home peacefully Friday after living since the 1990s with a heart transplant. He was 69.
He could cover any story but was known for his hard-hitting investigative journalism. Taricani had a rapier – and often self-deprecating – wit and was a deeply compassionate and friendly man.
Taricani received national attention for defying a contempt charge arising from the Operation Plunder Dome case that landed Providence Mayor Buddy Cianci in federal prison after a 2002 trial.
Taricani declined to reveal the source who provided him with an evidentiary videotape showing one of Cianci's top aides, Frank Corrente taking a bribe at City Hall. The judge in the case, Ernest Torres, sentenced him to a period of home confinement, due to Taricani's heart condition.
Taricani could wallpaper his home with journalism awards, but upon meeting him, one would never know that.
A Connecticut native and U.S. Air Force veteran, he had his first heart attack at age 36 and in the late 1990s underwent a heart transplant at Massachusetts General Hospital.
"When I recently asked Jim what he thought as his largest life accomplishment—he reflected for a moment and said first and foremost staying alive and …fully living his life," said his longtime friend and Channel 10 colleague Dyana Koelsch. "He knew he had been given a second chance with his heart transplant and he was determined to honor that new heart in his chest with a sense of purpose. He never forgot that someone died so that he could have a second chance."
A supporter of organ donor issues, Taricani often took time to speak at organ donor events and boost the spirits of patients awaiting kidneys or other organs.
Taricani was married to Laurie White, president of the Greater Providence Chamber of Commerce, who survives. "He was kind and sensitive, generous and creative. He was a strong and selfless friend and to Laurie –the love of his life—he was a devoted husband," said Koelsh in a statement on behalf of his family.
He loved music and sports. His friend, longtime Providence Journal political columnist M. Charles Bakst, often accompanied Taricani to Fenway Park for Red Sox games. Others who went to those games included the late Jack White, Taricani's friend and investigate reporter rival at WPRI in Providence, and White's son Tim White, now head of the investigative unit at WPRI.
"The only failing he had was that he was a Yankee fan," quipped Bakst.
Tributes flowed in from elected officials in Rhode Island.
"Jim Taricani was a Rhode Island icon," Gov. Gina Raimondo said in a statement. "His passion for his work, his tenacity and his integrity over his more than three decades in journalism earned the respect of Rhode Islanders everywhere. He will be greatly missed. My thoughts are with his family during this difficult time."
He took a circuitous route to broadcast journalism. In an interview upon his 2014 retirement from WJAR, Taricani recalled his early love for music.
"i was in college, bumming around with some bands," he said.
He began his carer at a tiny West Warwick radio station, then worked at the former WEAN news station in Providence.
Taricani embraced the news business in all its raffish glory in the 1970s and 1980s. The after-hours drinks at Hope's tavern in downtown Providence, where reporters and actors from Trinity Rep caroused long into the wee hours. He developed friendships with sources and such esteemed reporters as Jack White and Randy Richard of the Providence Journal. He often seemed a character from one of Bruce DeSilva's novels.
He moved to WJAR television in 1979, starting as a general assignment reporter. He quickly moved up to covering big topics and generated such investigative stories as tracking illegal gun sales and the flow of undocumented immigrants from Guatemala to Rhode Island.
Taricani was a generous mentor to young reporters, recalled Tim White. "He had a serious respect for journalism. He wanted to make Rhode Island a better place through journalism."
White said Taricani helped sway his decision to leave Boston television and take over his father's old investigative beat at WPRI -- a choice that Tim White originally didn't want to make.
"I didn't want to try to fill Jack White's shoes .... Jim said, you've got to do it," said Tim White. Then, even though Taricani worked for a rival station, he helped White forge his career, advising him on which sources could be trusted.
"I don't think I would have taken this job without Jim," said White.
One remarkable aspect of Taricani was his modesty and down to earth persona. Despite all the awards he won and his celebrity as the best investigative reporter at southern New England's top rated news station, none of it ever went to his head.
Taricani was an old-school reporter who was tough, but fair. In the later years of his career, he would bemoan what he saw as the increasing superficiality of local television news. Besides his celebrated investigative and organized crime reporting, he was adept at dissecting politics and hosted public affairs shows at Channel 10, including "10 News Conference." He got his start in radio and was a fine radio reporter in the heyday of the former WEAN station in Providence, before he moved on to television. He was a fluid writer who late in his career authored long-form journalism political profiles for Rhode Island Monthly magazine.
He also served briefly as press secretary to Gov. Lincoln Almond, a moderate Republican and former U.S. Attorney. Taricani's tenure as Almond's top press aide was cut short by heart disease. He went back to Channel 10, which chronicled his transplant. In retirement, he did public relations work with Koelsch in Providence.
He had a herculean work ethic and was, as Bakst said, "driven," when he was on the scent of a big story. "He believed you had a right to know and he loved the chase (of a big story), but he was self-deprecating."
In recent months, as he became frail and confronted ill health, his attitude never changed, said Bakst. "If you asked how he felt, he'd say fine."
Despite his illness Taricani never felt sorry for himself. "After his heart transplant, he lived every day as if it were a gift," said Bakst. "He never complained for one minute."
Taricani was active until the end. He was born with one kidney. Even as it failed and he was on dialysis, he often met Bakst and others early in the morning for coffee or breakfast at L'Artisan, an eatery in Wayland Square on Providence's East Side.
"He had an irrepressible sense of humor especially when it came to laughing at himself," said Koelsch. "It's hard to describe the vast impact Jim had on our lives, His award-winning investigative reporting personified excellence in journalism. Covering organized crime and government corruption with unwavering courage for nearly four decades, Jim was fair, through and compassionate. He was committed to the highest professional standards. Yet he remained humble and curious."
UPDATE: via Dyana Koelsch --
"Jim Taricani's funeral service will be held on Thursday, June 27, 2019 at 10:00 a.m. at Christ the King Church, 180 Old North Road, Kingston, Rhode Island with burial immediately following at Quidnessett Memorial Cemetery in North Kingstown, Rhode Island.
Calling hours will be on Wednesday, June 26, 2019 from 4:00 p.m. to 8:00 p.m. at the Barrett & Cotter Funeral Home, 1328 Warwick Avenue, Warwick, Rhode Island.
In addition, the family is announcing that a lecture series on First Amendment Rights is being established at the University of Rhode Island in Jim's memory by his wife, Laurie White-Taricani.
"Journalistic integrity and ethics were deeply important to Jim. Throughout his career, he was a champion of the news media's First Amendment Rights. He knew that protecting those rights is critically important --- not only for journalists, but for all of us," said White-Taricani, who earned a Journalism Degree, herself, from the University of Rhode Island.
"Journalists bring sunlight to the stories that otherwise may stay hidden in the shadows. It is my hope that this lecture series will continue his legacy of inspiring the next generation of ethical and responsible journalists."
"In honor of Jim Taricani, we are proud to host this lecture series on the First Amendment --- one of the most defining characteristics of American society for which Jim was a staunch defender and advocate," said Adam David Roth, Ph.D., Director, Harrington School of Communication and Media.
In lieu of flowers, those wishing to join in honoring Jim's legacy may direct contributions to: Taricani Lecture Series on First Amendment Rights. URI Foundation. PO Box 1700. Kingston, RI 02881"
-- With reports from Ian Donnis