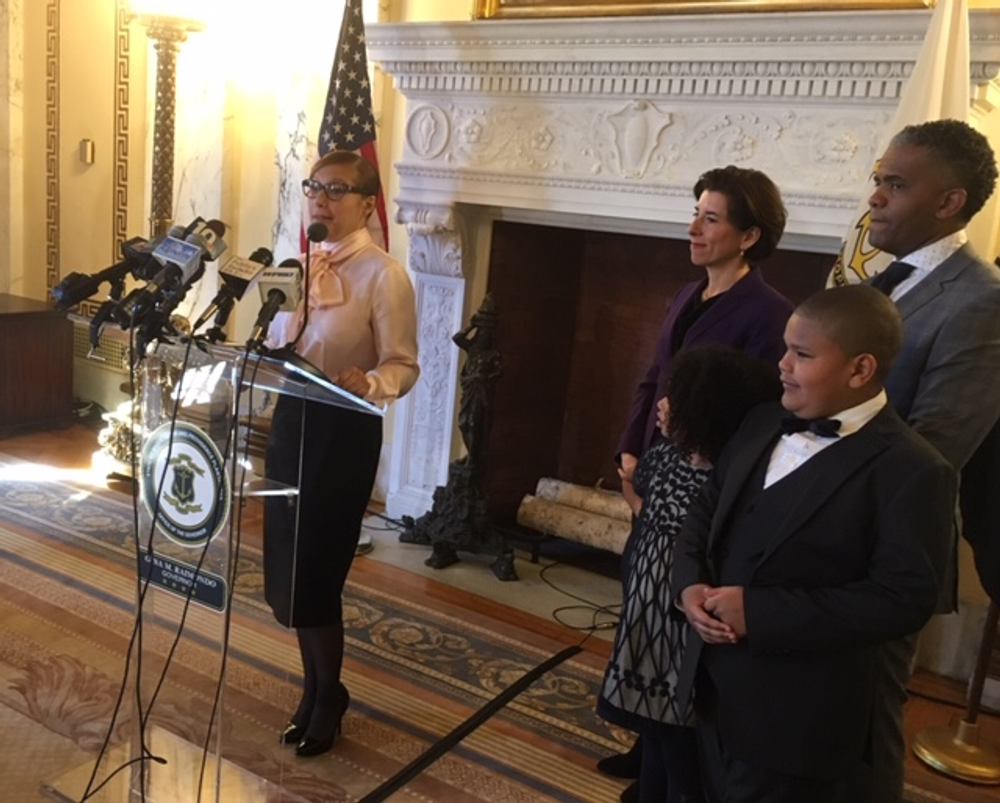 During her formal unveiling before a crowd of well-wishers at a Statehouse news conference, Infante-Green elicited cheers while describing her own story and the approach that she plans to bring to Rhode Island.
She said her mother made a dramatic difference in her life by fighting to get her into a better school as a young girl in the South Bronx section of New York City. Infante-Green, now a deputy education commissioner in New York state, said that experience informs her advocacy for all students.
"I don't believe in our excuses," she said. "Our kids don't deserve excuses and we can't tolerate them. This is about solutions, about moving forward and providing the best education possible. So I understand the power of education because I'm standing here, because of the teachers that I had."
Rhode Island has made negligible progress in improving public K-through-12 education for years, even though doing so is considered a vital issue for the state's future. Recent standardized test scores showing Rhode Island students significantly under-performing their counterparts in Massachusetts helped spark a heightened focus on the topic.
Raimondo, who announced her pick on Monday, said the selection of Infante-Green marks a watershed from Rhode Island's education approach over recent decades of "chasing different strategies and flavors of the day."
Raimondo added: "We're here to say we're going to back a terrific leader and every single one of us is going to get behind her to ensure her success so that our kids can achieve the high standards that we have for them and have the bright futures that they deserve."
Some observers believe not enough accountability is built into the process to dramatically improve public education in Rhode Island.
Infante-Green, 48, said her determination and leadership will help to win the day.
"Students in other states perform well," she told reporters. "But our goal is to out-perform those students. I am [an] extremely competitive person and a few years from now, we are going to see the fruits of that labor."
Asked how she will change a situation in which many students in Providence, Rhode Island's largest city, struggle to achieve proficiency in math and English, Infante-Green said, "Curriculum matters, right? – the right curriculum. And really supporting teachers and administrators, and ramping up the rigor and meeting those standards, because the standards are the standards. How we get there is the work that we need to do together, so we need to improve that work."
A specialist in educating students for whom English is a second language, Infante-Green said, "if we move the multi-lingual learners in the state of Rhode Island, we move a large portion of the population – and what works for them works for everyone."
The lifelong New Yorker said she decided to take the job in Rhode Island and uproot her family since "who I work for matters, and the governor's initiatives speak to me. The work starting with pre-K all the way up to college [readiness] and high school -- it's unbelievable and it's something that I feel very strongly about."
Infante-Green was a finalist to become education commissioner in Massachusetts last year.
The incoming commissioner, who was joined by her husband and two children, faces confirmation by two state education boards. She expects to begin work in Rhode Island next month.
Some of the loudest cheers came when Infante-Green, a daughter of Dominican immigrants, identified herself as "a Latina woman -- I'm a woman of color." When the audience let out a loud cheer, she said, "Wow, I should have started with that."
Turning serious, Infante-Green said her background made her someone who fights for change for students.
"For me, this was do or die," she said. "This is not a luxury. It's what I had. My parents didn't have anything to leave me – there were no assets – other than a strong education. So I'm coming at this from that vantage point, where there's no way that we are not going to provide the best education. It's just not acceptable. We're not doing it. I'm not going to allow it."
Infante-Green's son, Asher, who is on the autism spectrum, stole the show during his mother's news conference, flashing a beaming smile.
She will succeed Ken Wagner, who served as Rhode Island's eduation commissioner for four years. He's set to become an education fellow at the Annenberg Institute at Brown University.
Raimondo told reporters she spoke with a few other candidates for the education commission post, but did not identify them.