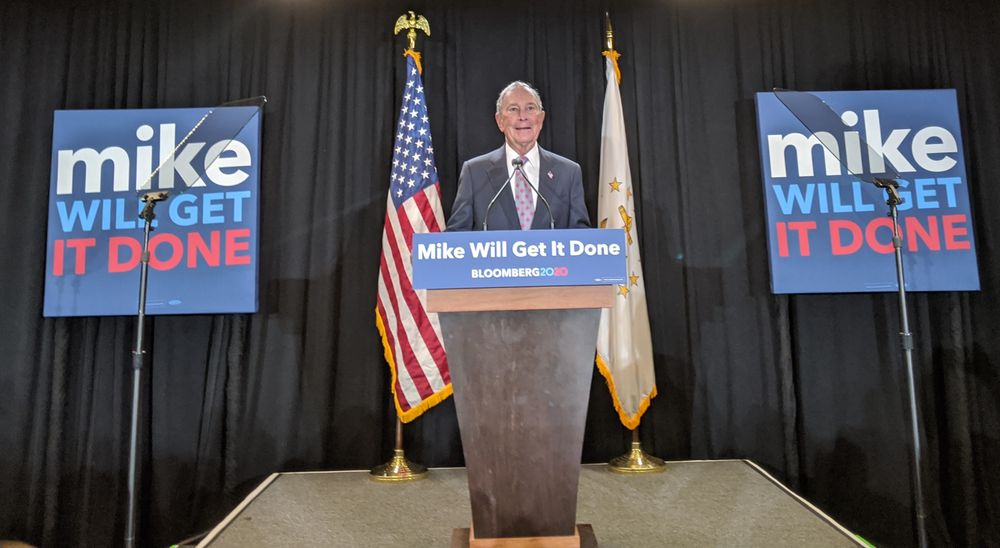 Democratic presidential candidate Mike Bloomberg campaigned in Providence on Wednesday, picking up his first gubernatorial endorsement -- from Gov. Gina Raimondo -- and contrasting himself with President Trump.
"Basically, you can say I am the un-Trump," Bloomberg told a few hundred attendees during a campaign event at the Cambridge Innovation Center in the Wexford Innovation Center. "Just think about it: he breaks promises, I keep them. He divides people, I try to unite them. He's a climate-denier. I'm an engineer – I actually believe in science; can you imagine that? He tweets, I follow facts, respect data and tell the truth."
The crowd contained a mix of supporters and Democratic voters curious about the evolving race for president.
Raimondo, a fellow pro-business Democrat who has known Bloomberg since she ran for state treasurer in 2010, said he has a track record showing that he would be a good president. She called the former New York City mayor an effective leader who supported the creation of jobs while cutting the rate of people without health insurance.
"And frankly, he'll stand up to President Trump," Raimondo said. "Mike Bloomberg is everything President Trump isn't. He's facts over fiction. He's a doer, not a talker …. He's a uniter, not a divider. He's a pragmatist, not a partisan. And he brings calm, confident, steady leadership, not hysteria."
In the aftermath of a chaotic Democratic caucus in Iowa this week, the Democratic field for president remains marked by uncertainty. Bloomberg hopes to make a big play in Super Tuesday states to bolster his chances of landing the Democratic nomination.
According to Bloomberg's campaign, he plans to make an aggressive push in Rhode Island ahead of the April 28 primary here, with plans to open an office in the coming weeks and hire almost two dozen staff.
Although Raimondo's approval ratings in Rhode Island have been less than sterling, she's well known in national Democratic circles as an ace fundraiser, former chair of the Democratic Governors Association and someone who made her name with a widely heralded pension overhaul as state treasurer. Considering that, she could help Bloomberg to attract more support in other states.
Raimondo is also a co-chair of Organizing Together 2020, a new nationwide Democratic effort meant to challenge President Trump's political operation.
Meanwhile, a few former Raimondo staffers, including David Allard, are working on Bloomberg's campaign.
Raimondo was introduced by Gabe Amo, a national regional deputy director for Bloomberg, who was formerly director of public engagement and community affairs for the governor.
In related news, Cara Cromwell and Jon Duffy have joined Bloomberg's RI campaign as state director and senior adviser, respectively. Both have ties to Raimondo and were part of Engage RI, a group that supported the pension overhaul spearheaded by the then-treasurer in 2011.
A few hecklers tried to interrupt Bloomberg, but were mostly drowned out by the candidate's supporters and led outside by police.
Bloomberg's has an estimated net worth of about $60 billion. Although he said even his mother doubted his chances when he first ran for mayor in New York City, he spent a huge sum to bolster his political career, including $102 million for his third term, according to The New York Times.