It was a humble start to the year in many parts of Rhode Island. While most districts were cleared to reopen for full in-person classes, schools have four weeks to phase in the number of students in school buildings.
In Providence, just a fraction of the city's 24,000 public school students attended in-person classes Monday.
There was no jostling or horsing around, no hugs or high-fives. Instead, students and parents waited in a socially-distanced line, snaking around Classical High School waiting for a symptom screening, temperature check, and spritz of hand sanitizer. Everyone wore masks.
For parents and students, the decision to come to school in-person at all was a fraught one.
"We evaluated the risk. We have our protocol that we're going through every day when she comes from school, before she comes to school," said Ramona Santos, whose daughter is starting ninth grade. "For me, I saw my daughter's mental health and academics regress over the over the over distance learning. So It was like, OK, so what am I willing to risk here?"
Santos has put faith in the school and district to keep people safe, but around the state, parents, teachers and students have had to make the same difficult calculation.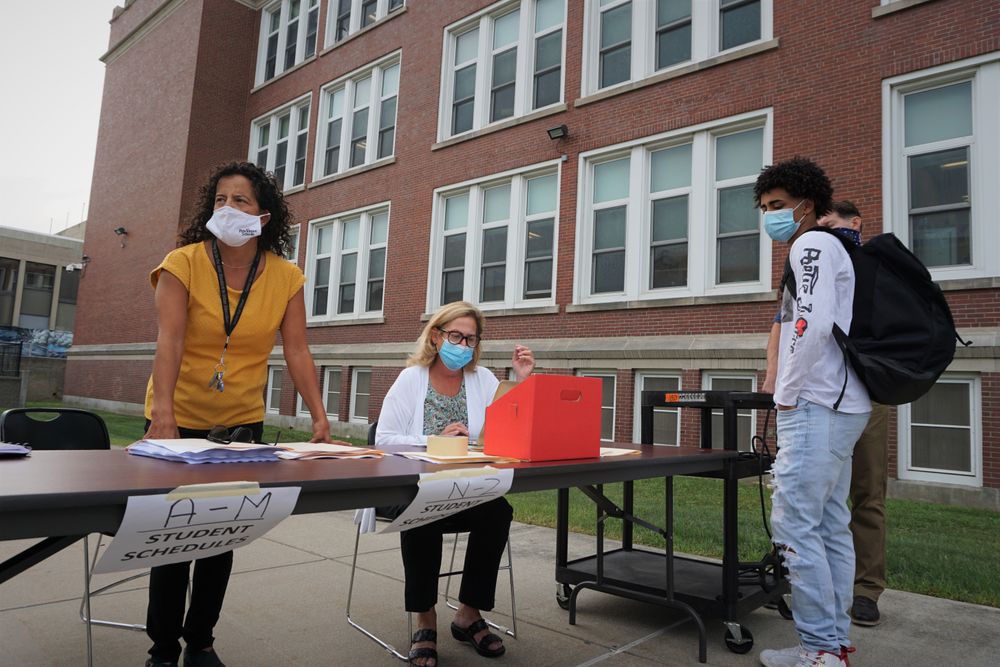 Thousands of students have already decided to remain online, perhaps until winter, through virtual classes offered by their districts.
Most students in Newport began the school year online, as the district plans to bring students back in phases over the next couple weeks. For the students online, the first day was meant to check families' systems for virtual learning.
These technologies will be particularly important for Newport's middle and high schoolers, who will only be in-person two days per week this year.
"We actually said, 'The in-person time we have with children -- think of that as a bonus,'" said Newport Superintendent Colleen Burns Jermain. "Because most likely, if we listen to what the health experts are saying and flu season starts, we may have to just go directly to distance learning."
Jermain said school staff in Newport have already distributed over two thousand Chromebooks to all students in the district, as well as roughly one hundred WiFi hotspots to families without reliable internet access.
Tenth grader Gabby Brown started not only the new school year, but an entirely new school yesterday, all while seated at her dining room table. She used to attend local Rogers High School, but transferred this year to the Met School in Newport.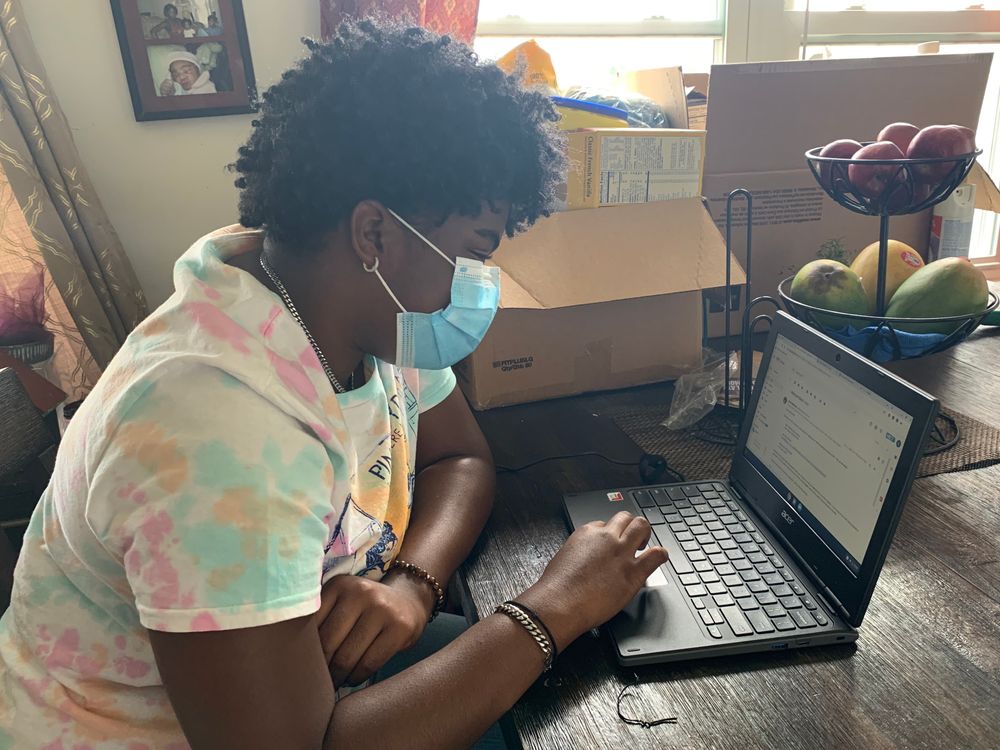 Her first day of in-person learning is set to begin Wednesday. Until then, her advisory group is doing classic first-week-of-school ice-breakers, like discussing their summers.
"It's definitely not like any other first day I've ever had," Brown said. "You don't really get that school feeling really from it."
The state gave all districts the green light to reopen fully for in-person classes, with the exception of Providence and Central Falls, where the incidence of COVID-19 remained too high. In defiance of the Governor's directive, school committees in Cumberland, Pawtucket, and Warwick all voted to keep most students online for the foreseeable future.
Ultimately, the first day of school this year is the culmination of months of planning, and at times acrimonious opposition to the reopening by large swaths of parents, students and teachers. Many that have returned to school remain fearful.
"I think teachers are nervous and rightfully so. I think we're all a little nervous," said state education commissioner Angelica Infante-Green . "It's an exciting day. It's a little nerve wracking. We don't know what to expect. But with this pandemic, we never know what to expect."
Infante-Green hopes fears will be quieted by the litany of new policies and procedures schools were asked to create and implement over the summer months. Cleaning, sanitizing, and social distancing protocols now dominate the school day.
"There are ways to mitigate and we have done all of those to make sure that our kids are safe, that they are in a good environment, that they're able to learn, and that they're following new protocols," said Infante-Green.
But these first days will be a test of the policies that many teachers doubt are even feasible.
The state's largest teachers unions came out strongly in opposition to any reopening during the summer. Last week the union in Bristol and Warren sued to keep schools closed. This week, the Providence Teachers Union announced they are requesting a federal health and safety investigation into school facilities in light of new COVID-19 concerns.
"If we are going to return as we've been told to do, to our brick and mortar schools, then we need to make sure they're as safe as humanly possible," said PTU head Maribeth Calabro. "And that's what should have been done for the past six months. But if that hasn't been done in the past six months, then going forward, it should be done immediately."
The state has already conducted an examination of all public school facilities. But some teachers remain unsatisfied.
Calabro says at this point, with so few students in the Providence schools, the union is not considering a work stoppage. But she says that as more students return to the schools, the more untenable the situation may become.
"What this is about is is trying to mitigate circumstances so that as we bring in more students to our schools, we increase safety and security measures while decreasing the likelihood that there would be exposures," said Calabro.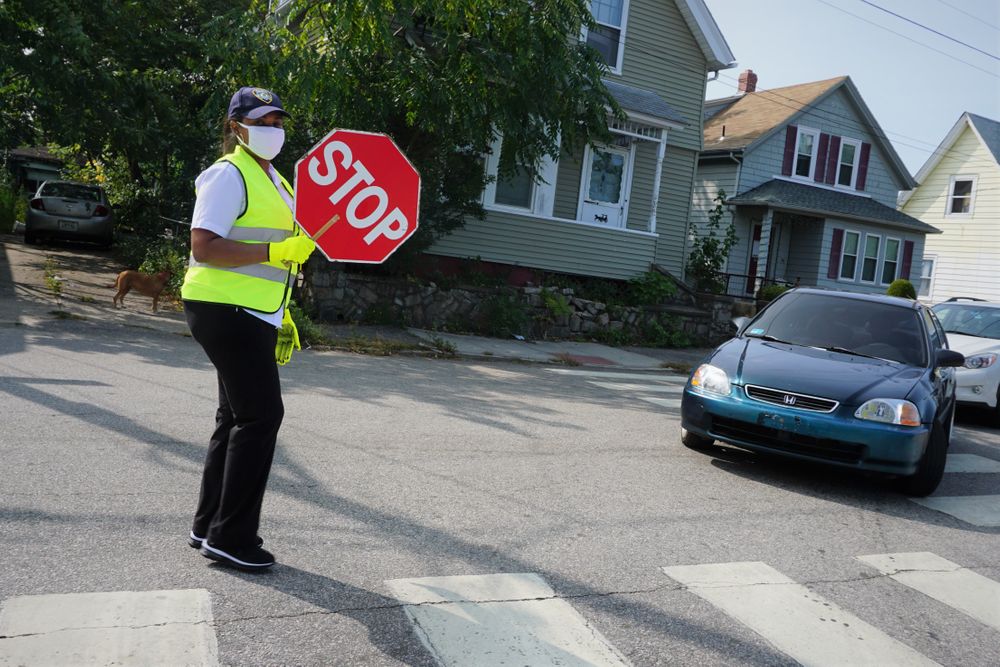 Across Rhode Island, schools are trying to regroup after the tumultuous last six months. Teachers and parents are trying to get kids back into old routines, students are entering school after months that experts say have been especially trying on young people's mental health.
Providence Superintendent Harrison Peters was only several months into his high profile position when the pandemic struck. Now, he's focused on getting his students back into the mindset to learn.
"My goal is also healing," said Peters. "So this first week, we're rolling out what we call transition lessons. So learning is always our priority. But we also want to heal and rebuild community."
And in front of Classical High School, despite the somber start, Ramona Santos couldn't help but feel excitement.
"Part of me feels this way and I feel guilty, almost guilty about it," said Santos. "But I am excited. My kid, she's in high school."