The first doses of the vaccine will go to high-risk health care workers in Rhode Island's hospitals, which have been at capacity since late November. Staff and residents at nursing homes and other long-term care facilities, as well as first responders, will also have priority.
Alysia Mihalakos, the chief of Rhode's Island's Center for Emergency Preparedness and Response, said the vaccine could not come at a better time, as Rhode Island has become one of the worst COVID-19 hotspots in the country.
"We're hoping for good uptake. We really want to protect the protectors," Mihalakos said Wednesday at a press briefing. "If we can protect them, and then begin to protect everybody else, we will hopefully finally be able to put the pandemic behind us."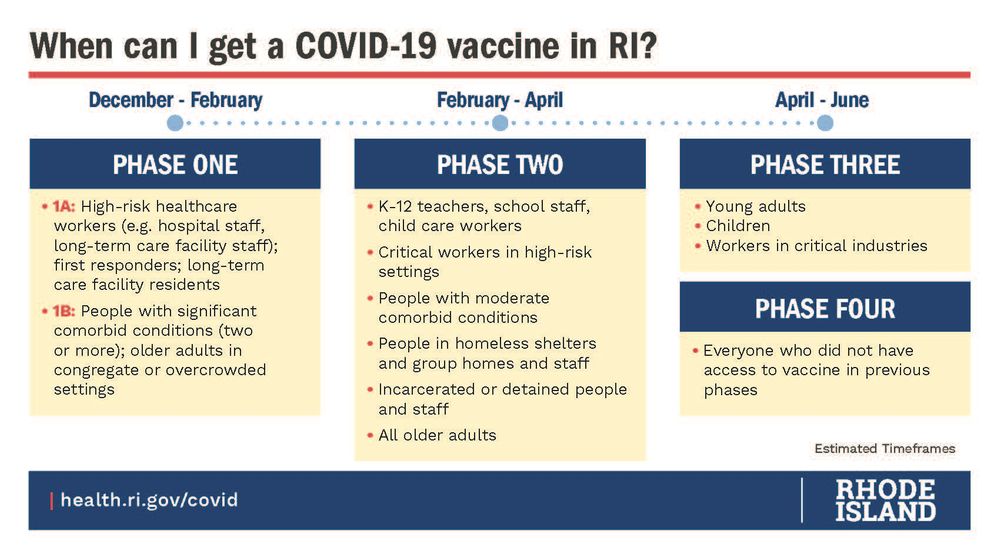 Rhode Island expects to receive about 10,000 doses of the Pfizer vaccine and 19,000 doses of the Moderna vaccine before the new year. This initial supply will only begin to cover the roughly 150,000 high-risk individuals eligible for vaccination during the first phase.
Because of supply limitations, Mihalakos said, Rhode Islanders should be prepared for the vaccination process to take months. In the meantime, continued restrictions like mask-wearing and social distancing will be necessary.
"There is not enough vaccine. There are not enough vaccinators. And unfortunately, I think there's not enough trust just yet in the vaccine for everybody to rush out the door to get vaccinated as quickly as those of us in public health would love them to," she said.
After the first round of inoculations, the vaccine will be made available to older adults in congregate settings, and to people with two or more health conditions that make them vulnerable to the virus.
Rhode Island will then move to Phase 2 of the vaccination plan, which will involve vaccinating teachers and childcare workers, people with moderate health conditions, people in homeless shelters, incarcerated individuals, and older adults. "Critical workers" in high-risk settings, such as grocery stores, will also be eligible for the vaccine during Phase 2.
The Department of Health is still determining where vaccines will be administered after Phase 1, Mihalakos said, but inoculation sites will likely include doctors' offices, community clinics, and local pharmacies.
More information on Rhode Island's vaccine distribution plan is available on RIDOH's website.
Antonia Ayres-Brown can be reached at antonia@thepublicsradio.org