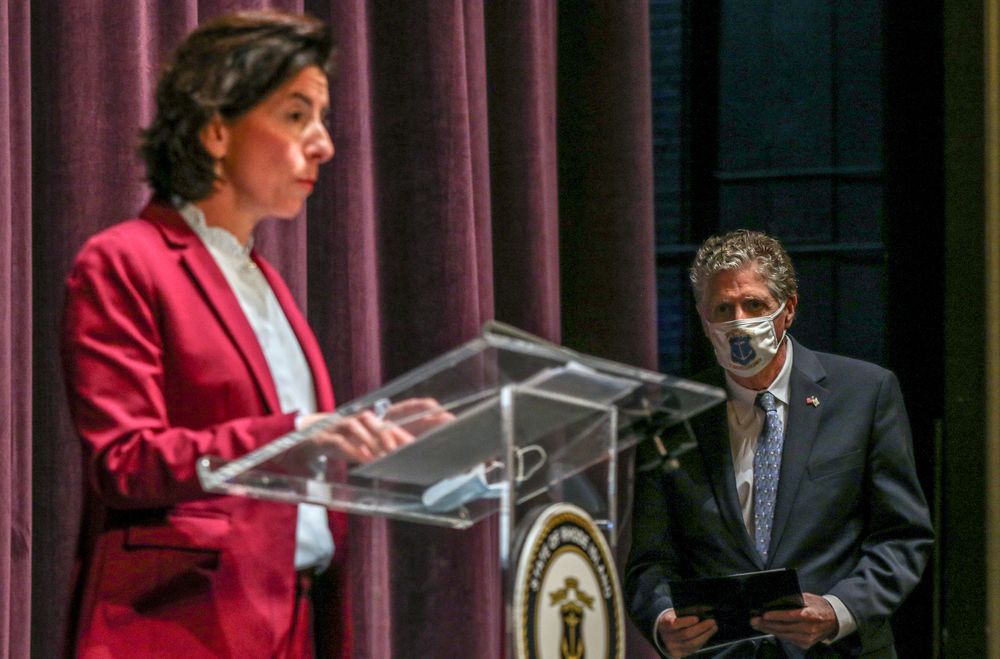 In her first public appearance in Rhode Island since she was nominated to join President-elect Joe Biden's cabinet, Governor Gina M. Raimondo on Wednesday sought to reassure residents about the state's handling of the coronavirus pandemic.
"There will be no disruption in our COVID response,'' Raimondo said. "We will not miss a beat, I assure you, in our vaccine planning, in our testing operation, or in any other part of the state's response to COVID."
Raimondo's remarks came during a joint briefing with Lt. Gov. Dan McKee, who is expected to take over as governor pending the U.S. Senate's confirmation of Raimondo's nomination as commerce secretary.
"We are facing a dual crisis, a public health crisis and an economic crisis, unlike anything we've ever experienced,'' Raimondo said. "So when the President-elect called and asked me to serve and really lean into this work of job creation and building back better at this moment of unprecedented economic crisis and asked me to help lead through this pivotal moment in our nation's history, I felt that I had to say yes."
McKee has agreed to keep the COVID-19 response team in place, Raimondo said, and members of his team have been meeting with her staff daily to ensure a "seamless transition."
Raimondo said the state's testing, vaccine distribution, contact-tracing, field hospitals are like a "well-oiled machine" and that will continue when McKee takes over as governor.
Rhode Island continues to have among the highest cases per capita of COVID-19 in the Northeast, with more than 100 cases per 100,000 people, according to the Centers for Disease Control and Prevention. But Rhode Island's seven-day positivity rate on Wednesday fell below 6%, the second-lowest in New England, according to Johns Hopkins University data. Hospitalizations also have leveled off to about 400 on Wednesday, from more than 500 in mid-December, according to state health department data.
"I would say we're on a good path," Raimondo said. "So where do we go from here? Stay the course."
Raimondo said she will keep the current COVID-19 guidelines in place until mid-February, with the possible exception of school sports. She said she was meeting with the interscholastic league about developing guidelines to allow students to resume sports and hoped to have further updates within a week.
Raimondo urged Pawtucket school officials, who cancelled in-person classes for the rest of the school year, to reconsider. The state tested more than 900 students and school staff last month and found less than one-percent tested positive, she said. The state also plans to begin asymptomatic testing of students and schools staff, she said.
Raimondo declined to answer questions from reporters after she spoke. She said the state's health director, Dr. Nicole Alexander-Scott, will lead the weekly briefings starting next Thursday at 1 p.m.
-- Lynn Arditi, health reporter for The Public's Radio, can be reached at larditi@thepublicsradio.org