A compromise to move four gun-related bills to the full Rhode Island House and Senate strained under pressure Monday, as the sponsor of one bill withdrew it due to changes she disliked and the top leaders of both chambers had to cast committee votes to save two other bills from going down to defeat.
The drama in each chamber's Judiciary Committee reflects how lawmakers remain divided on gun regulation, even with the control of the House speakership shifting over the last year from NRA stalwart Nicholas Mattiello to the more moderate Joe Shekarchi (D-Warwick).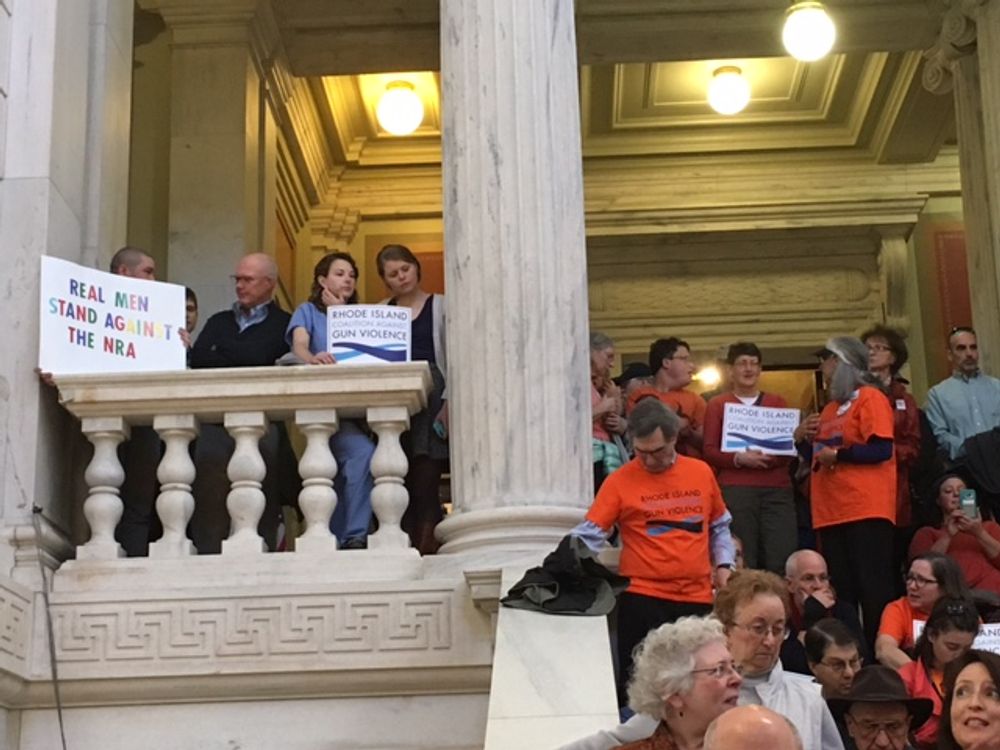 Shekarchi and his majority leader, Chris Blazejewski (D-Providence), cast deciding votes enabling two bills to squeak through the Judiciary Committee, 9-8. Those bills would limit possession of guns on school grounds to police and contracted security and prohibit so-called "straw man" purchases of guns on behalf of someone else who is not allowed to have them.
Rep, Camille Vella-Wilkinson (D-Warwick) was among the Democrats in the House Judiciary Committee who, joining with Republicans, almost sent those two bills to defeat. She objected in part to how the 'school safety' bill would require a gun owner going to a school to secure their weapon in their car -- something, she said, posing a real risk of theft.
"I believe that the safest place for a handgun to be is in the holster on the individual with the concealed carry permit," Vella Wilkinson said. "They've trained, they know how to handle the gun. I think locking the gun in a vessel inside of the car is not necessarily the safest place for it to be."
But House leadership carried the day, narrowly. Shekarchi and Blazejewski used their ability as ex officio members of all House committees to cast the winning votes.
Joining Shekarchi and Blazejewski in voting in favor of the 'school safety' and 'straw man' bills: Reps. Robert Craven (D-North Kingstown), Carol McEntee (D-Narragansett), Jason Knight (D-Barrington), Edith Ajello (D-Providence), Jose Batista (D-Providence), Leonela Felix (D-Pawtucket) and John Lombardi (D-Providence).
Voting against: Reps David Bennett (D-Warwick), Julie Casimiro (D-North Kingstown), Arthur Corvese (D-North Providence), Thomas Noret (D-Coventry), David Place (R-Burrillville), Sherry Roberts (R-West Greenwich), Vella-Wilkinson, and House GOP Leader Blake Filiippi (R-New Shoreham,)
The result on the 'school safety' bill was similar in the Senate Judiciary Committee. Senate President Dominick Ruggerio and Majority Leader Michael McCaffrey (D-Warwick) voted in favor, for a 7-5 outcome, preventing the legislation from being defeated with a tie.
One gun bill, which would have offered a tax credit of up to $1,000 to buy a safe for securing weapons, was withdrawn in both Judiciary committees at the request of the sponsor, Rep. Justine Caldwell (D-East Greenwich).
She said an amended version changed the bill so much that "it would not have made an impact on reducing gun accidents and suicides."
Gun-safety activists favor stiffer sanctions for gun owners who do not secure their weapons at home.
Current law requires families with a child who is 16 or under to keep a loaded gun in a locked gun safe.
The other bill that cleared both committees would require the office of attorney general to compile an annual report on how many gun cases are handled in all Rhode Island courts, and how many are resolved.
Supporters of the bill said collecting data is useful.
Caldwell disagreed. "This bill passing will have negative effects on us passing good gun-safety legislation in this chamber, with this body, in the future," she said. Opponents expressed concern that the findings might be manipulated.
The three gun bills approved by both Judiciary committees now move to the House and Senate floor.
Ian Donnis can be reached at idonnis@ripr.org. Follow him on Twitter @IanDon. Sign up here for his weekly RI politics and media newsletter.