Brett Smiley, who is gearing up for his second run for mayor of Providence, announced Wednesday that will step down as director of the state Department of Administration when Gov. Gina Raimondo is confirmed as U.S. Commerce secretary. At the same time, the state GOP said it has filed an ethics complaint against him.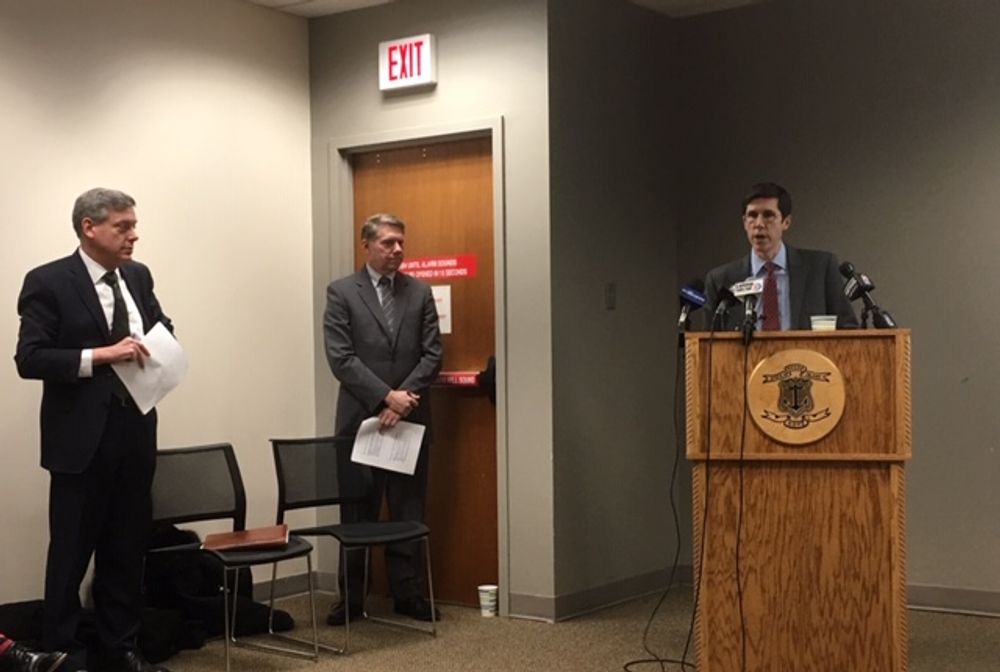 "As you know, I believe deeply that public service is critically important work, but this past year in particular, the work you have done has saved jobs, businesses, and most importantly, lives," Smiley wrote in a letter to state employees. "Thank you for your professionalism and commitment. You have been a constant source of inspiration to me and I am forever grateful for the passion you put forth every day to push Rhode Island government to be its best."
Smiley has attracted news coverage recently for returning about $5,000 in campaign contributions from state vendors, and for how a member of the state Ethics Commission resigned after hosting meetings between Smiley and mail ballot expert Ed Cotugno.
Following these reports, state GOP Chairwoman Sue Cienki called on Smiley to resign and said she would file an Ethics Commission complaint against him if he didn't.
On Thursday, Cienki said she has filed an ethics complaint, specifically involving a campaign contribution from Colin Kane of the Peregrine Group, a state vendor.
"The Ethics Commission should not limit its investigation to the one donation made by Kane," Cienki said in a statement. "The Commission must launch a comprehensive investigation into all the donations Smiley received from individuals employed by state vendors to determine if he solicited donations from these individuals. The Ethics Commission has the power to compel production of documents and testimony from witnesses through the use of subpoena. The Ethics Commission should require all donors, who are associated with state vendors, to describe under oath any conversation they had with Smiley related to a campaign donation. Specifically, these donors should be asked under oath whether Smiley promised or threatened them in any way. A full investigation of Smiley's fundraising activities with the employees of state vendors is justified. Smiley promised the Ethics Commission he would 'not solicit or accept campaign contributions from any state vendors.' "
In a statement, Smiley called the ethics complaint a baseless partisan attack.
"I am not surprised that the same Republican Party that supports false claims of election fraud and embraces conspiracy theories is now launching baseless partisan attacks against me," he said. "I have established high fundraising standards which were approved by the Ethics Commission, have returned any contributions that did not meet those standards and have suspended fundraising to focus on a smooth transition out of state government. My focus will always be working to find solutions to the real challenges facing the people of Providence and I will not be distracted by gutter partisan politics."
On Wednesday, through her communications director, Raimondo offered this praise of Smiley: "As my chief of staff and as director of the Department of Administration, Brett has been an extremely dedicated public servant and advocate for Rhode Islanders. Over the past year, under impossible circumstances, Brett oversaw a modernization of state government, keeping state workers safe while continuing to provide vital services to our state. I'm grateful for his service and wish him the best."
Smiley has raised more than $165,000 to run for mayor of Providence next year.
Also running: City Councilor Nirva LaFortune, Gonzalo Cuervo, a former chief of staff for Nellie Gorbea, and City Council President Sabina Matos. Matos is also considered to be on the top short list of more than 50 applicants seeking to be the state's next lieutenant governor.
A Chicago native, Smiley came to Rhode Island to run Democrat Charles Fogarty's 2006 gubernatorial run against Republican Gov. Don Carcieri.
Smiley went on to establish a consulting operation, CFO Consulting Group.
In 2014, he ran for mayor of Providence and faced a challenge in building support behind his base on the East Side. He wound up throwing his support to the eventual winner, Jorge Elorza, and later took a job in Elorza's administration.
In 2016, Smiley became Raimondo's chief of staff after the departure of Stephen Neuman. She named him to lead the Department of Administration, the nerve center of state government, in late 2019.
This story has been updated.
Ian Donnis can be reached at idonnis@ripr.org.