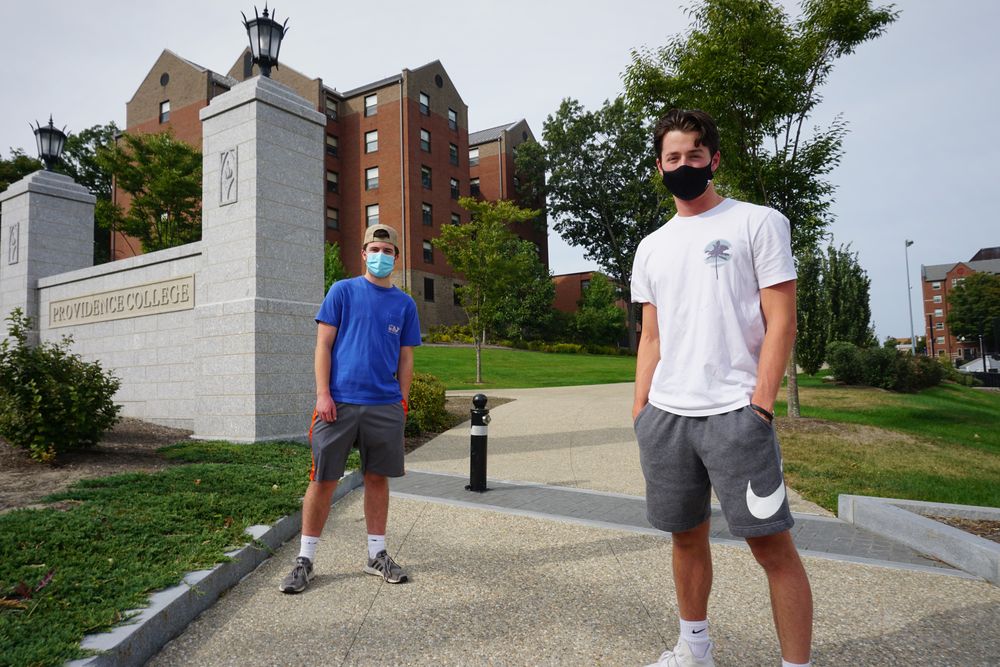 So far, 219 students have tested positive, and more than 400 have been required to isolate or quarantine, according to the college. On Friday, Providence College officials announced they would extend online classes and the stay-at-home order until October 3rd.
The neighborhood near Providence College is filled with rental apartments, often in remodeled triple-deckers, that cater to college students; with names like Margaritaville, Caesar's Palace, and the Dawg House. In the warmer months, the neighborhood hums with activity. But this week, the streets were silent.
A long white van with "Providence College Transportation" printed on the side circled the neighborhood. The college is using the van to ferry students who have tested positive for coronavirus to places, such as hotels, where they can quarantine, said a student who was waiting to be picked up by the van Friday afternoon. She declined to give her name. When the van arrived, the driver put on a blue plastic medical coverall and mask before opening the door. The student climbed in clutching a large stuffed animal.
Down the block, Donna Kermanshah, a senior at Providence College said the mood on campus was bleak.
"It's definitely scary, it's not a good feeling," said Kermanshah. She and her roommates have all tested negative for COVID-19. But for the last week, she said, they haven't left their off-campus apartment for classes, errands, or appointments. They don't go outside, she said, except to exercise in their driveway.
"We're scared. We're anxious," Kermanshah said. "But, at least we have each other."
After the outbreak at Providence College was first reported earlier this month, the college administrators required that all students be tested. Since issuing a stay-at-home order, college staff have been running errands for students. Professors have dropped off supplies on doorsteps. And the college has arranged to pick up and deliver medications for students from local pharmacies.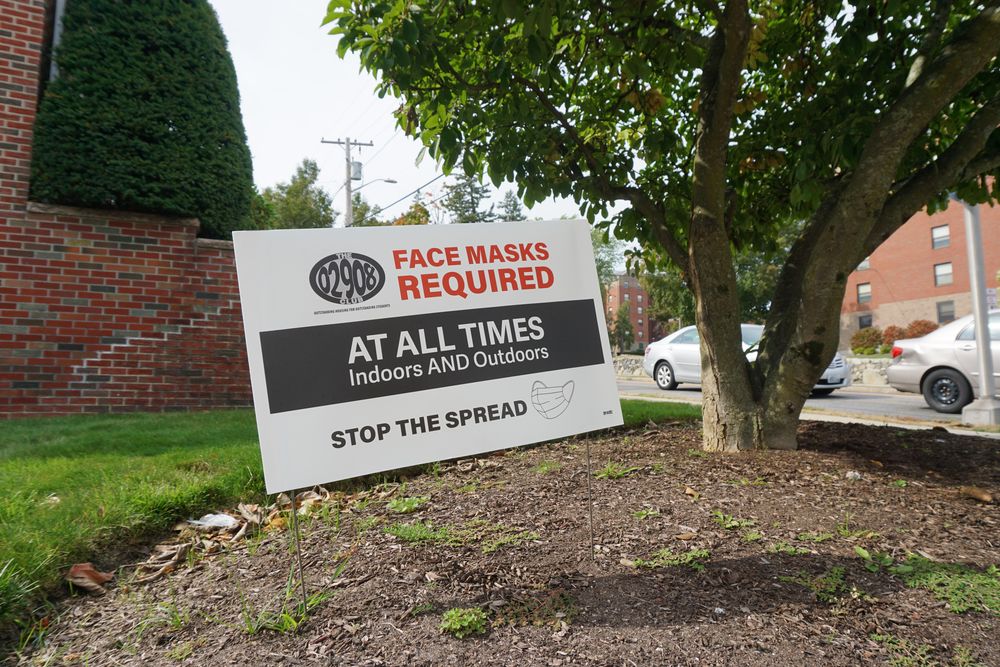 Even before the outbreak, life was different on the campus, where the semester began with in-person classes. Like most other colleges in Rhode Island, Providence College rolled out a litany of new policies meant to stem the spread of the virus. Before the start of classes, Providence College administrators placed 17 students on interim suspension for violating the rules.
Even with those policies, Kevin Rockwal, a junior, said he understood how the virus may have spread among students at the small private college.
"I think it's tough when you have all these kids off campus," Rockwal said, "and some of them aren't careful and then everyone lives so close together. You know everyone in the houses and so you go house to house. I guess I could see how it happened, it's just tough to see it at our school."
The start of the fall semester was not the return to a semblance of normalcy that they had hoped for, and living through the outbreak is wearing. Students said fear and anxiety have permeated the campus, their lives, and their classes.
"I think the students often look depressed," said Eric Hirsh, who teaches sociology and anthropology and sees his students only through the camera of his computer. Hirsch said he reaches out to his students more than usual, and frequently checks in as part of his classes.
"It's definitely created a lot of disruption."
Shawn Soucie, a junior at Providence College, said, "It's just a matter of our friends and everyone else that we care about. I can't go home [to my family] because if for some reason somehow I was in contact with someone, it's just not worth the risk."
Residents in the neighborhood around Providence College have had a sometimes fraught relationship with students nearby, often related to parties. Now, the concerns are related to health and safety, according to two elected officials who represent parts of Providence; Senator Sam Bell and Representative Marcia Ranglin. Both have publicly pushed college officials to keep classes online for the rest of the semester.
In a statement issued Friday, PC President Rev. Kenneth Sicard acknowledged those concerns.
"In addition to being a temporary home for PC students who live off-campus, this neighborhood is also the permanent home of many working families who depend on their health to earn a living," Sicard said. "We apologize sincerely."
Providence College staff and Providence police are now monitoring the neighborhood to make sure students are abiding by the stay-at-home order, and not gathering in large groups. But Donna Kermanshah, a senior, also bristled at the idea that most students aren't taking the virus seriously. She spent the summer under quarantine while at home in New York.
Kermanshah said she does worry that a few students, and even professors, may not be following the rules as closely as they should. And she had a message for them: "Put your mask on, please."
"I want to have a good senior year,'' Kermanshah said. "The professors want to stay healthy and alive. We just really want to see our community come together after this and just try better."