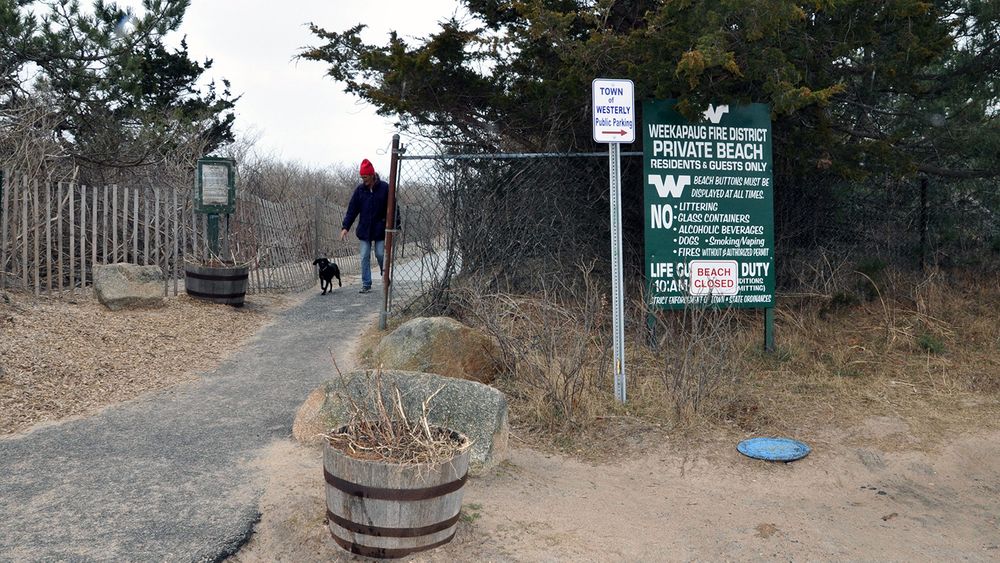 The southern Rhode Island coastline is one of the most picturesque stretches of waterfront in the state, but unless you own property or are staying in a resort, it's often hard—and in some cases nearly impossible—to get to.
Earlier this year, Ben Weber and I met in one of those spots: a parking area at the start of the barrier beach east of Weekapaug Point in Westerly. We were feet from the boardwalk down to the beach sand and waves of the Atlantic Ocean, right in the heart of the Weekapaug Fire District.
But we didn't find any fire trucks stationed nearby.
"There are none," Weber said. "There are no fire trucks. They don't have fire equipment. Now, they call themselves a fire district. But, again: no fire equipment, no apparatus, no trucks, no nothing."
The fire district does, however, own more than 60 acres of coastal property, including this boardwalk. The district allows beach access through the path for its residents, their guests, and people staying at the upscale Weekapaug Inn nearby.
But it can restrict the general public, which, beachgoers say, it began doing more aggressively last year, pointing to the pandemic as justification.
"They just decided they didn't want to let anybody use that one," Weber said. "That is their right of way. That is their land. They stood their ground and said no because of COVID: 'Now we're not letting anybody but our own people use it.' So the public's not allowed to use the lands that they've always used."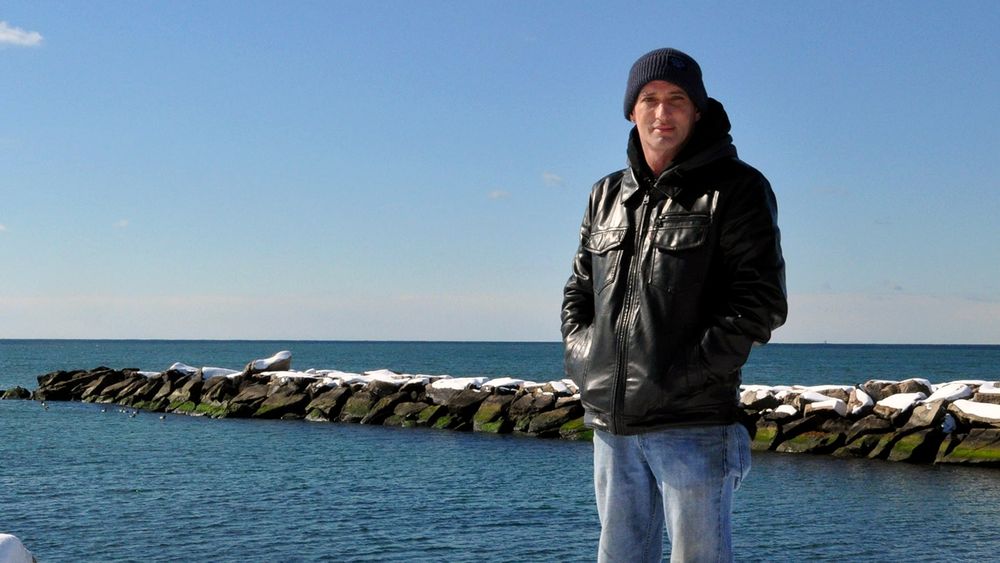 The boardwalk is not the only spot where the Weekapaug Fire District is calling the shots. Weekapaug has claimed ownership over a contested stretch of land nearby that Weber and other locals say is really a public right of way. The district also controls much of the barrier beach, a separate beach near the Weekapaug Breachway, and other properties.
In effect, it has a near monopoly on the undeveloped land along this stretch of coast.

"Weekapaug is like a medieval fortress where they draw up the drawbridge, and if you're not a member, you don't get in," said Mark Rooney, the Westerly town manager.
Before moving to Rhode Island from Illinois to take his current job, Rooney said, he'd never seen anything like the Weekapaug Fire District, which also has the legal authority to raise taxes for public services.
"This is very unusual to me: fire districts owning access to the ocean, essentially, and limiting it to their own taxing body, not to the general public," he said. "The Weekapaug Fire District is a district mislabeled in name. They are a land entity."
Weekapaug isn't alone. Seven coastal fire districts in Westerly, Charlestown, and Narragansett claim ownership over nearly 400 acres of property their towns have assessed at more than $18 million, and public records show acquisitions have continued in recent years. Only two of the districts, Misquamicut and Watch Hill in Westerly, have fire departments.
But the fire districts weren't originally intended to be land entities. The legislature created them earlier in the 20th Century to provide fire protection services to outlying areas.
"Fire districts exist for the purpose of, obviously, providing fire services to the people who live in that district," said state Sen. Dennis Algiere, who serves Westerly and part of Charlestown. "They're entities that were established that provide services to a community, and they do provide fire services through contracts."
Not always. The Bonnet Shores Fire District in Narragansett, for example, describes itself on its website as "an exclusive residential village."

Here's how fire districts evolved: Over the decades coastal districts individually asked the legislature for more powers, and they got them. The legislature gave Weekapaug permission to acquire land, Watch Hill the ability to operate a business, and Bonnet Shores the authority to have a so-called "private beach" and land trust with tax benefits.
"Why they own the property, I do not know," Algiere said. "That's before my time. They probably own the property well before—you know, probably mid-1900s, 1960s, 1950s in some cases."
Central to the tensions today over shoreline access is the question of why a quasi-governmental entity is allowed to block the public from the shore. Afterall, the state Constitution says the shoreline itself is public, and case law has defined that as anywhere below the mean high tide line.
"Beaches are public land. This has been well established both in Rhode Island and other coastal states," said Andrew Kahrl, a professor at the University of Virginia and an expert on shoreline access.
Kahrl added, "But then the question becomes: How does the public actually gain access to these areas? And here you find towns and communities and individual homeowners searching high and low, and oftentimes utilizing their own political influence and access to clever legal representation and advice, to find different ways to limit the ability of the general public to access these areas."
And that's why advocates like Ben Weber get so angry about losing rights of way and say public officials too often side with the fire districts and other coastal landowners.
"Stuff like this happens, where rights of way were opened up, and then all of a sudden, they're fenced off, blocked off," Weber said, during our interview in Weekapaug. "I mean, it's been happening for decades here, and it happens all over the place."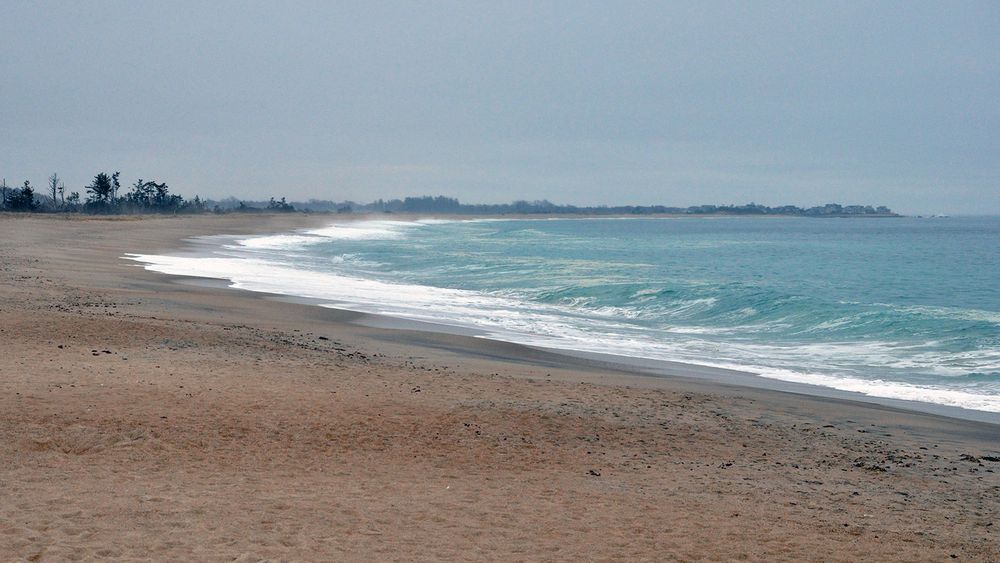 Westerly Town Council president Sharon Ahern said fire districts have "been the elephant in the room for a long time in Westerly."
She added, "There's a lot of resentment, and I completely understand it."
Ahern said fire districts should open more coastal areas to the public, but the town itself has limited options to intervene.
"People have to understand that those fire districts do have rights, and they do own property," Ahern said. "Because they're quasi governmental, it isn't as if the town council can necessarily override what they've established."
But the town council has had the opportunity to do more. Last year, council members sided with the Weekapaug Fire District on the contested right of way locals say is public, despite questions about the property's history. After complaints, they passed the case along to the state Coastal Resources Management Council, which is reviewing it now.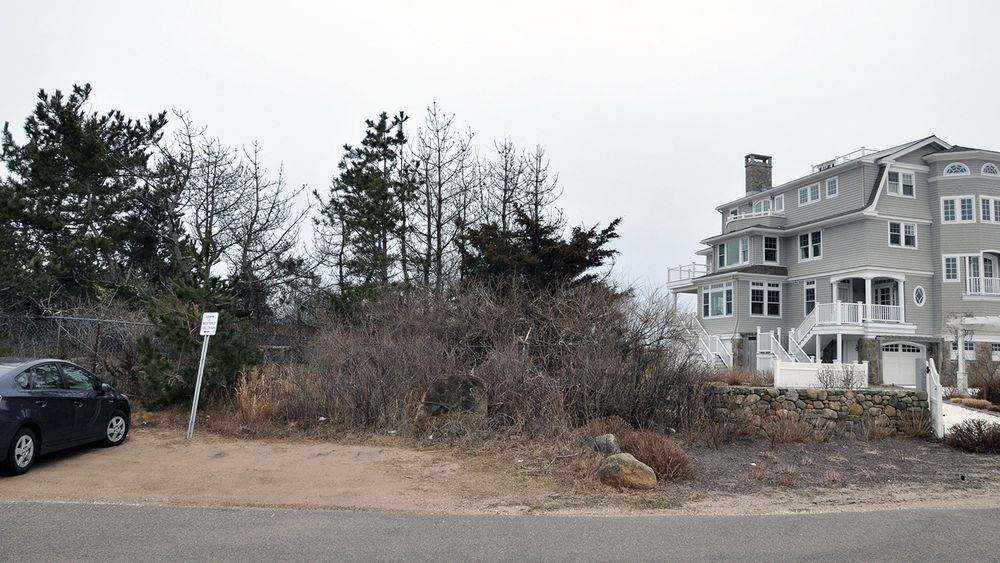 The CRMC did not agree to an interview. The Weekapaug Fire District had no comment on this story. After repeated requests for interviews, state Sen. Dennis Algiere did have this to say on contested rights of way:
"I would rather have the parties work together and come up with some type of an agreement. And right now it's not on my priority list to go after fire districts in the State of Rhode Island that are not providing direct fire services."
Advocates complain the fire districts, with their growing hold over coastal property, aren't on anybody's priority list. And taking on the fire districts would be challenging, even if lawmakers wanted to. The legislature may have started them, but they're all independent—like little towns or villages—and any amendments to their charters could be legally challenged.
Even so, in a tiny state with one of the highest population densities in the country, the question of who gets to use the public's shoreline and how they get there is getting louder among the people who just want a day at the beach.
Alex Nunes can be reached at anunes@thepublicsradio.org.
-- Interactive maps accompanying this story were produced by Sofia Rudin.
[EDITOR'S NOTE: This story is part of an ongoing series about fire districts and shoreline access in Rhode Island.]