The most disputed piece of land in Providence is just a patch of grass right now. It's a triangle-shaped parcel smack between the city's new pedestrian bridge and the Wexford building on Dyer Street.
Fane tower is a proposed 46-story luxury residential development in Providence's I-195 District. While opponents take a very different view, supporters say the building would be a landmark and show that Rhode Island's capital is moving forward.
"This is a major opportunity for the city to make a statement, to have an iconic building, and it's worthy of making exceptions," said Jim Malachowski, an executive with the RDW Group, a local PR firm that represents Jason Fane.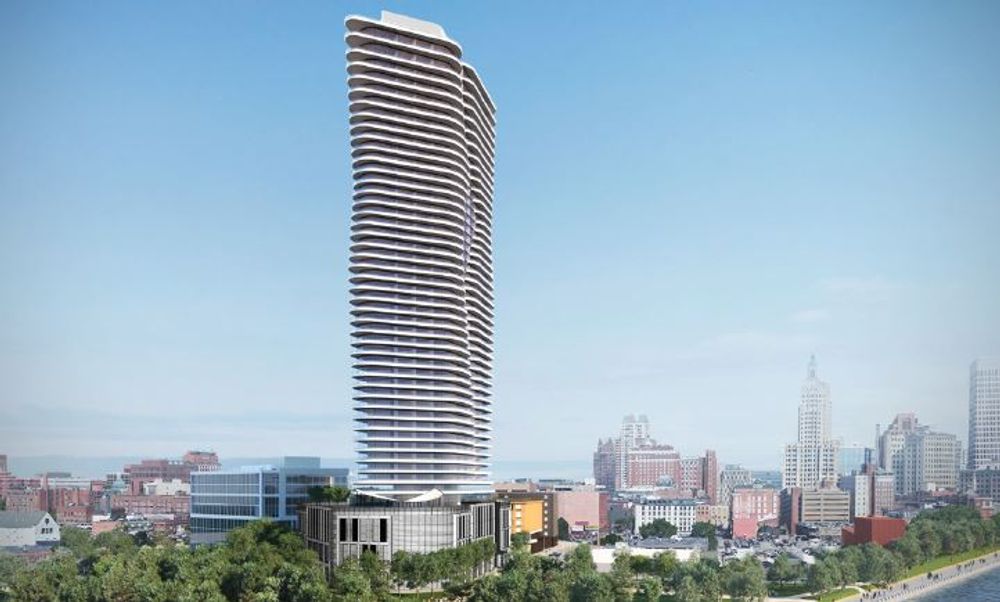 In response to criticism from opponents, Malachowski said zoning changes are not unusual for significant developments in Providence. He pointed to how a study by former URI business school dean Edward Mazze estimates the tower will create $250 million in property taxes for 40 years after getting built. And Malachowski said the Fane tower proposal is an important test of Rhode Island's ability to move forward after setbacks like the impending loss of the PawSox.
"There's a lot at stake here for the state," he said. "You have someone who is willing to invest $300 million in your state, and if you deny that, prevent that from happening, there's a lot of negative signals that we send out about Rhode Island."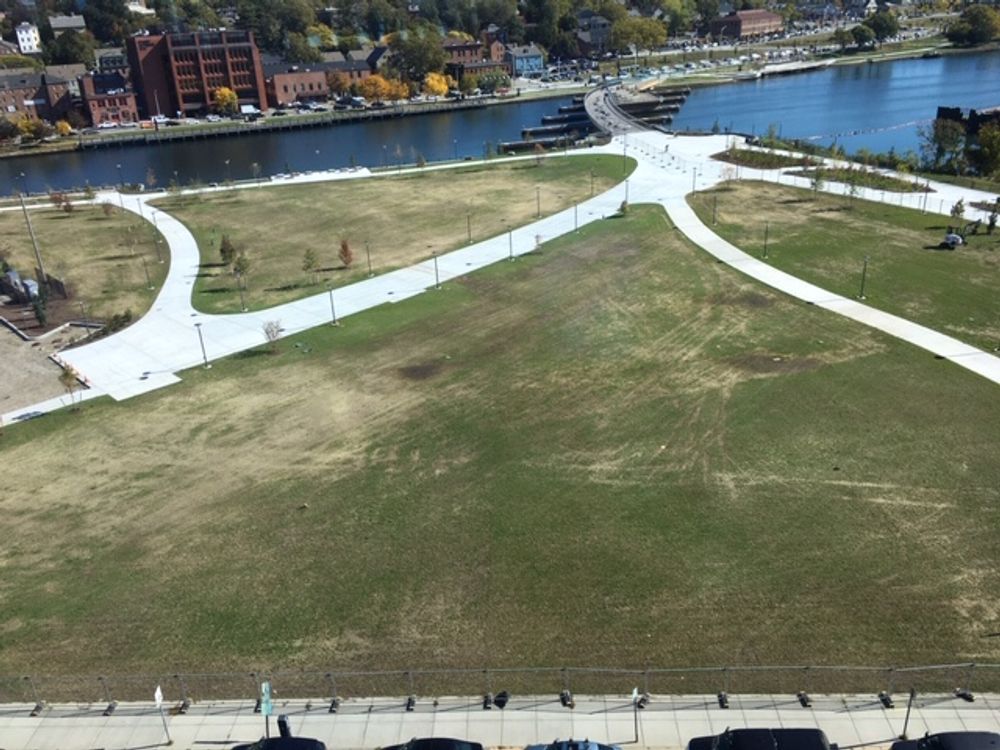 The project has sparked concern since Fane initially unveiled a three-tower design back in 2016. Critics said that was way too much, so the New York-based developer scaled it back to one tower. In the three years since, Fane's project has slowly cleared some regulatory hurdles while still facing sharp criticism from opponents.
Critics like Providence Preservation Society Executive Director Brent Runyon point to two main concerns: the design of the tower, and the approval process for the project -- especially how the City Council approved raising the maximum height for the building from 100 to 600 feet.
"By radically up-zoning that parcel to 600 feet we believe that the City Council illegally gave favor to a single developer, which in the world of zoning is just not good practice," Runyon said.
Runyon said the Fane tower threatens the I-195 District's evolution as a desirable place to work and play. And he said the tower's redesigned base would still overwhelm the sense of place created by city's new pedestrian bridge and a nearby park.
"Basically, what you have is a six-story blank wall that houses a parking garage," Runyon said. "They've dressed it up with some of the latest designs. The design itself does not contribute to a safe, vibrant public space."
Critics also lament how a luxury project like Fane tower is lined up to get public subsidies, including up to $25 million in tax credits in the current state budget.
Why does the proposed tower inspire such sharp reactions?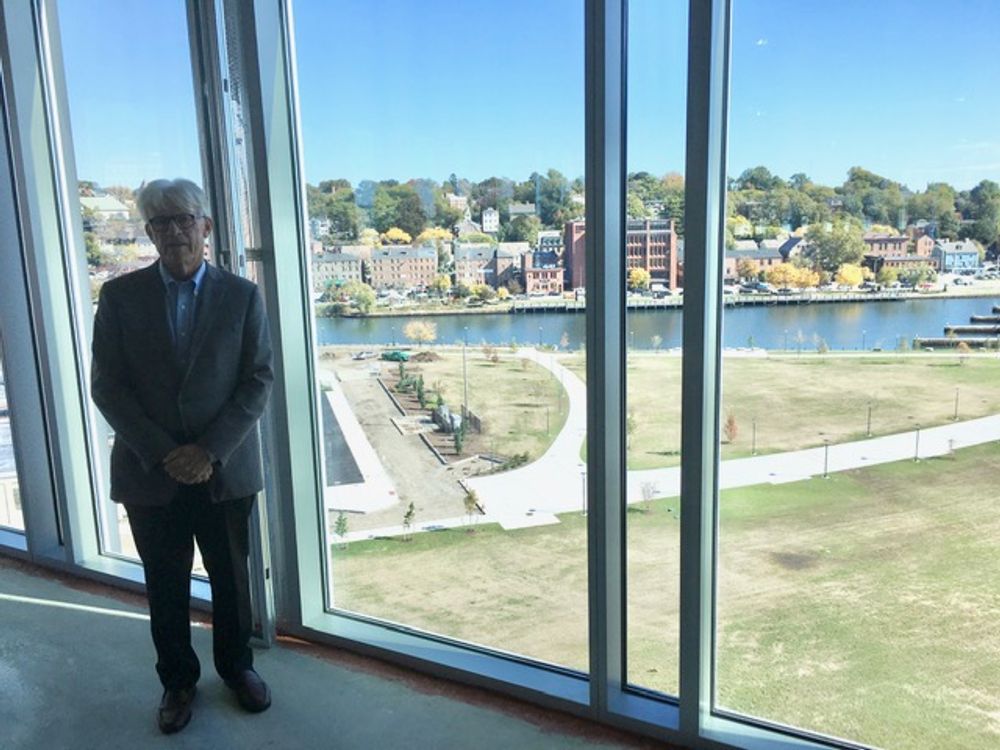 "Big things spark different responses," said Bob Davis, chairman of the I-195 Redevelopment District Commission. He used to work as a lawyer on large-scale development projects around Boston, so he's familiar with how people feel about development.
"I don't know that I ever worked on a large-scale project that was wholly embraced," Davis said. "There were always concerns and objections. And it's just any time that anybody is proposing to do something really substantial, there are going to be voices of concern."
And tensions recently flared between the I-195 Commission and developer Jason Fane.
That was after Fane sought another extension for an application with the City of Providence for tax breaks for the tower project. The I-195 Commission agreed to move the deadline to December 1, but said it won't extend that any further. But private talks between Fane and state officials continue, so it's unclear if the developer may be able to extend his timetable for pursuing the tower.
Fane and his supporters have criticized the lengthy delays up to this point in moving his project forward. So why is he balking at submitting a request for tax breaks to the City of Providence?
Fane spokesman Jim Malachowski calls it a matter of getting the approval process done in the right order, before the developer lines up definitive architectural plans, negotiates with a contractor to build the tower, and arranges financing for the project.
"There's a critical path to all of this, and he can't do one thing before the other," he said.
For now, one potential wrinkle is a Superior Court lawsuit filed by opponents challenging how the Providence City Council approved a variance for the height of the Fane tower.
But elected officials like Rhode Island Senate President Dominick Ruggerio have championed the project. And I-195 District Commission Chairman Bob Davis said the commission approved the tower's final design in part because of the message sent by elected officials.
So will the highly debated tower ever get built?
It's impossible to say, in part due to the overall state of the economy and a potential slowdown that could affect financing for the project. I-195 District Chairman Bob Davis says every development carries some risk of not moving forward. And the bigger the project, he said, the bigger the risk.