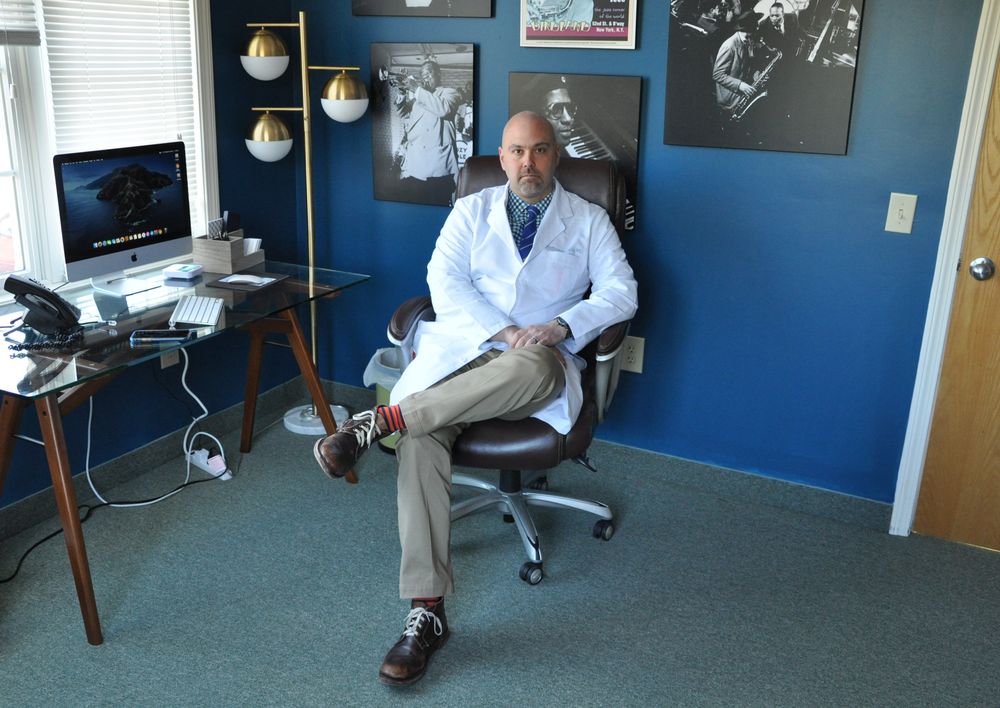 NUNES: As someone who works in the mental health services field, what are you and your colleagues seeing right now?
GALLO: We're seeing a few things. First of all, it's important to note that everyone's anxiety level is up because of what's happening with the coronavirus. And anxiety itself can be a normal and healthy reaction. We're going to be anxious right now because, for the most part, it's a healthy, normal response that we're having for what could be the worst global pandemic in over 100 years. Unfortunately, what we're also seeing is that people who have anxiety disorders—now all of their symptoms are getting much, much worse in the context of the coronavirus outbreak.
NUNES: Are psychiatrists and psychologists seeing more calls from patients?
GALLO: Yes, we're certainly seeing more calls, because people who have these disorders are becoming more and more anxious. People with trauma histories also—just because someone had a different kind of trauma in the past, it can be generalized. So I've been having patients with trauma histories become now more anxious in the context of the coronavirus outbreak.
NUNES: What do you tell someone in a situation like that?
GALLO: What I tell all people is that we have to focus on what we can control. That can involve appropriate preparations such as handwashing, social distancing. I really tell people to primarily listen to what the CDC is recommending. It's important to note that sometimes, when our anxiety goes overboard, we can try to do things that actually aren't helpful at all. Why right now are people hoarding toilet paper, where that has nothing at all to do with a virus? Sometimes people feel that they just need to do something as a way to cope with their anxiety even though it's not necessarily helpful.
NUNES: What are some other general things that people can do to limit anxiety?
GALLO: Healthy distractions. Maybe trying to connect with people using video conferencing. If they exercise, maybe exercise at home. Eat healthy, get good sleep. I think people should also worry about alcohol use. It can help calm people's anxiety, but then it might be easy to go overboard. So I think people need to watch out for something along those lines. I think this is a very tricky time for people. Social interactions and connections, being outside, being active, are usually things that people can do to help their anxiety. And those are things that people cannot do right now.
NUNES: What about people with children? What would be your advice to parents?
GALLO: My advice to parents would be to listen to what the child can handle. Obviously you wouldn't be telling the same thing to a four-year-old as you would be to a 10 or a 14-year-old even. I would try to listen to how they feel about what's going on right now and to help them understand what can be significant to them. So, for younger people, I certainly would tell them that we have to be good with handwashing, we have to stay home from school, not go out because of social distancing. But the odds of them being impacted by this are much less than those people who would be older.
NUNES: Are psychiatrists, psychologists, therapists—are they doing anything different right now, like online sessions or something like that?
GALLO: Yes. I'm very happy to say that the governor and the federal government have made changes about telemedicine, which I know that I have capacity for and a lot of other people have capacity for. I think Medicare has a lot of follow-ups for people who have been already in a practice already and seeing a provider, and Medicaid and private insurance companies are now allowing full telemedicine capabilities. There are multiple different software platforms that are compliant with HIPAA that do allow for privacy. So, just because this crisis is happening, does not mean that people should not be engaging with their providers, including their mental health providers.
NUNES: Dr. Anthony Gallo, thanks for speaking with me.
GALLO: It's my pleasure.
[If you have a story you'd like to tell about your experience coping through the coronavirus pandemic, you can email Alex Nunes at anunes@thepublicsradio.org]