After Elorza made preliminary remarks during a virtual news conference, most of the other speakers underscored the need for all Rhode Islanders to be aware of Providence's $1.2 billion in unfunded pension obligations.
City Council President John Igliozzi said even some elected officials don't realize how the pension gap "is a constant drag on the city's growth and ability to move forward. By the way, if the city can't move forward, neither can the state. That's why this pension issue is so important to address."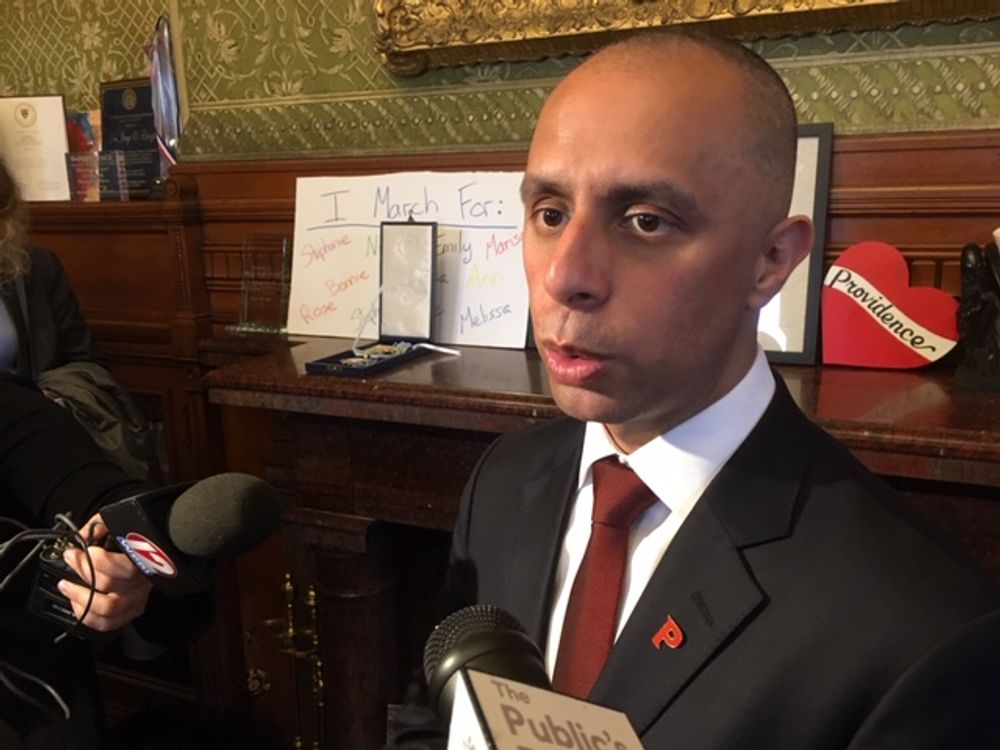 The 12-person working group is expected to offer recommendations in the next few months on Providence's structural fiscal challenges, which also include an additional $1 billion in retiree benefits, mostly healthcare.
Elorza, an expected Democratic candidate for governor next year, said Providence has moved past talk of a possible municipal bankruptcy. But, he said, the city's crushing pension obligations still pose a time bomb.
As The Public's Radio reported earlier this year, the situation developed after the city awarded generous cost of living adjustments to workers and retirees in the late 1980s. Without changes, the current $93 million annual pension cost will soar to $227 million by 2040, consuming other parts of the city budget.
The mayor's working group includes Elorza; head of the Providence Foundation Cliff Wood; Greater Providence Chamber of Commerce President Laurie White; Rhode Island Public Expenditure Council President and CEO Michael DiBiase; Gov. Dan McKee, House Speaker Joe Shekarchi and Senate President Dominick Ruggero, or their designees; Two members of the City Council selected by Igliozzi; two financial advisers, Mackey McCleary and Kristin Fraser, and another to be named later.
Asked by a reporter why the group does not include union representation, Elorza said he wanted to emphasize what he called stakeholders, different branches of government and financial advisers. "Obviously, the voices and perspectives of the unions and their leadership is going to be really important and there's an opportunity for them to participate and be part of this," he said.
In her remarks, the Providence Chamber's Laurie White pointed to how the capital city is not just the seat of government, industry, academia and culture, but also "the physical, the symbolic and the psychic heart of our state and a place upon which the state's reputation rests."
White said the underfunded pension system -- which consumes about five percent more of Providence's budget each year -- "is not an issue that just impacts the residents and the taxpayers of the city, but truly has statewide economic impact."
Michael DiBiase from RIPEC, a former director of the state Department of Administration, offered this response when asked to sketch out possible scenarios involving assistance from the state and taxpayers outside Providence: "I don't want to front-run the working group. I think it's important that that's an open process. I would say that we need to think more broadly about the city's finances in terms of state contributions, revenues, and we're going to need to put more things in play to actually try to solve these issues."
Elorza has proposed shoring up the pension system by monetizing the city's water supply and then by issuing controversial pension-obligation bonds. Both concepts failed to find legislative support, although he said the latter one is still worth considering.
Ian Donnis can be reached at idonnis@ripr.org. Follow him on Twitter @IanDon. Sign up here for his weekly RI politics and media newsletter.