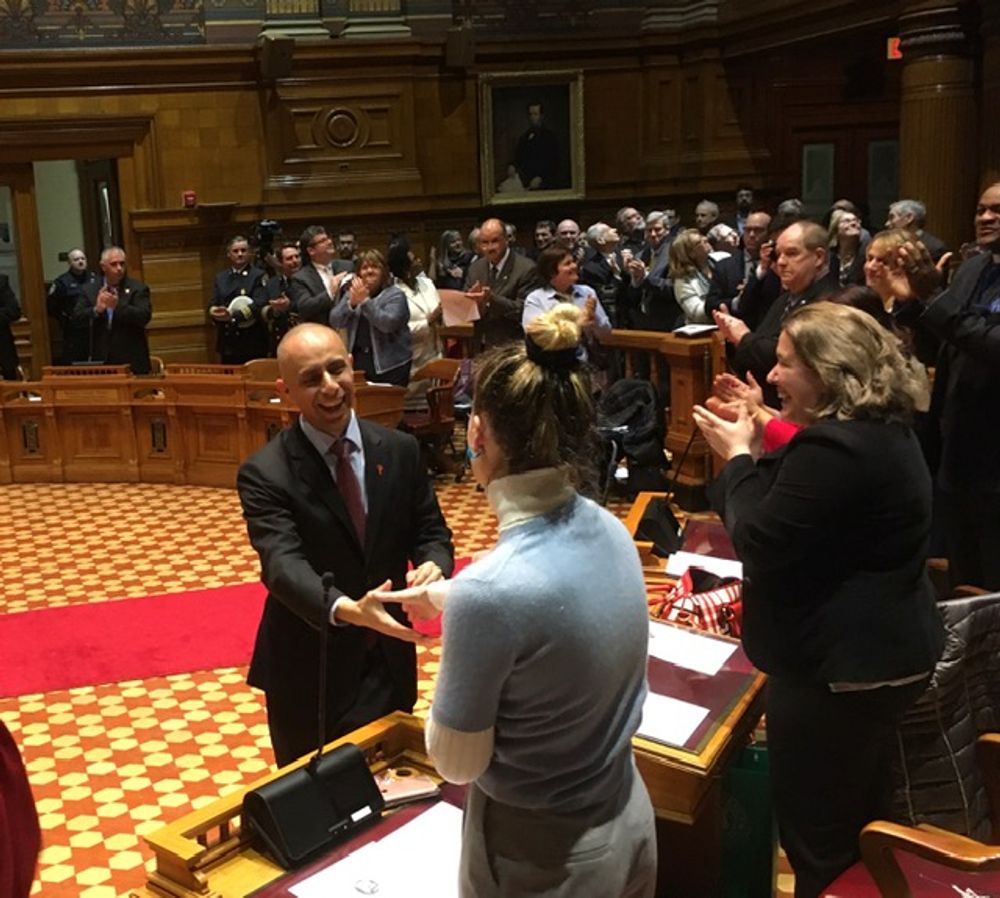 Elorza received a warm response from his audience at City Hall while outlining what he called the 'New Providence' – a place based on "shared values and on a forward-thinking openness to what the future has in store."
Although Elorza is the third mayor to follow the final exit of Buddy Cianci, he claimed credit for solidifying a cleaner ethical approach and heightened focus on customer service at City Hall.
He praised a boomlet of development around Providence as a vote of confidence in the city, without mentioning how tax incentives are a common part of the development process in the city.
The second-term Democrat turned to city schools, saying that efforts to improve them will take many years, but are nonetheless a reason for hope.
"After decades of neglect and with strong support of our City Council, our kids will finally study in classrooms designed for 21st century learning," Elorza said. "And with the state's intervention in our schools, we are working in partnership to ensure that now is the moment when our school transformation begins."
Since he's term limited and can't seek re-election, Elorza has a bit less than three years to focus on his priorities as mayor. His latest budget plan will emerge in the coming months.
Elorza used his speech to salute different people who, he said, are making Providence a better place.
The mayor gave a shout-out to teachers and students at the Juanita Sanchez school who are promoting kindness. He praised low-income residents for contributing to a plan to fight climate change. And Elorza hailed former chief Dean Esserman and Chief Hugh Clements of the Providence Police Department, and street workers who actively oppose violence.
"Last year, total crime was at an all-time low," Elorza said, "and over the past five years, shootings have been reduced by over 60 percent, burglaries have declined by 55 percent and we have seen some of the lowest homicide rates in almost 50 years in the city of Providence."
Elorza said the police department's community-oriented approach marks a big improvement over the time when he was growing up. Back then, he said, many young people – and especially those of color – had unpleasant experiences with the police.
The mayor closed out his speech by saying "it would be disingenuous to not point out some of the lingering and emerging challenges we face. From growing pension and healthcare expenses, housing displacement and homelessness, substance abuse and overdose deaths and the growing anger and division in our society, our city faces many challenges."
Providence has only about 25 percent of the money needed to meet its long-term pension obligations.
The mayor plans in the coming months to outline some short-term steps to try to improve the situation.
Despite the challenges, Elorza said, Providence must strive to become the best mid-sized city in America.