→ See more of our coronavirus coverage, including community resources and personal stories.

Electric Boat builds nuclear submarines for the U.S. Navy. About 17,000 people work at the company's Quonset Point and Groton, Connecticut shipyards and the vast majority of them are still clocking in everyday, at a time when employees in most other industries have been told to stay home.
Dan Neff lives in Providence with his wife and children. He now has his own business, but he worked as a welder at EB's Quonset Point location for 18 years starting in 2001.
"It was great because I didn't have an education and I had kids. I needed the benefits and the money was good."
Neff says one of the things he enjoyed about working at Electric Boat was the company's emphasis on employee safety.
"They supply you with every piece of safety equipment you could need. If you're in a dusty area, you can get a dust mask. If you're in a hazardous area with particulates, you'll get a respirator."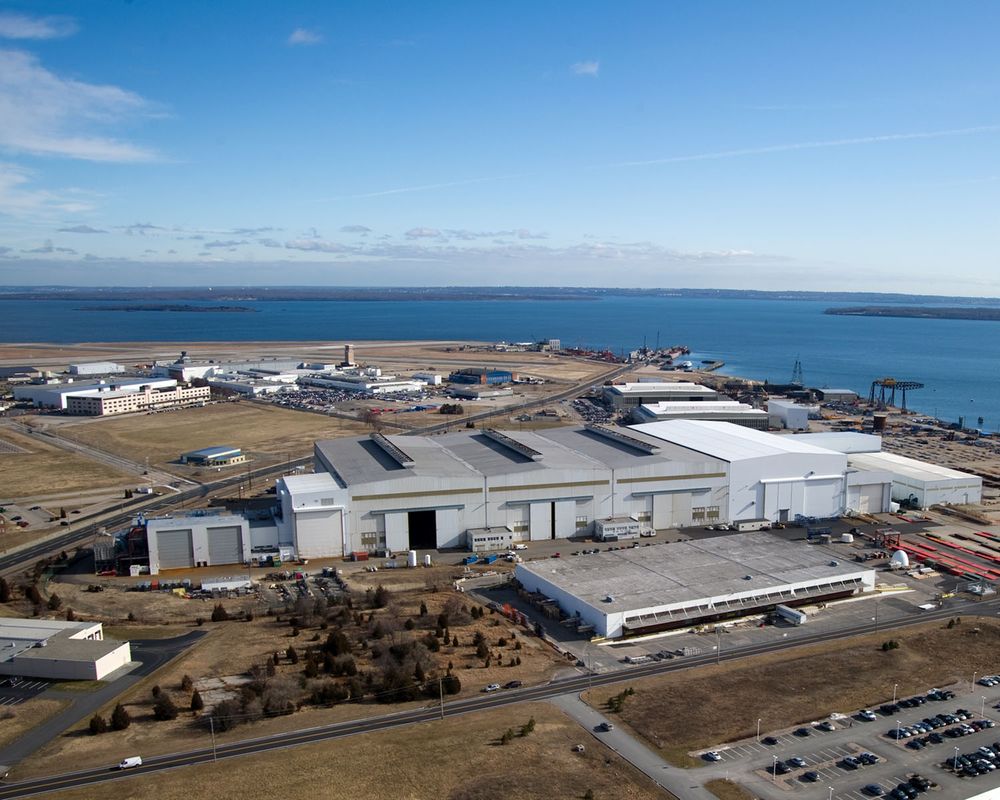 But safety is now a major concern for the workers. Neff says most crews at the two shipyards consist of ten to 20 people working in very close proximity.
"You're inside a unit. You're welding. There's another guy grinding. Maybe someone has to come in and paint. Usually it's in an enclosed space."
I've spoken off the record with several current EB employees who say they're worried about being exposed to a fellow worker who has COVID-19. Those concerns have been magnified in recent weeks as more employees have tested positive for the virus, including EB president Kevin Graney and senior vice-president Kurt Hesch.
That caught the attention of Rhode Island Governor Gina Raimondo, who singled out Electric Boat during a recent briefing.
"Hearing this, I will now call down to Electric Boat. That's not okay. You should not be required by your employer to be in close contact with anyone."
Electric Boat spokesperson Liz Power says the company is doing its best to address concerns about exposure.
"So we've done things like incorporating new shift times so that we have less people in our facilities. We've also decreased the density of people so that people can maintain social distance."
But Dan Neff says it's one thing to say you're taking steps to make sure workers are six feet apart. When it comes down to it, he says that's more of a pipe dream at Electric Boat.
"It's not possible. It's not possible. There's so many people! Even if you split it into three shifts, that's still a lot of people on top of each other."
The day after the Governor's reprimand, Electric Boat issued a statement saying some changes had been made. The company is conducting extensive cleaning between work shifts. Employees are being allowed to advance their paid time off so they can stay home if they're uncomfortable coming to work during the COVID-19 pandemic. Company spokesperson Liz Power says EB has also established a protocol that requires employees who feel sick to stay home. If they come into work anyway, Power says they won't be there for long.
"If there's a suspicion that someone is infected, we're taking a very conservative approach and sending people home until we receive a test that shows either a person is positive or negative."
Power says the decision to send people home is being made by EB supervisors who consult with doctors and nurses on site. Once the employees are tested, they're allowed to come back to work if the test comes back negative. The problem is once they return, many of their co-workers don't know or even believe they were tested, so it creates a sense of uneasiness in the workplace.
"They are checking, I know that. We have gotten reports that the chief at Quonset is doing a daily inspection. His staff is inspecting constantly. Again, this is such a complicated situation that doing everything is sometimes not enough."
That's Rhode Island Senator Jack Reed, who sits on the Senate Armed Services Committee.
Many Electric Boat employees have told me they question why a company building nuclear submarines is considered essential right now. They say the safety issue would be moot if EB were forced to shut down like other businesses. Reed says that's simply not an option. He says the Navy doesn't have enough active fast-attack submarines, so stopping production for even a couple of months could jeopardize national security.
"The problem we face here is that the existing fleet is literally wearing out. The hulls are wearing out. We don't want to be in a position four or five years from now where we cannot meet the requirements for nuclear deterrents or for attack submarines."
But there are also economic concerns, the same ones facing manufacturers across the country.
EB's parent company General Dynamics issued a filing with the Securities and Exchange Commission last month, claiming the COVID-19 crisis could "restrict our employees' ability to work effectively." The filing went on to say that "Resulting cost increases... could impact our profitability."
That doesn't sit well with the workers. Again, here's former EB welder Dan Neff.
"Their main concern is productivity. Their main focus is keeping the construction on schedule. They need to get those contracts out. They have to get those units done by a certain time so they'll get their bonuses from the Navy. That's how they get paid."
That's also how the workers get paid. With a record number of people filing for unemployment, and businesses closing down across the state, Governor Raimondo says she believes it's important for manufacturers like Electric Boat to stay open.
"That decision depends upon manufacturers to make the adjustments necessary so their employees can stay safe. And I will say that manufacturers, on the whole, have been fantastic."
Raimondo says that includes Electric Boat, although she's continuing to monitor the situation at the shipyard. If more employees become infected, she says additional safety measures may be required. It's not clear what steps would be taken, but she promised that safety, not profitability, is the state's top priority.