→ See more of our coronavirus coverage, including community resources and personal stories.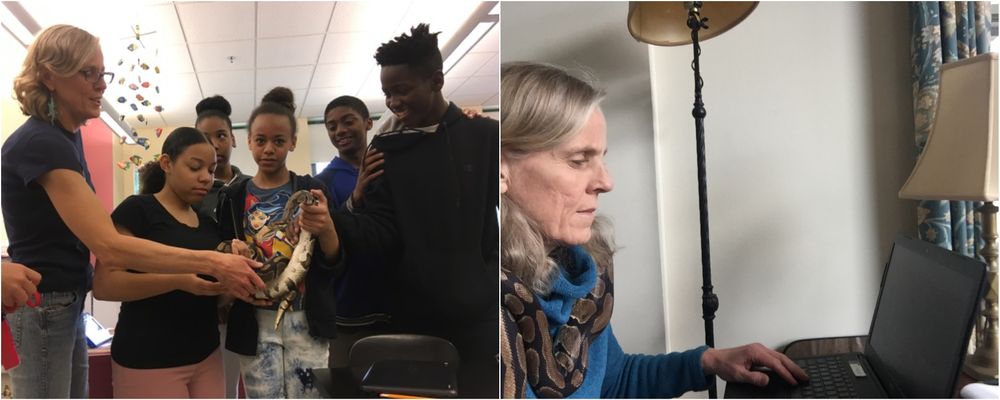 Over the last two weeks, educators and school administrators have taken on what many teachers have called the biggest challenge of their careers: replacing the typical classroom with video conferences, online tutorials, and digital check-ins with students.
Initially, one of the biggest concerns was about access to technology. School districts distributed thousands of computers and other digital devices to students, and the private sector has stepped in to address internet access issues.
One week in, some parents and teachers are saying basic communication is the bigger problem.
Ramona Santos spent the last week fielding phone calls from frantic parents trying to log into classes or simply understand what the school is asking of their children. Santos leads a parent group in Providence and has become a go-to source for advice for navigating distance learning for families -- including many in which the parents don't speak English.
She says even if a home has Wifi, many parents don't understand how to use the laptops their children have brought home, and aren't sure what their teachers are expecting of their kids.
Santos can see that the teachers are trying. She says one of her daughter's teachers spent part of her Sunday night texting with her to make sure she was caught up on her work.
"But how sustainable is this?" said Santos. "Those teachers are human beings too, and they have their own struggles of their own, families to take care of."
"I think we need to slow down a little bit because there was no time for families to process that we were moving to distance learning and for teachers to process that. There was just not enough time," Santos said.
Language barriers are just one challenge. Subjects that require tactile instruction are another.
Elizabeth Gibbs teaches seventh grade science at Thompson Middle School in Newport.
"Since science is all about hands-on things, there are certain things that are compromised when you're just doing distance learning," said Gibbs.
For her students, the closure means no in-class experiments, no dissecting owl pellets or watching baby salmon hatch from eggs. Like other teachers, she's expecting her students to log into class during set times, and offers additional time to connect with kids individually.
But without the physical infrastructure of the classroom to organize and work with their students, teachers recognize they have little control over how their students are completing work at home. Teachers spend a lot of time trying to measure how students are feeling at any given moment: are they distracted, on-task, confused, excited to dig deeper into a particular subject? These unspoken cues can get lost in online learning. And Gibbs says that makes it especially hard to know - quickly - when a student is floundering.
"It's not the same as you're walking by the kids desk and you see that they're struggling and you sit down and have a conversation with them," Gibbs said. "And you can explain to them and have them articulate to you what they do and don't understand."
And that in turn has made grading difficult. As teachers transfer the classroom to the internet, they say it can be unclear much students are actually retaining. Michael Browner is a seventh grade social studies teacher at Thompson and says it can be hard to tell the quality of the work students are handing in digitally. Ultimately, Browner says that will raise questions about how students will be passed from one grade to the next
"When you look at the end of the school year, how can you justify not promoting a kid?" Browner said. "If you say 'kids have not done enough work to be promoted to the next grade,' how can you justify that under these conditions?"
It's something educators have already been thinking about across the state: measuring the quality of distance learning. The state wants to cancel standardized testing for the year - citing the impossibility of administering the exams. One of Rhode Island's big teachers unions wants a hold on educator evaluations.
Everyone seems to be looking for ways to build in flexibility as they figure out how best to do a whole new kind of teaching, and learning on a scale that's never been tried before.