The State Police estimate more than 7,000 people gathered around 4:30 Friday afternoon and marched to the Rhode Island State House. As the crowd began to disperse, and families headed home, some protesters stayed in the city, making a loop around downtown and returning to the statehouse around 8 pm. National Guardsmen and State Police officers in riot gear stood shoulder to shoulder on the statehouse steps, and a helicopter circled overhead.
At this point, the protest had been in full swing for nearly four hours. But protesters kept up a steady stream of chants: "No justice, no peace," "hands up, don't shoot," "I can't breathe," and "Black lives matter."
As the city's 9 pm curfew approached, the tension in the crowd grew. Police threatened to begin arresting people at 8:30, which prompted some to disperse. But much of the crowd remained in place. One protester named David, who only wished to give his first name, commented that it's not much of a protest if you leave when the police tell you to.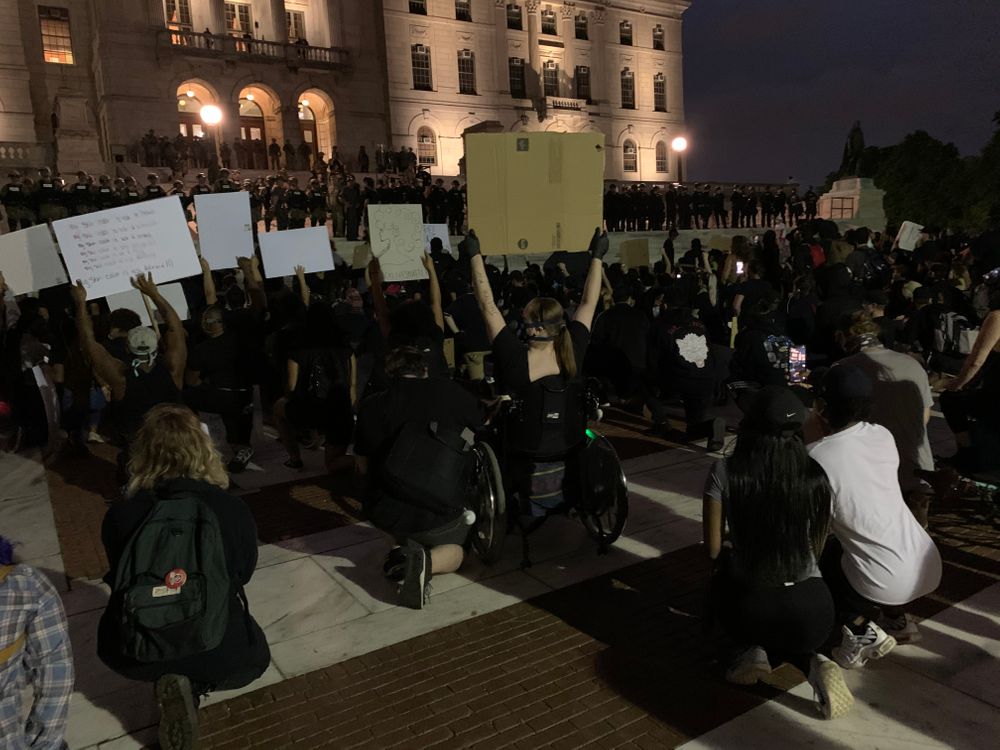 State Police Superintendent Colonel James Manni and General Christopher Callahan, head of the Rhode Island National Guard, huddled with protest leaders on the steps, as megaphone-wielding demonstrators urged the crowd to stay back.
The disagreement among the protesters was audible. Some shouted their disapproval of talking with law enforcement.
"We have made our point," one protest leader said when 9 pm hit, "we are now past curfew." She said she would set a timer for 8 minutes and 46 seconds -- the length of time former Minneapolis police officer Derek Chauvin held his knee on George Floyd's neck -- for a moment of silence to honor Floyd and all people lost to police brutality.
Out of the chaos and changing, the crowd fell eerily quiet. You could hear the birds chirping, and the sound of sirens in the distance. Even the National Guard helicopter that had been circling was out of earshot.
When the silence broke, organizers with megaphones tried to encourage the crowd to march away from the statehouse. Many took the opportunity to leave, but at least 100 refused to disperse.
"They take our silence for compliance," one man shouted out of the crowd. Others shouted for officers to "take a knee." Still others shouted, "we want Gina."
Within ten minutes, Gov. Gina Raimondo emerged from the statehouse and walked down the steps. The crowd surged forward.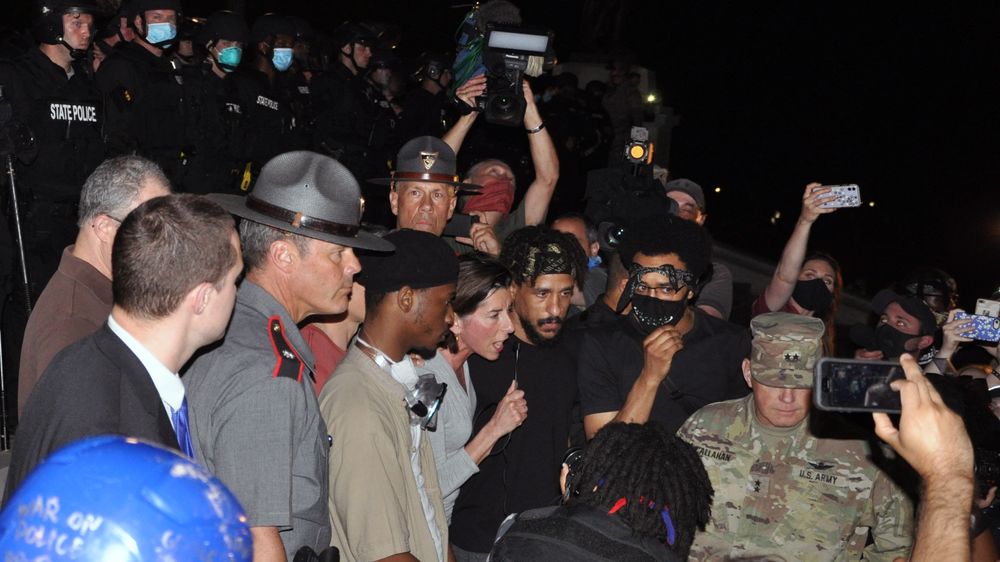 She thanked protesters for keeping the event peaceful, and told them she is listening.
"I hear you. I hear the anger, I hear the frustration," Raimondo told the crowd. "I want to work with you to bring about change. I want to make Black lives matter. Black lives matter. It is not fair, it is not right what is happening in this country. So let's work together to make change."
The crowd began to chant "defund the police," as Raimondo urged protesters to keep things peaceful. Before going back inside, she asked protesters to join hands and pray with her.
Colonel Manni told The Public's Radio he thinks the governor was effective at deescalating the frustration of protesters on the stairs. But a few protesters dismissed the governor's appearance as merely a photo-op.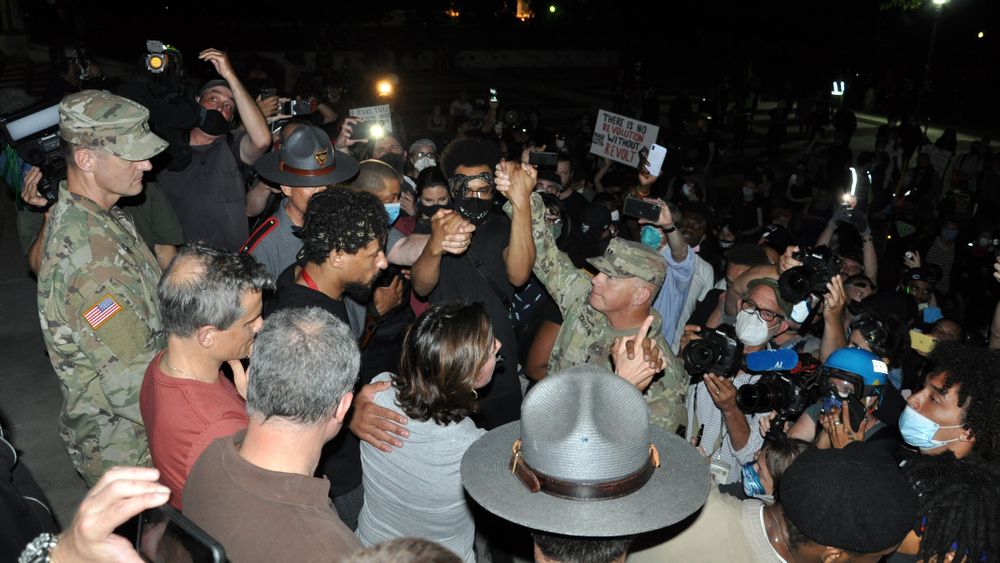 A couple dozen protesters remained on the steps of the statehouse, chanting and demanding police take a knee. But the crowd began to fizzle and disperse.
Elsewhere in the city, a group of protesters had broken off from those at the statehouse. They headed to City Hall, then to the Convention Center, and on to Federal Hill.
Emergency medics David and Emily heard rumors that police were using tear gas on this group of protesters and sped towards Federal Hill. The pair -- with red crosses taped to their chests and backpacks -- came in from Massachusetts to support the protesters. They hurried past dozens of police officers in riot gear outside the Providence Public Safety Complex, and headed up Broadway.
But the scene they found was not combative. A group of protesters was marching down Broadway, headed towards downtown. Police lined the street on either side, walking with them. While police had gas masks dangling from their belts, those closest to the protesters were not decked out in full riot gear. At one point Providence Police Commander Thomas Verdi, the city's deputy police chief, walked side-by-side with a protester at the head of the group.
Protesters say earlier in the night there had been tense moments where they squared off with police. Three protesters said they were hemmed in by police as they were marching, and that they were afraid they'd be arrested.
As protesters marched over I-95 into downtown, tempers flared again. A group of protesters huddled close together with their hands in the air, and police flocked towards them. One person was arrested. But the knot of people dispersed, and the group continued into downtown.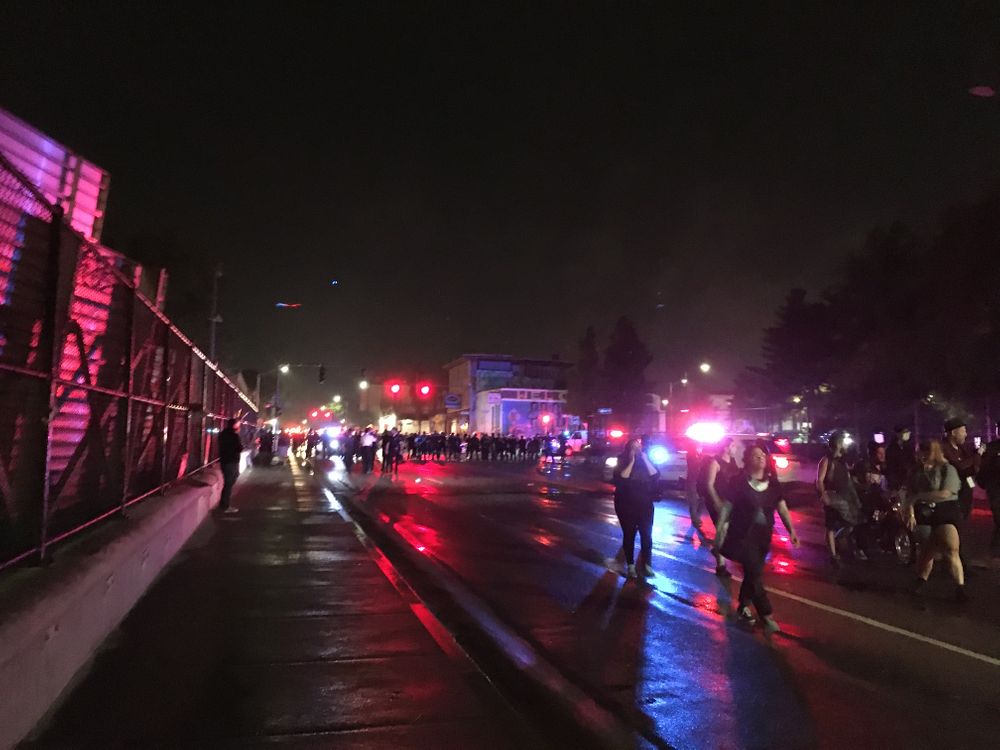 "[If] we need to come tomorrow and be peaceful, so shall it be," protester Youngor Gwee told the crowd over a megaphone. "But we don't want to be like other cities," she continued. "We are not trying to sit here and riot our city."
She thanked the officers for listening, and for lowering their batons. The group continued on to Kennedy Plaza, where -- after another round of chanting -- leaders urged their fellow protesters to get home safe.
This story has been updated.