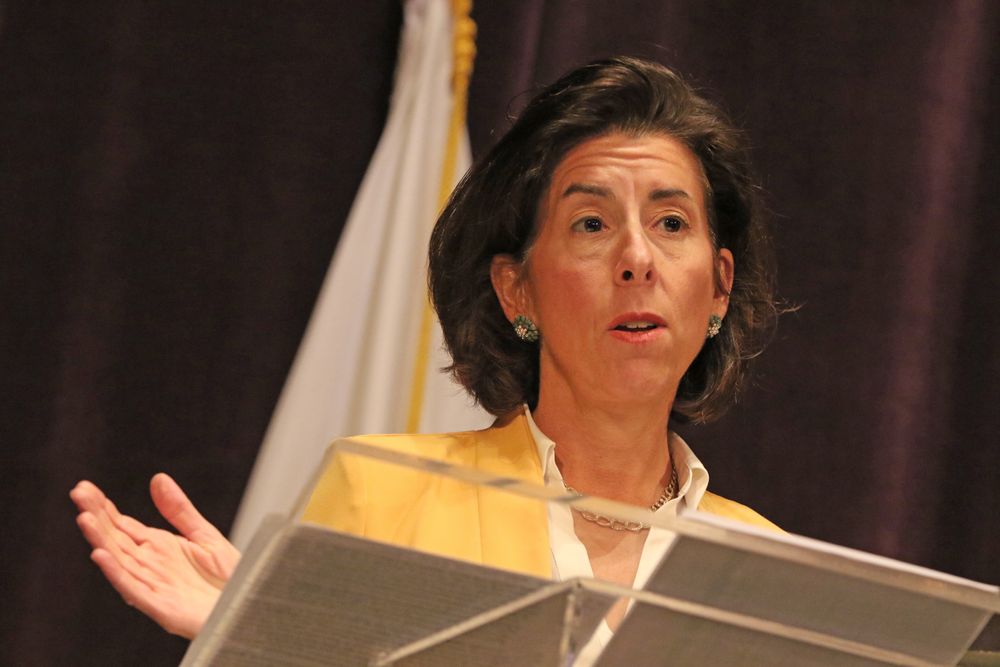 Rhode Island Governor Gina M. Raimondo on Thursday announced sweeping new restrictions including curfews starting Sunday night for restaurants and bars; capacity limits for shopping malls and big box retailers; restrictions on sports events and a nightly stay-at-home advisory to try to slow the spread of the coronavirus.
The "targeted interventions" come as new coronavirus cases in the state hit a new record of 556 cases per day -- the third time in a week that cases have risen to more than 500 per day.
Raimondo said the restrictions are modeled on similar measures in Massachusetts and Connecticut and designed to avoid a broad lockdown like the one last spring that shuttered businesses and cost residents their jobs.
"My strong desire is never again to close all restaurants,'' Raimondo said at a briefing Thursday. "That's a blunt instrument...If you don't want to have broad-based lockdowns...we really have to reign it in right now."
The stay-at-home advisory is voluntary, though Raimondo said, "if we see big parties" that exceed the social limit of 10 people at night, fines and enforcement will increase.
To help compensate bars and restaurants for closing early -- 10 P.M. Sunday through Thursday and 10:30 P.M. on Friday and Saturday -- the state will offer grants of $2,000 to $10,000, Raimondo said, based on the amount of business they anticipate losing during the two-week curfew.
Raimondo said she also will almost certainly announce more restrictions in the next two weeks for the Thanksgiving holiday, saying she wants to avoid the type of surge in hospitalizations experienced in Canada after the Canadian Thanksgiving.
In Rhode Island, new hospital admissions for people infected with COVID-19 have more than tripled to 160 patients per week -- compared with fewer than 60 in early September according to state Health Department data. Health officials have set a threshold of 210 patients (marked as a red line on the department's COVID-19 Data Tracker) as the maximum capacity before the state would need to open a field hospital.
"All of us have to make changes now to avoid overwhelming our hospital system," Dr. Nicole Alexander-Scott, the state's health director, said at the briefing.
Here is a look at some of the new restrictions:
A stay-at-home advisory from 10 P.M. to 5 A.M. on week nights (Monday-Thursday) and 10:30 P.M. to 5 AM Fridays and Saturdays.

All restaurants, bars, gyms, restaurants, casinos and personal services must close 10 P.M. weeknights and 10:30 P.M Friday and Saturdays. Restaurants can offer takeout and drive-thru service after the curfew.

The capacity of indoor venues will be lowered to 50% with a maximum of 125 people for houses of worship, performing arts venues and movie theaters. The outdoor venue capacity limit is 66%.

Reduced limit for catered events to 25 people indoors and 75 people outdoors, with exceptions for previously-scheduled weddings. (Contact the state Department of Business Regulation to request an exemption.)

Reduced capacity at big box stores and malls with a return to Phase 2 limits of one person per 150-square feet.

Businesses are asked to cancel any non-essential work-related travel.

Masks are required when with people you don't live with, including outside and at the gym. This includes when attending a social gathering in a backyard with people you don't live with. The masking rule also applies to outdoor runners when other people are around.
Lynn Arditi, health reporter at The Public's Radio, can be reached at larditi@thepublicsradio.org