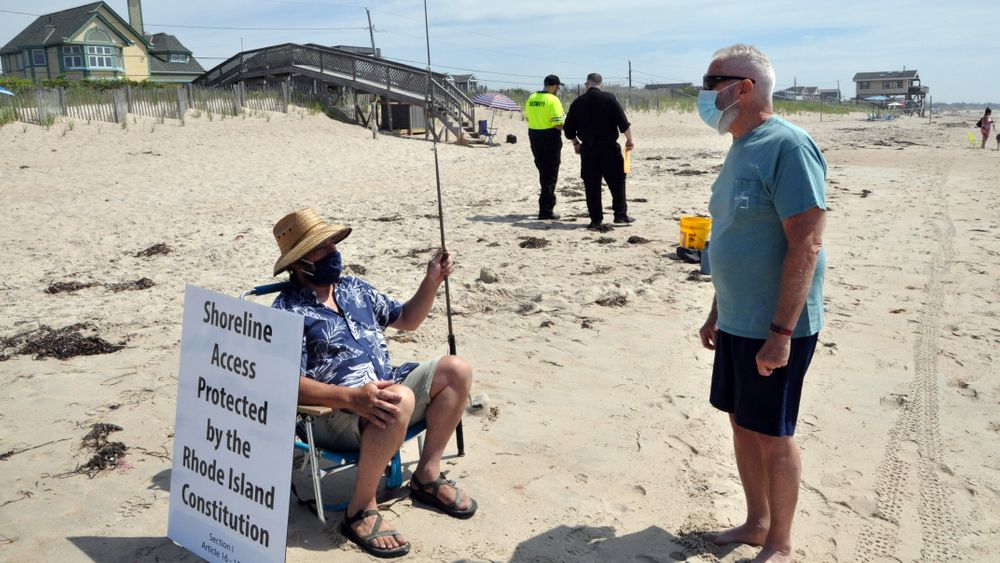 Scott Keeley is ready for some fun in the sun.
He's got a folding chair out, his fishing pole at his side, and a sign he's stuck into the beach sand that reads "Shoreline Access Protected by the Rhode Island Constitution."
He says he wants people at the Charlestown Town Beach to know they can move out into the sand beyond the town beach limits.
"The Constitution already says that we have access to it," Keeley says. "When you come to the beach, spread out and use the whole shoreline. Don't feel you have to stay inside the roped limits."
Keeley's technically sitting in South Kingstown, just over the town line. He was arrested in this spot last year for trespassing. The town quickly dropped the charges and agreed to a $25,000 settlement.
Keeley says, because of the COVID-19 pandemic, it's important people understand their rights so they can safely space themselves apart.
"This is a time when we need to spread along the shore, not be blocked from it," Keeley says.
The state Constitution protects public use of the entire Rhode Island shoreline, but it doesn't define the boundary, so there's long been disagreement about where public rights end and trespassing begins.
"We having fun yet?" asks Mark London, who owns a summer house in Charlestown. He's come by to tell me and Keeley that, earlier in the morning, private security guards approached him.
"They tried to throw us off the beach this morning," he says. "We said, 'No.' They said, 'You can sit here today but don't sit here tomorrow.' And I said to myself, 'Self: We're sitting tomorrow!'"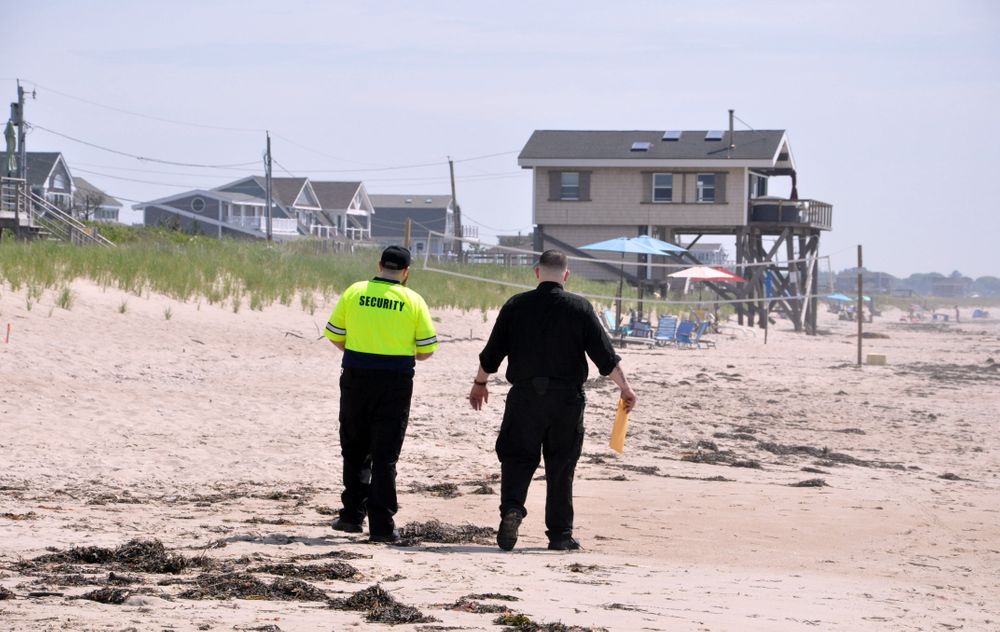 The security guards don't approach us, so I walk over to ask if we can talk about what they're doing. One of them says no.
"I'm not obligated," the security guard says. "We don't talk to the press. That's from the company's standpoint. We're not allowed to do that."
Advocates for shoreline access say they're concerned private property owners in other areas are using COVID-19 and their own need for social distance as justification to put up illegal signs blocking public access.
With beach buses from northern Rhode Island not running this year, and new town parking restrictions in place, they worry it'll be harder for people who don't live in high-priced neighborhoods to enjoy the beach.
"It's been an excuse to squeeze even tighter on coastal access," Conrad Ferla, a local surfer and advocate for shoreline access, says of COVID-19 restrictions.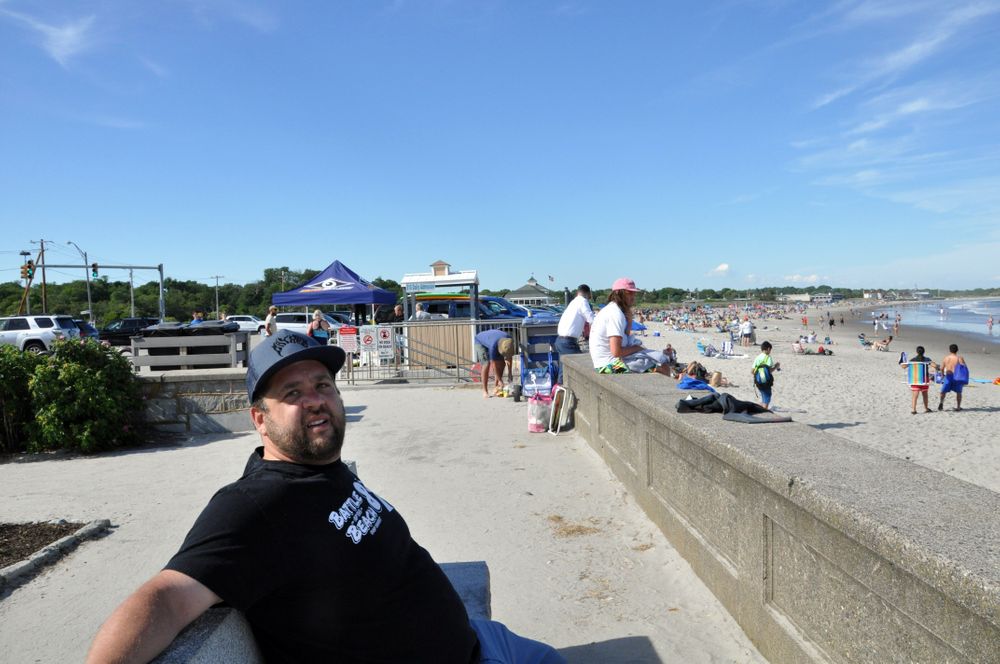 Ferla's sitting along the seawall at the Narragansett Town Beach, watching surfers catch waves and swimmers go for a dip.
He's feet away from the town beach parking lot, which this year is open only to town residents and taxpayers because of COVID-19. The restrictions even remain in place after 5 p.m., when the beach stops charging for admission.
"That's the time when people who don't always have the opportunity to get to the beach or experience what I get to experience everyday" are able to use the Narragansett Town Beach, Ferla says. "Right now they don't get to do that, and that's sad. Right now, the general public is having a real hard time getting to Narragansett Town Beach this year, and it is a public beach."
On its website, the town says it's working to provide the safest beach conditions possible under challenging conditions and asks visitors to be patient. But Ferla says he fears emergency rules put in place now will become permanent after the pandemic passes.
"Every year, it gets harder and harder and harder to park your car, get to the beach, get to some little cove that you used to go to because there's some new rule, some new regulation, some new fee to get there," Ferla says, "and without coastal access the whole state kind of suffers."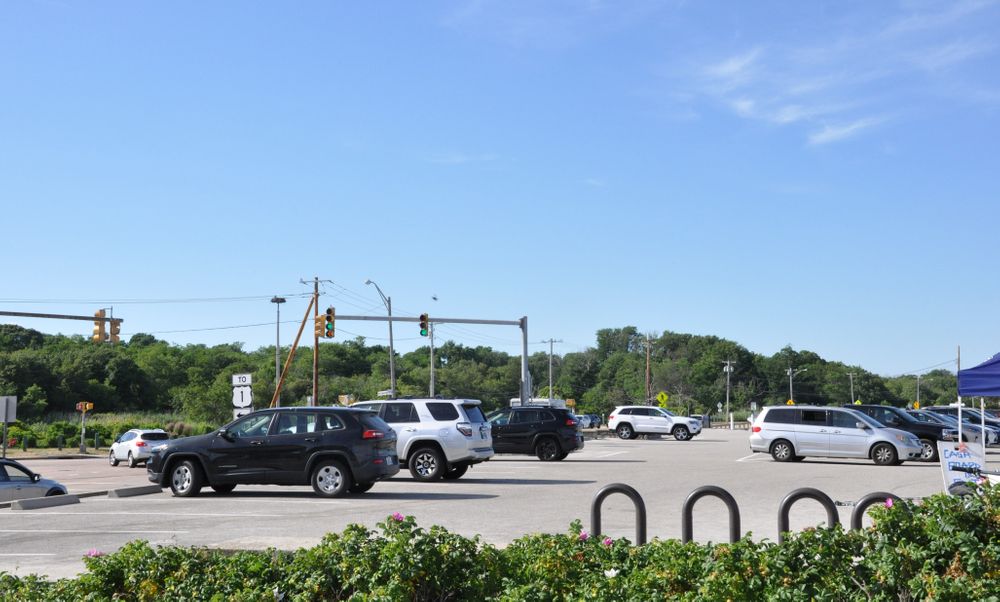 The Coastal Resources Management Council is the state agency responsible for protecting shoreline access in Rhode Island. CRMC's spokesperson, Laura Dwyer, says beach access has long been a sensitive subject and COVID-19 has magnified it.
She says her agency is already investigating three public access complaints related to COVID-19.
"Every summer, we usually get complaints about folks restricting access to the shore, so that's nothing new for us," Dwyer says. "But this particular summer we're also seeing that, as part of their argument for keeping those restrictions in place, groups, property owners are also saying that, because of COVID, they need to restrict the public's access. It's another layer that we're dealing with this summer."
Dwyer says the CRMC is treating these cases as they would any other shoreline access complaint. She says staff will keep in mind that people are trying to stay safe during the pandemic.
But, she says, COVID-19 is "not a free-for-all for restricting public access to the shore."
Alex Nunes can be reached at anunes@thepublicsradio.org.